Jul 07, 2019
Comments Off on

4 Beautiful Fresno Kitchen Remodels That Inspire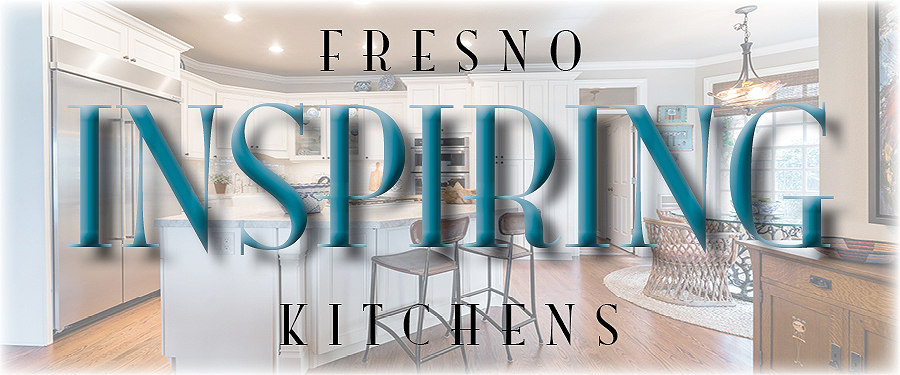 Think about the room in your Fresno-area home where you spend most of your waking hours. If you're like many Fresno homeowners, it's probably your kitchen. It's such a multi-purpose room. You prepare meals there. Chances are you eat a lot of casual meals or snacks there. It's where you have a lot of your family conversations and where you also gather with guests for casual get-togethers. If you're thinking of remodeling your kitchen, how can you make it a place you'll love to be? Here's a look at 4 beautiful Fresno kitchen remodels that inspire!
Sleek With Some Tricks Up Its Sleeve
If anyone suggests to you that sleek and stylish can't also be practical, they've never seen this gorgeous kitchen! You can get a feel for the style of this beautiful kitchen from the photo here, but it bears taking a closer look to appreciate how we were able to bring form and function together in the remodeling of this Tsutsui kitchen.
Bold black and white styling give this kitchen a dramatic look with the use of black subway tiles as a backsplash that contrast to the white cabinet and brushed stainless steel appliances. Great lighting (including abundant under-counter lighting) ensures that the kitchen is bright—but not too stark. But there's more at work here than just clean lines and stark contrasts.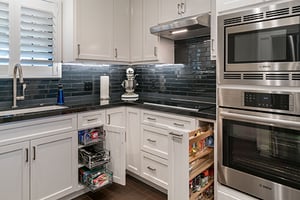 The kitchen also contains multiple pull out storage spaces, such as the ones you see here that allow the homeowners to take advantage of every inch of storage space. On top of that, conventional bottom shelves are replaced by long, deep, pull out drawers that allow easy access to items even if they are stored at the back of the shelf. And while that's a great universal design/aging-in-place feature for those who want to stay in their homes as they age, it's also extremely practical for homeowners of any age. Nobody wants to get down on their hands and knees to reach items at the back of a shelf! There's even a built-in "mini-pantry" next to the refrigerator that helps keep the kitchen uncluttered and attractive. Click here for larger images of this stunningly sleek kitchen.
All White Is All Right!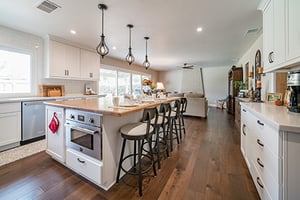 This light and bright Farsakian kitchen is all about open space and warmth. It's easy to see why white kitchens are still so very popular. The natural wood flooring and the island countertop add warmth to the feel of the kitchen. Extending the flooring into the family room helps expand the visual space—making the whole area feel open and spacious. The lip on the island countertop makes the kitchen a convenient space to grab breakfast or a casual meal when the family doesn't want to use the dining room.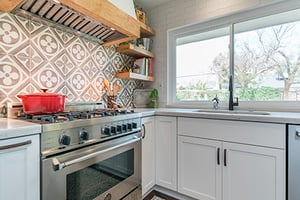 The backsplash behind the stove and oven provides a beautiful visual break that never lets the white kitchen color feel overpowering. On top of that, the natural wood enclosure around the hood—and the matching shelving—add another layer of softness and warmth to the kitchen. Click here for larger (and additional) images.
Seeing Things From a Different Angle
This Craven kitchen (which you also see from a slightly different perspective at the top of this post) provides a glimpse of what you can accomplish if you have a design/remodeler who is willing to look at things from a slightly different angle. Instead of squaring the kitchen island up with the walls, we were able to rotate it slightly. The result is a kitchen that faces both the dining area and the family room. Even if you're busy preparing a meal in the kitchen, you can stay in eye contact with family, friends, and guests. This 180-degree view brings new meaning to "open" design.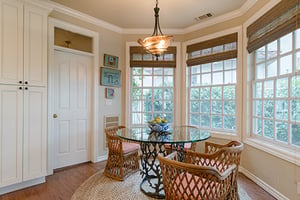 Here's another look at how the adjoining breakfast nook/dining area blends beautifully with the kitchen. It's part of the kitchen but retains its own character. And the large windows help keep everything open and bright. Click here for larger images and for additional photos of features such as the gorgeous under-counter sink.
Warm and Versatile Entertaining
This Palo Alto kitchen is filled with warm, rich wood that makes it an inviting place to entertain guests. The wide kitchen island allows plenty of space for food preparation and for guests to gather. The image you see here shows how the homeowners temporarily converted the island to a friendly and open cocktail bar for the evening.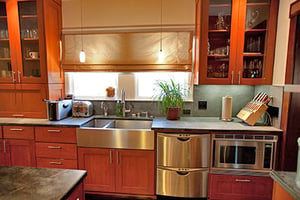 One way this family kept counter space free was to relocate the microwave oven. Rather than taking up space on the counter or above the regular oven, we placed the microwave oven under the counter. Not only does that free up counter space, but it's also a smart move if your household has people who are somewhat vertically challenged. Plus, it's a smart and safe idea for mature adults who may be uncomfortable reaching up to get a hot plate or bowl out of the microwave.
These four kitchens are just the tip of the iceberg when it comes to inspirational kitchens in the Fresno area. Visit our Project Gallery and click on the "Kitchens" tab for even more inspiration.