Nov 14, 2018
Comments Off on

Gorgeous Bathroom Renovation in Fresno: From Yawn to YES!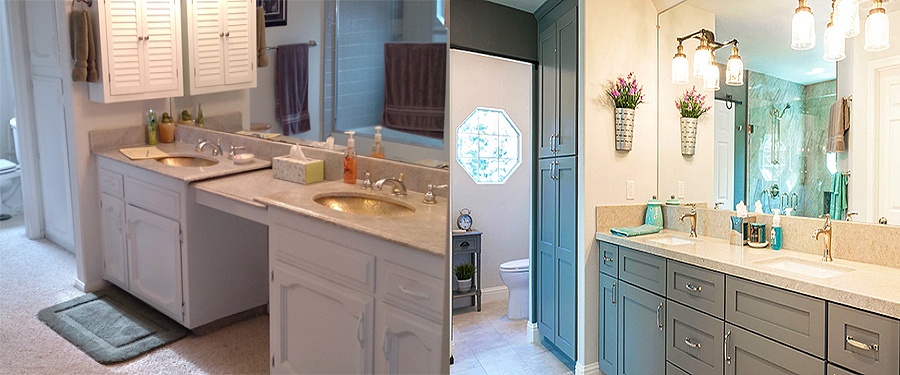 If you're thinking about a major renovation of your Fresno-area bathroom, you probably want to maximize the bang you're getting for the buck. That means you're most likely looking for some dramatic change. If you're looking for some ideas on how to make those kinds of changes, we invite you to look at a gorgeous bathroom renovation in Fresno that took a bathroom from "yawn" to "Yes!"
Not long ago, we remodeled a master bathroom in Foxhill that gives you an idea of what's possible with the right design and execution. We'll just focus on a few elements that make this master bath special.
Striking Shower
The shower in this Foxhill home is a striking example of how style and functionality work together. Today's homeowners increasingly want larger showers that function flawlessly and look great. This spacious shower gives the homeowners plenty of room. The unique window adds a touch of interest and the contrasting wall and (pebbled) floor tiles work beautifully together. But this shower is also built with ease of use in mind. The full-length doors look great, but that also make access to the shower easy (something those who plan to age-in-place really want to consider).
The shower includes two shower heads (one that can be hand-held) and a built-in bench that allows sitting while showering if you prefer. There is also a nicely designed grab bar and the pebbled flooring also guards against slipping.
Fantastic Flooring and Cabinets
In this photo, you get a sense of the beauty of this bathroom. The luxurious stone/tile flooring extends throughout the bathroom adding visual space. And the gray cabinets and hardware and oblong sinks create a striking modern look. The archway from the bathroom to the bedroom separates the two rooms but provides a nice flow from one room to the other.
Clean Lines
Here's a closer look at the cabinets, countertops, and sinks that shows off their clean, sleek lines. Even though it's a more modern look, it still exudes warmth. Even the hardware these homeowners chose adds to the elegant and clean style of the room. This photo also provides a view of how the bathroom flows into the seating area of the master bedroom.
Storage and Doors
Here's another example of functionality and style working hand-in-hand. You can never have too much storage! This bathroom uses floor-to-ceiling cabinets to offer lots of great storage space while picking up the clean lines of the other cabinets. This photo gives you another angle of the easy-to-access, step-in shower. But notice the other door in the picture. This hanging "barn-style" door adds a beautiful touch. Not only is it aesthetically appealing, but by sliding back and forth, it doesn't take up floor space the way a conventional door would. And when the toilet is not in use, the door can be left open to extend the visual space of the bathroom (and let natural light from the unique window into the space).
Hopefully, this provides you with some ideas for recreating your Fresno-area bathroom. But what if the images and ideas you see here don't represent your personal sense of style? That's not a problem! You'll want to create a space that feels comfortable and appealing to you. Here's an article that can help you find your own bathroom style.