May 15, 2023
Comments Off on

Best Upgrades To Turn Your Outdoor Space Into an Oasis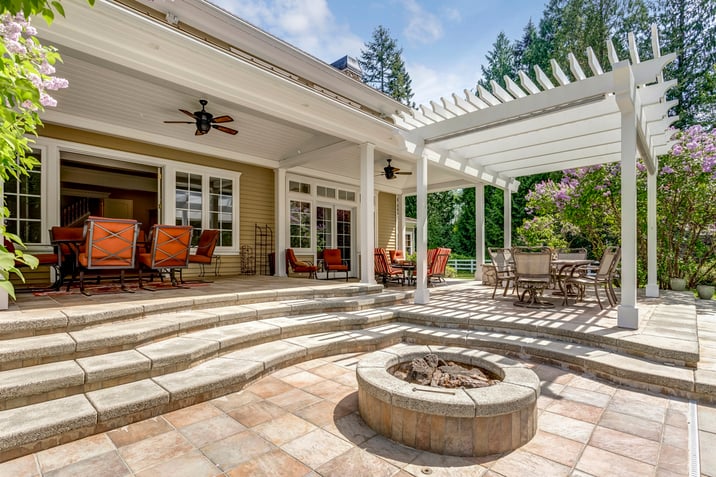 If you believe, as we do, that your home should be a beautiful sanctuary that enhances your lifestyle, then get ready to be inspired by what we consider some of the best upgrades to turn your outdoor space into an oasis.
Remodeling your outdoor space can be one of the best investments you can make as a homeowner … if you're smart and intentional about it. Done right, an upgraded outdoor space can enhance your property value. And just as importantly, or perhaps even more so, it will also enhance your enjoyment and use of your entire property.
Imagine a peaceful and relaxing retreat where you can unwind and entertain guests. An extended living space where you and your family can combine the beauty of nature and the comfort of home.
There are so many reasons why you might want to create your own outdoor oasis. Here are some of the most common ones:
Relaxation and Stress Relief — Did you know that spending time in a tranquil and peaceful outdoor space can help reduce stress, lower blood pressure, and promote overall well-being.
Entertainment and Socializing — An outdoor oasis can be a great place to entertain friends and family, whether it's for a casual BBQ, a dinner party, or a special event.
Increased Property Value — Upgrading your outdoor space can increase the value of a home by enhancing its curb appeal and adding an attractive and functional living space.
Connection with Nature — An outdoor oasis can provide a sense of connection with nature, letting you enjoy the beauty and serenity of the natural world from the comfort of your own home.
Improved Mental and Physical Health — Spending time outdoors has been shown to have a variety of physical and mental health benefits, including improved mood, increased Vitamin D intake, and enhanced cognitive function. Creating an outdoor oasis gives you a convenient and enjoyable way to experience these benefits on a daily basis.
Your reasons for wanting to upgrade your outdoor space into an oasis may include any or all of these. Or you may have other reasons that are all your own. Whatever your "why" is, here are some of the best ways to do so …
13 of the Best Upgrades to Turn Your Outdoor Space into an Oasis
1. Create a Cozy Seating Area - One of the easiest and simplest ways to create an enjoyable outdoor living space is to create a cozy seating area. Depending on the size of your yard, you can either go for a small bistro table or a large outdoor sectional. You can add colorful outdoor cushions and throws to make the area more inviting. Also, consider adding a few plants and lanterns to create a relaxing ambiance.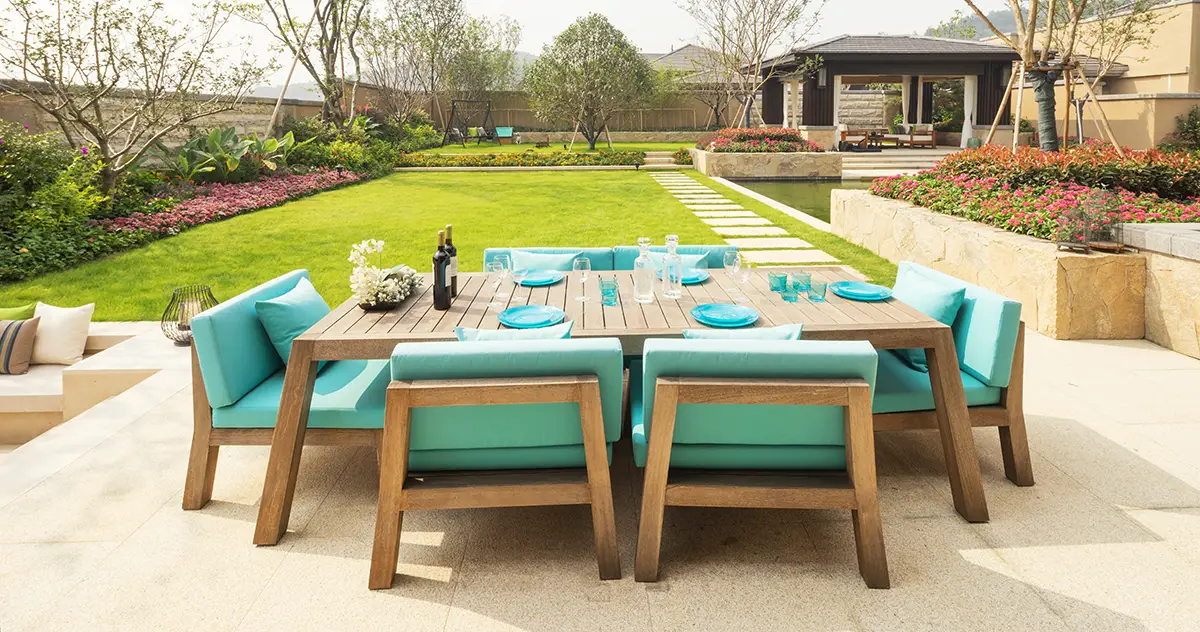 2. Install an Outdoor Kitchen - If you enjoy cooking and entertaining guests, an outdoor kitchen is a must-have. It will allow you to prepare meals while enjoying the fresh air and the beautiful view of your yard. Depending on your budget, you can install a simple grill or a more elaborate outdoor kitchen complete with a sink, refrigerator, and even a pizza oven.

3. Add an Outdoor Fireplace or Fire Pit - An outdoor fireplace or fire pit is a great addition to any outdoor space. They provide warmth, light, and a cozy ambiance that will make you want to spend more time outside. There's a wide range of choices to fit your aesthetic and lifestyle, from a simple wood-burning fire pit to an elaborate and dramatic full-feature outdoor fireplace.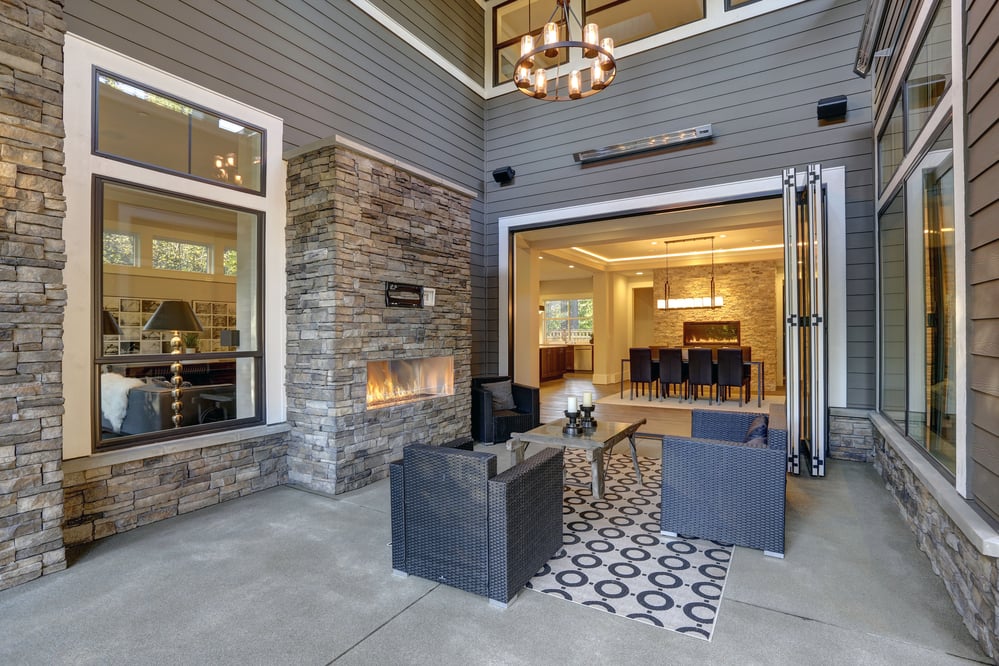 4. Install Outdoor Lighting - Outdoor lighting can transform your outdoor space into a magical oasis at night. Here are some lighting options to consider:
String lights are a popular choice for outdoor spaces, adding a cozy and romantic ambiance. You can string them along fences, trees, pergolas, or any other structure in your yard.
Pathway lighting can make your outdoor space safer and more inviting by illuminating your walkways and paths. You can choose from a variety of styles and materials, from solar-powered lights to LED lights to traditional lanterns.
Accent lighting can highlight specific features in your yard, such as trees, sculptures, or water features. You can use spotlights, uplights, or even underwater lights to create a dramatic effect.
Smart lighting systems allow you to control your outdoor lighting from your smartphone or tablet, making it easy to adjust the brightness and color of your lights, set timers and schedules, and even integrate your lighting with other smart home devices.

5. Create a Water Feature - A water feature — such as a fountain, a pond, or a waterfall — can add a calming, soothing, relaxing element to your outdoor space. It also can attract birds and other wildlife to your yard. Plus, the addition of water makes your space a true "oasis" in the classic definition of the word.

6. Add Outdoor Art - Outdoor art, such as sculptures, wall hangings, and garden ornaments, can add personality and charm to your outdoor space. Choose pieces that reflect your personality and style, and place them strategically to create visual interest.

7. Install an Outdoor Sound System - An outdoor sound system can enhance the ambiance of your outdoor space by playing your favorite music or soothing sounds. You can choose from wireless speakers, built-in speakers, or even hidden speakers that blend seamlessly into your landscaping.

8. Install an Outdoor TV - Putting a TV in your outdoor space can turn your oasis into an extra entertainment center. You can watch your favorite movies, TV shows, or sports events while enjoying the fresh air and the beautiful view of your yard.

9. Add Shade Structures - Shade structures — like pergolas, arbors, or fabric shade sails — can provide much-needed shade and protection from the sun. They can also add a stylish and elegant touch to your oasis. Consider adding outdoor curtains or shades to your shade structure to provide privacy and protection from the wind.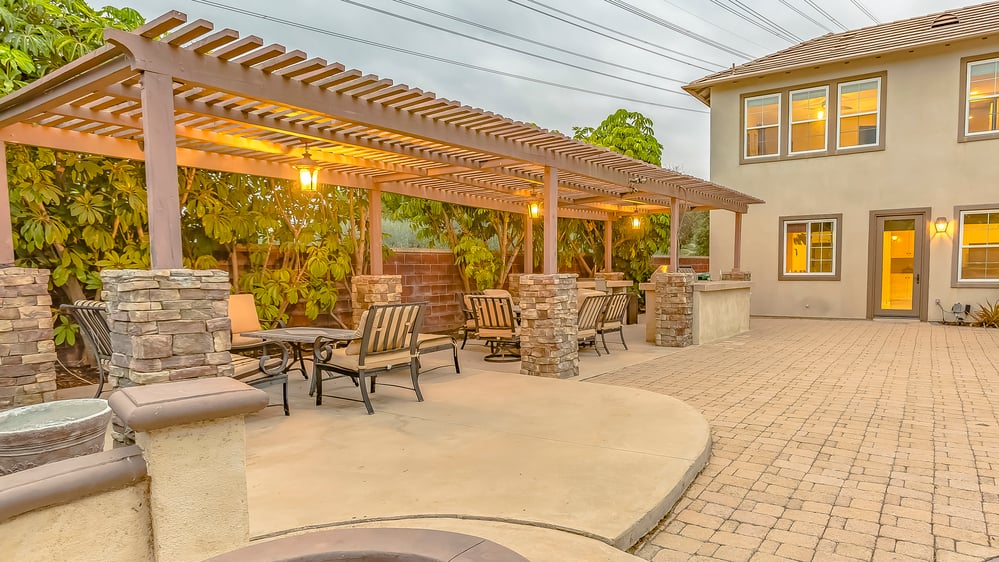 10. Include an Outdoor Shower - An outdoor shower is a refreshing and invigorating upgrade to any outdoor space. It allows you to rinse off after a swim or a workout, and it can also be used as a fun and practical feature for kids and pets. You can choose from a variety of styles and materials, from simple and rustic to modern and sleek.

11. Install a Spa or Pool - A spa or pool can turn your backyard into a private oasis where you can relax and unwind. Here again, there are a wide range of options. Just make sure to choose a design that complements your home's architecture and fits your budget and lifestyle.

12. Incorporate Natural Elements - Incorporating natural elements, such as rocks, stones, and wood, can give your oasis a harmonious and relaxing atmosphere. You can use rocks and stones to create pathways, retaining walls, and/or garden beds. Use wood to build shade structures, a fence, or a deck.

13. Invest in Landscaping - Landscaping is an important element of a beautiful and functional outdoor space. So don't neglect it when you're planning your remodel. Consider getting expert advice to help you choose the right plants, flowers, and trees for your climate and soil type. You'll want a landscape that complements your home's architectural style and your new upgraded outdoor living space.


Ready to Create Your Own Oasis?
As you can see, there are many remodeling upgrades that can turn your outdoor space into an oasis where you can escape the hustle and bustle of everyday life and relax with family and friends.
And beyond the benefits of relaxation and socializing, an outdoor oasis also can enhance your property value and support your mental and physical health.
We invite you to explore your options for turning your outdoor space into an oasis by booking a free, no-obligation consultation with the team at Imagine Remodeling. Call (559) 365-6542 or click here to use our convenient online form to share a few details with us.
In the meantime, you might find these additional Remodeling Resources helpful.