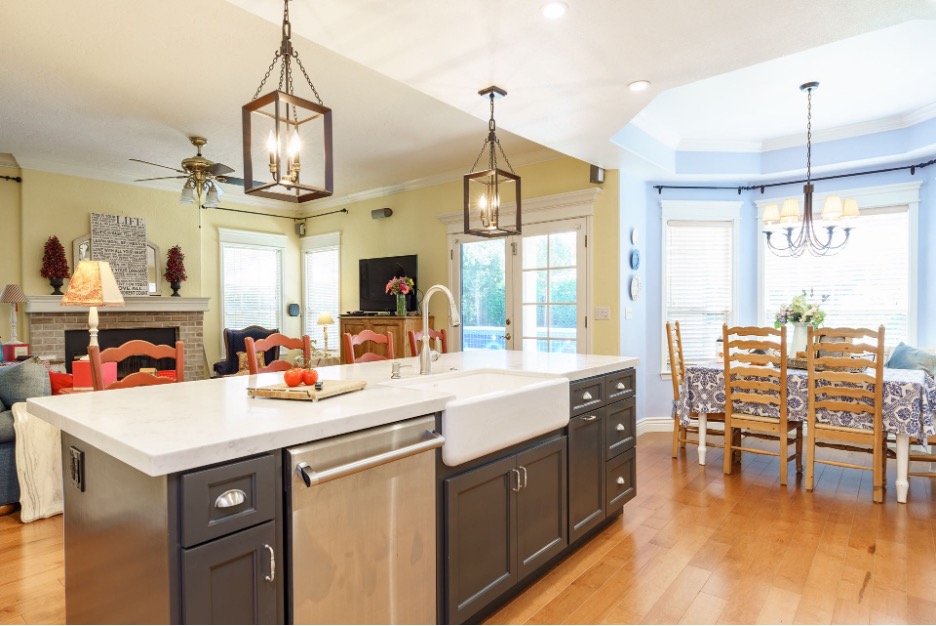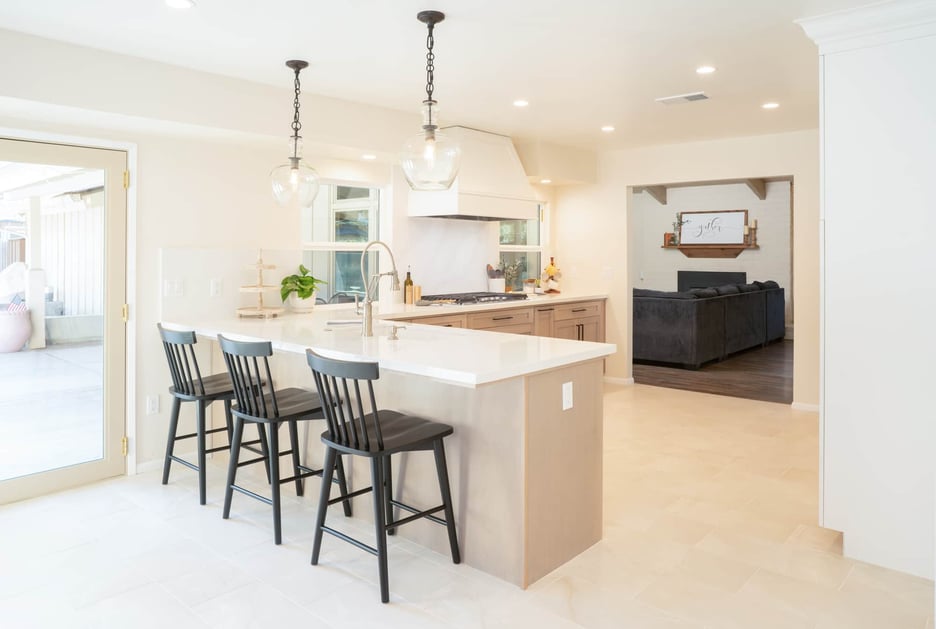 Unless you're a professional remodeler, you're probably not familiar with all the kitchen design options and latest kitchen remodeling idea's available today. Luckily, keeping up with trends is a priority for our entire design-build team. We can help you debate the merits of colorful kitchen cabinets versus more natural finishes or share information about the latest high-tech options for kitchen renovations in the Fresno area.
The Latest Kitchen Ideas for 2022: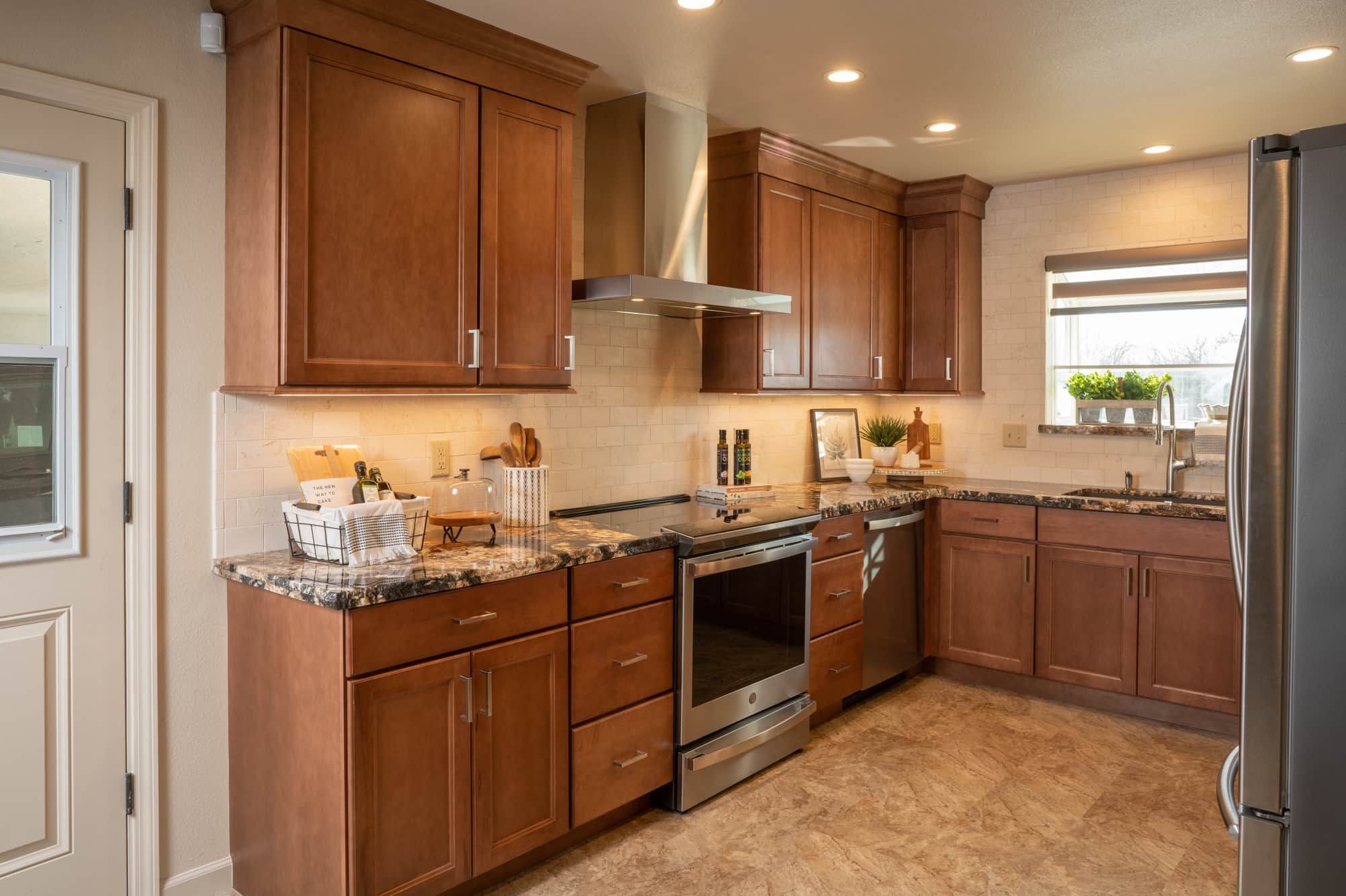 Kitchen Cabinet Colors
Cabinets may be utilitarian, but they don't have to be boring. In fact, kitchen cabinets are more colorful than ever this year. Emerald green, navy, or purple cabinets are in demand, although softer colors are certainly available too. If you really want to embrace current cabinet color idea, you can't go wrong with Very Peri, Pantone's color of the year. This periwinkle blue hue is the ideal shade for cabinets or walls.
If bold colors don't sound appealing to you, white, walnut, oak, or birch cabinets remain good choices. Although honey-stained oak cabinets were a staple in 1990s-era kitchens, oak has taken on a new look in this century. Today's kitchen cabinets showcase the beauty of the wood grain and keep the focus on the natural variations that make wood cabinets so appealing.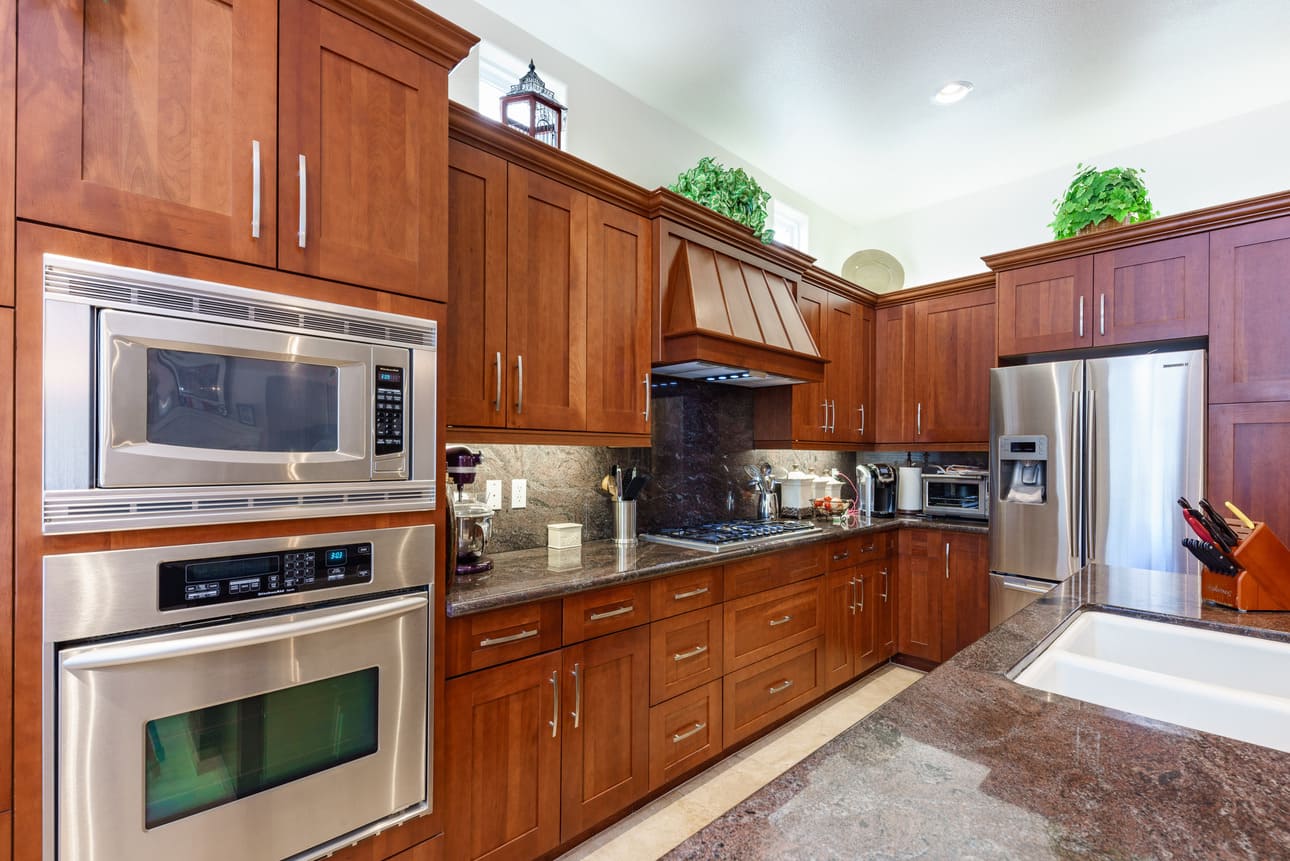 Organic/Natural Inspiration
Organic/natural kitchen design was ranked the second most common kitchen style, ranking just two points behind transitional in the National Kitchen and Bath Association's (NKBA) 2022 Design Trends report. Warm woods and greens, blues, and other colors found in nature are expected to make an appearance in kitchen remodels in 2022. Recycled and sustainable products that are healthier for the environment will also be popular with homeowners this year.
Double Kitchen Islands
If your kitchen is big enough, consider adding a second island to your renovation. With two islands, you'll have plenty of countertop space to prepare meals and spend time with family and friends. Do you entertain often? Your extra island expands your storage space and offers the ideal location for an additional sink, dishwasher, or cooktop. Double islands can be arranged in multiple configurations. Install them end to end, create a T- or L-shape, or choose a parallel layout.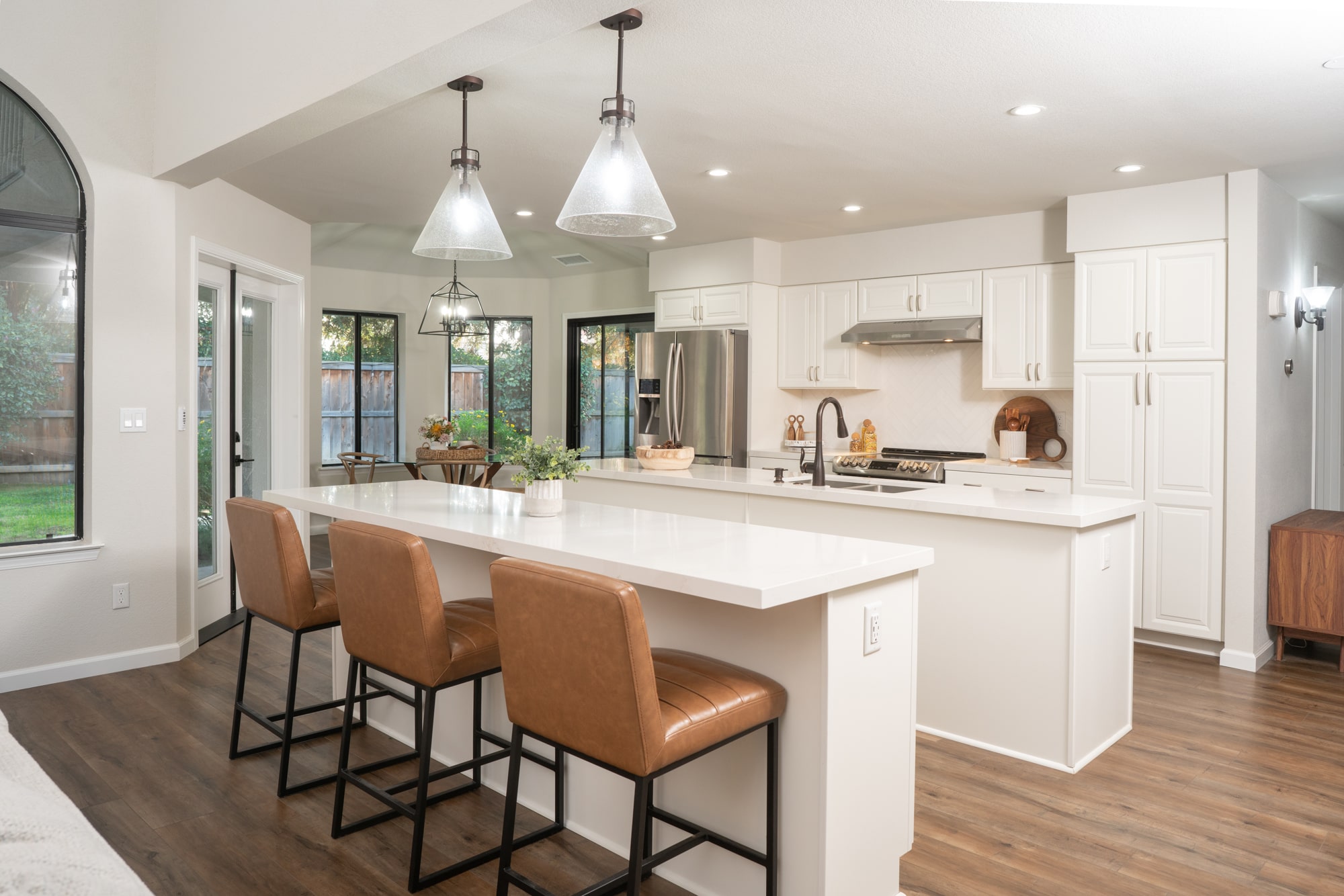 Kitchen Cabinet Remodeling Ideas
No More Upper Cabinets in Your Fresno Kitchen
Getting rid of upper cabinets makes any kitchen feel more open and spacious. Popular for several years, the trend is likely to continue in 2022. Of course, like many homeowners, you're probably wondering, "Where am I going to put everything if I eliminate my upper cabinets?" Luckily, islands and pantries offer ample room for pots, pans, dishes, small appliances, and food.
Your remodeler could also create an entire wall of storage cabinets designed to blend in with your kitchen. Your guests may not even know you have a storage wall when you use frameless cabinets and doors with invisible hinges.
Improved Kitchen Lighting Styles
Your need for light changes depending on the time of day or the task. If you're paging through a cookbook or scrolling through a website looking for new recipes, you'll need more light than when you're unloading the dishwasher. Although dimmers and flexible lighting have been standard in other parts of the house for years, the kitchen is finally getting a much-needed lighting upgrade.
The NKBA expects voice- and app-controlled lighting to become commonplace in the kitchen, in addition to dimmers and motion-activated lights. If your kitchen is dark and dreary, consider adding skylights or floor-to-ceiling windows to brighten the space naturally.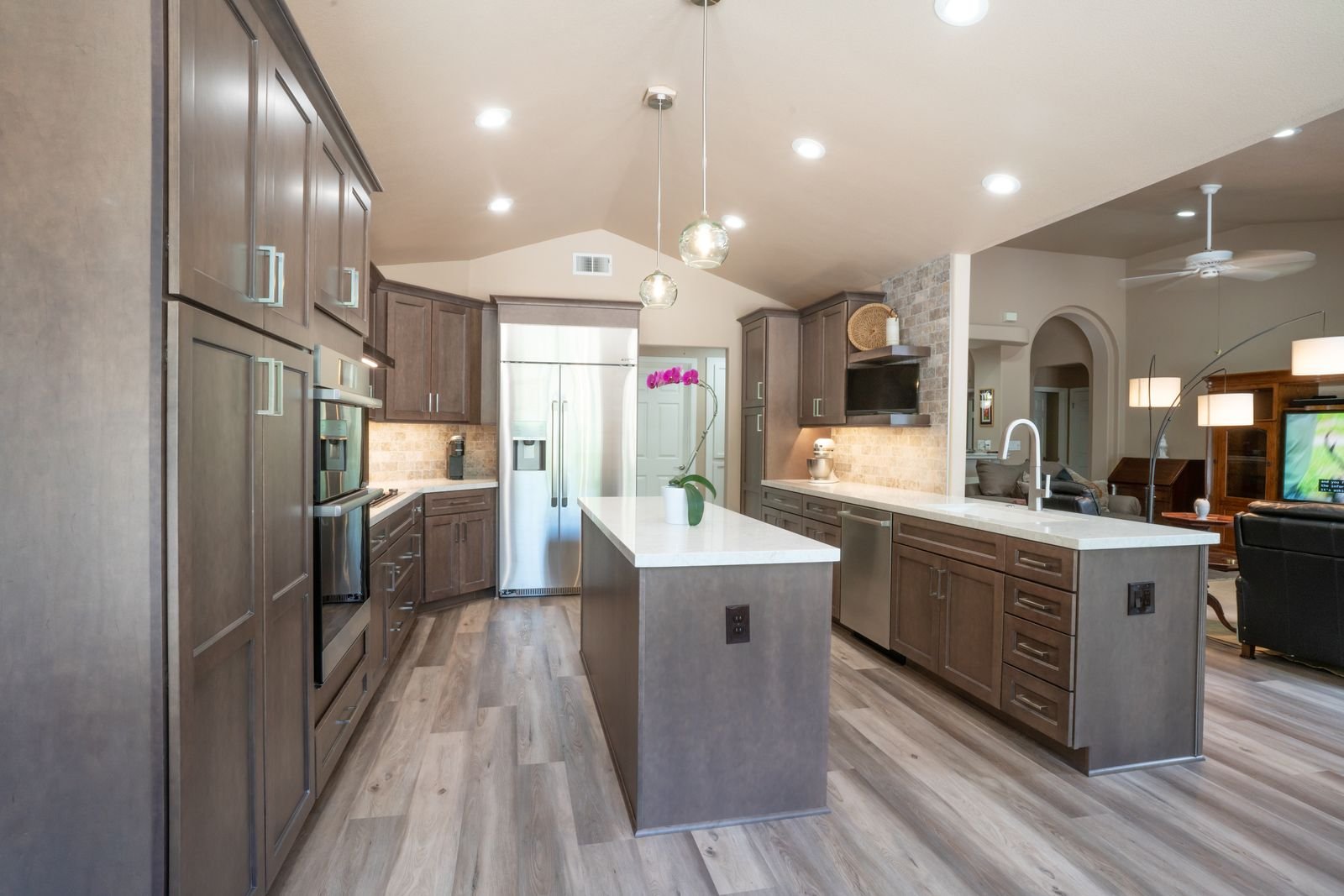 Smart Technology Convenience
Nearly everything in your home can be controlled or operated by voice commands, smartphone technology, or other high-tech methods. High-tech touches you may want to add to your Fresno kitchen renovation include:
Motion-activated faucets
Smart ovens that pre-heat remotely and remember the ideal temperature and time for your favorite recipes
Refrigerators that open when they're asked, provide updates on their contents, and reveal their contents with a touch of the hand
Dishwashers operated by smartphones or apps that adjust water level based on load and automatically order more dishwashing detergent.
Smart microwave ovens that detect humidity levels in foods and adjust cooking times accordingly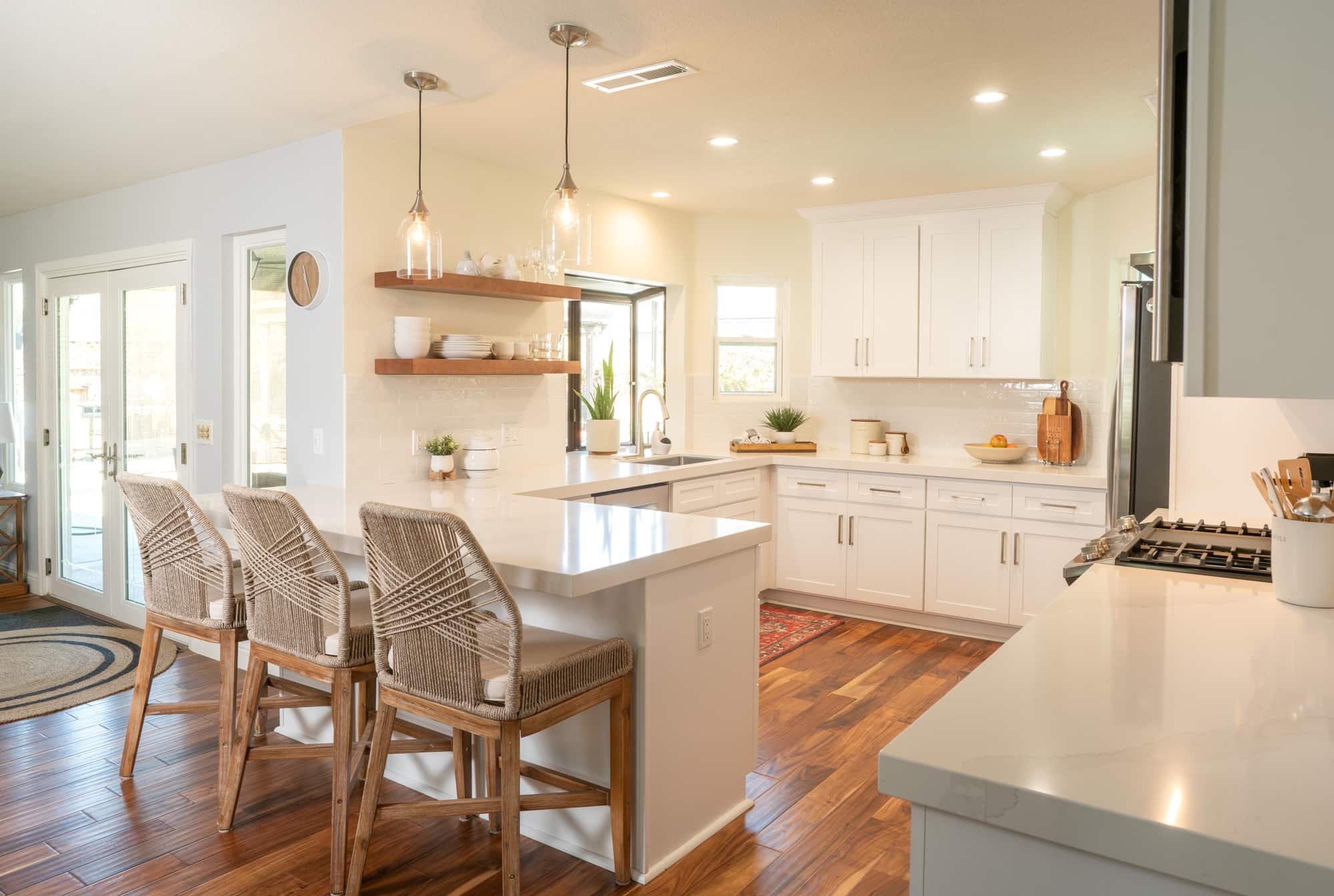 Design Build Delivers Trending Style with Timeless Design
The fact that Imagine Remodeling's carpenters work with the designers means you'll be confident you know what's in and what's out. Our team can collaborate to create a kitchen design that is the perfect blend of style ideas, functionality, and your unique personality. Our carpenters work with our designers to plan the perfect kitchen cabinetry and fancy custom built-in solutions. This means any kitchen style you see on Pinterest can be adjusted and constructed to suit you and your lifestyle.
Are you ready to make your kitchen renovation dreams come true? If you live in the Fresno area, contact us and let us know what features you'd like to incorporate into your new kitchen.