Mar 03, 2019
Comments Off on

Best Spring Getaways Near Fresno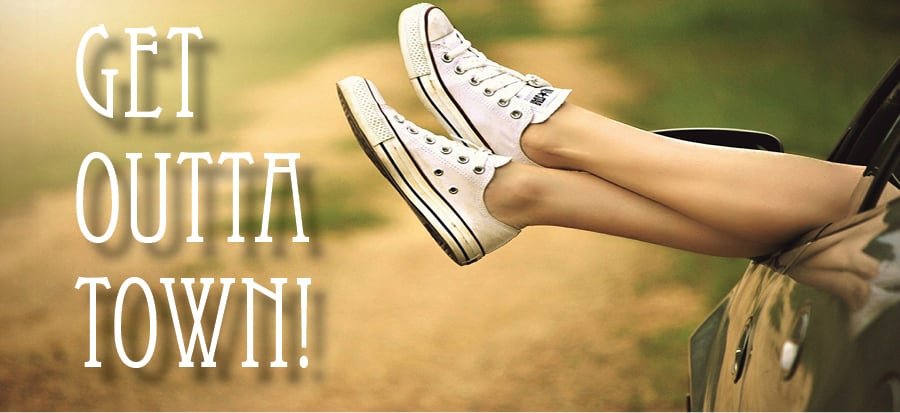 Fresno is a great place to live, but every now and then it's great to throw a suitcase in the back of the car and get out of town. It can give you a new perspective on things. Plus, it's just plain fun (sticking your feet out the back window is an extra treat, but it's entirely optional)! Ah, but where can you go if you want to see something new and different? Here's a quick look at some of the best spring getaways near Fresno.
Whether you're looking for fantastic scenery, unique things to do and see, fine dining—or a combination of all three, you can find what you're looking for (or may get pleasantly surprised) without having to wander too far from Fresno.
Carmel-by-the-Sea
Slightly more than three hours from Fresno, you can discover one of the treasures of the Monterrey Peninsula: Carmel-by-the-Sea. The town itself is beautiful and it boasts a number of great art galleries (and events) for those who enjoy art. For fine dining, you may want to check out the fantastic seafood offerings at Flaherty's Seafood Grill and Oyster Bar. If you want to get in a round of golf at a legendary course, you can visit Spyglass Hill Golf Course or even the world-famous Pebble Beach Golf Links. Even if you don't golf, the spectacular 17 Mile Drive in Pebble Beach, offers up magnificent vistas of Spanish Bay and the picturesque Lone Cypress. If you want to get more out of the mainstream, take the short drive to Carmel Valley for a slightly slower-paced atmosphere.
Morro Bay
Another great destination that's also just slightly more than three hours southwest of Fresno is Morro Bay, located on California's scenic Central Coast. Morro Bay provides you with stunning views (including Morro Rock, a volcanic dome at the entrance to Morro Harbor) as well as a plethora of engaging outdoor activities. Take advantage of a kayak tour to explore the coastal waters. Or, if fishing is your passion, you can venture farther out onto the ocean for tuna, rock cod, salmon, or halibut. You can enjoy a relaxing bike ride along local trails by renting a bike (and grabbing a map) at The Bike Shop. To wrap up your day you can enjoy a great meal (and great views) at one of Morro Bay's fantastic restaurants.
Paso Robles
If the idea of relaxing by soaking in beautiful hot springs and sipping fine wines, Paso Robles may be the ideal location for your getaway. While you sit and sip, you can enjoy the beautiful scenery of the eastern foothills of the Santa Lucia Mountains in this fantastic spot that's located less than three hours from Fresno. The local River Oaks Hot Springs Spa has both indoor and outdoor tubs for your soaking pleasure. You have a number of options for touring the local wine region. Paso Bike Tours enables you to cycle through various wineries/vineyards. Or you can take a deluxe shuttle coach with Grapeland Wine Tours. If you enjoy horseback riding, the Work Family Ranch offers that option through the grassy hills and oak groves of their ranch. Paso Robles offers a number of fine dining options as well, including the fantastic steaks serves at McPhee's Grill in nearby Templeton.
Sausalito
A little farther afield (but still less than four house from Fresno) is the charming and eclectic town of Sausalito. This fun and quirky hillside town is situated at the north end of the renowned Golden Gate Bridge and is full of fun things to do. The town is well known for its artist's colony, which means you'll have plenty of chances to explore the local studios and galleries. You can take walking tours through the town—or even explore the area via Segway! While you're doing that, you can enjoy views of the San Francisco skyline (including the famous Alcatraz prison) in the distance—or local houseboats along the Sausalito waterfront. You can even head out into the Bay on a kayak tour courtesy of local tour guide Sea Trek. There are restaurants galore in the town—including many that are right on the water—including the Trident seafood restaurant that affords great views.
Solvang
If you'd like a little taste of Denmark (without having to make a trip to Europe), you'll enjoy the atmosphere and architecture of Solvang. The town's Danish culture and style will make you feel as if you've arrived in a small Danish community. It's a shopper's paradise with an abundance of charming boutiques and shops. You can explore the town on bikes (rented at Wheel Fun Rentals). Or you can take a guided segway tour through town courtesy of Segway Tours of Solvang. Another option is to take a horseback ride through the hills of Estelle Vineyards with Vino Vaqueros Horseback Riding.
If you want to get out of town, there are plenty of great options that really aren't all that far from your Fresno front door!