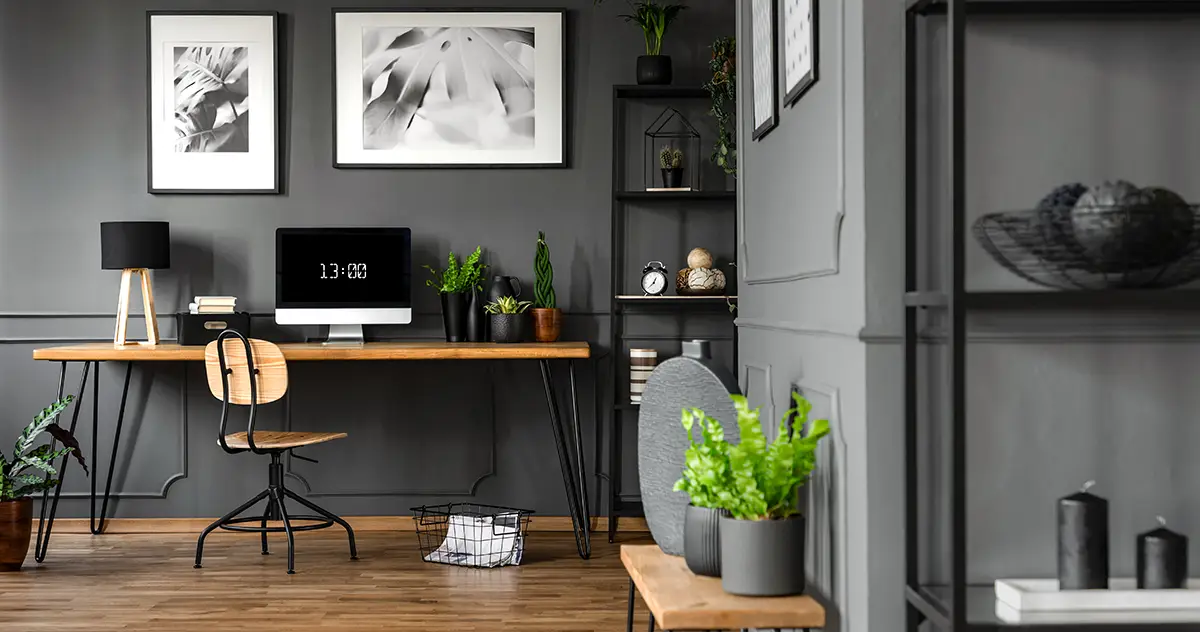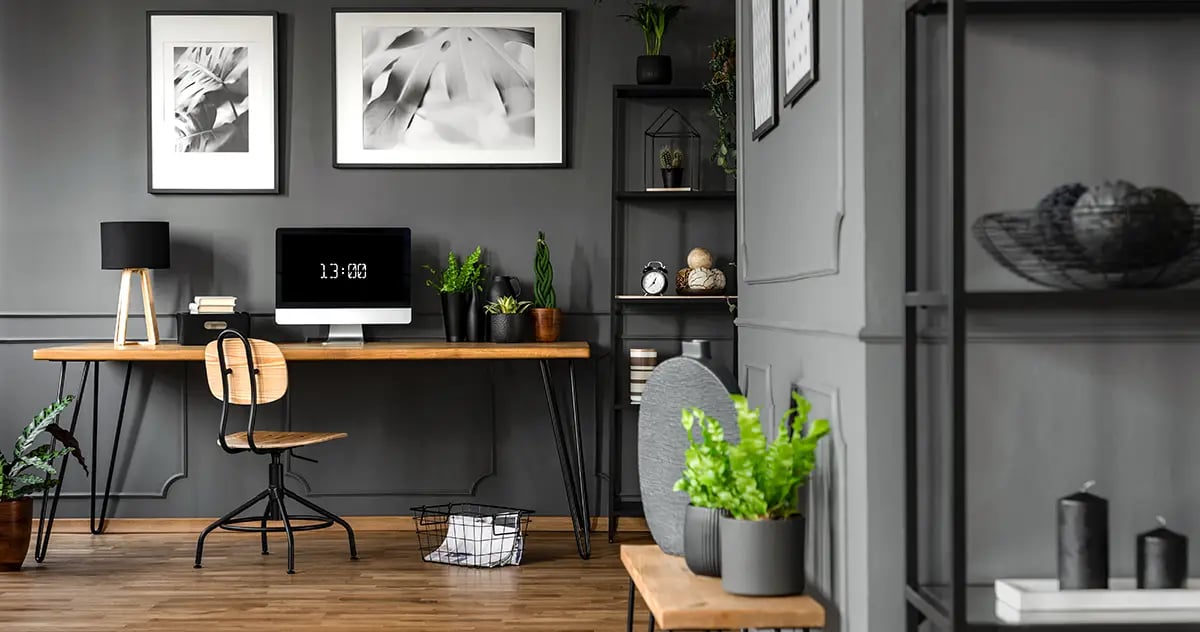 Whether you've chosen to work from home full time or have a hybrid schedule, having a well-designed home office is crucial for your productivity and your work-life balance.
Having a space that fosters focus, efficiency, and comfort is essential. Here are some design and remodeling tips to consider when planning your home office.
Choose the Right Location
Selecting the ideal location for your home office is the first step toward creating a productive workspace. Consider the following factors when choosing a suitable area:
Natural light: Natural light boosts mood, increases energy levels, and enhances productivity. Look for a room with ample windows or consider adding skylights to maximize the amount of natural light in your office.
Noise level: Opt for a quiet area away from distractions such as the living room or kitchen. If possible, choose a room with soundproofing or invest in noise-canceling headphones. Consider a separate room with a door to help manage surrounding noise.
Separation from personal life: It's important to create a physical boundary between your personal and professional life. If possible, it's best to avoid setting up your office in a space that blurs these lines, like the bedroom or living/dining areas.
Design for Ergonomics
Ergonomics play a vital role in ensuring your comfort and well-being during long working hours. This is just as important at home as it is in a traditional office setting. Here are some ergonomic tips for remodeling your home office:
Adjustable desk and chair: Invest in an ergonomic desk and chair that can be adjusted to suit your height and provide proper support for your back. This will help prevent posture-related issues and minimize discomfort.
Keyboard and mouse setup: Position your keyboard and mouse at a comfortable height to avoid strain on your wrists and arms. Consider using an ergonomic keyboard and mouse for additional support.
Monitor placement: Position your monitor at eye level to avoid neck strain. Use a monitor stand or adjustable arm to achieve the optimal viewing angle.
Prioritize Organization and Storage
Trying to work in a cluttered and disorganized workspace can hamper your productivity and create unnecessary stress. You can keep your home office organized with these practical tips:
Storage solutions: Invest in shelves, cabinets, or storage containers to keep your office supplies, files, and documents neatly organized. Consider utilizing vertical space to maximize your storage capacity.
Cable management: Tangled cables not only create a messy appearance but also pose a safety hazard. Use cable management solutions such as cable clips, cable sleeves, or zip ties to keep wires organized and out of sight. Installing additional, strategically placed electric outlets also can help with keeping cables under control.
Declutter: Constant clutter can hinder your productivity. So plan a spot for everything. When everything has its own designated spot to be in, you can easily keep your space clutter-free.
Optimize Lighting and Color
Lighting and color can significantly impact your mood, focus, and overall productivity when working from home. Consider these tips to create a visually appealing and stimulating home office:
Task lighting: In addition to choosing a space with good natural light, make sure you have adequate task lighting with the help of desk lamps or overhead lights. Proper lighting reduces eye strain and enhances concentration.
Color psychology: Different colors evoke varying emotions and moods. Some colors inspire, support happiness, or induce calm and focus. Understanding how different colors affect mood can help create the right atmosphere for your work. Generally, blues are considered the best overall color for working environments as it relieves stress and promotes focus. Yellow evokes creativity, whereas green promotes wellness and harmony. Reds can improve excitement but should be used sparingly so as not to create a distraction.
Personal touches: Include things that inspire and motivate you, such as artwork, plants, or personal photographs. These additions can help create a pleasant and uplifting work atmosphere.
Enhance Technology and Connectivity
A well-equipped home office with reliable technology and seamless connectivity is crucial for your productivity. Consider these upgrades:
Upgraded wiring: You may need to invest in upgraded electrical or telecommunication wiring and/or additional outlets to support your technology and connectivity needs. Carefully think about what technology you use to do your work, and outfit your home office accordingly. Creating a space plan is crucial for this step, as it allows you to visualize where equipment will be placed in your space.
Incorporate Privacy and Noise Control
Privacy and noise control are essential factors in creating a focused and distraction-free home office environment. Consider the following:
Acoustic panels: Think about installing acoustic panels or sound-absorbing materials on the walls to reduce echo and noise from outside sources, creating a quieter environment.
Noise-canceling headphones: Invest in a good pair of noise-canceling headphones to block out external noises and maintain your concentration during work hours.
Privacy: Consider a space with a lockable door to protect sensitive information and keep accidental intrusions at bay.
Get Professional Help to Create a Productive Home Office Working Space
You likely spend a good amount of time in your home office. So designing and creating a space that helps you be your most productive and inspired is crucial.
Hiring a professional to help you create a home office that will be a productive working space makes the process easier and less stressful. You can rely on their expert guidance and take the guesswork out of the equation.
And they may suggest solutions that you haven't thought about or even known were possible.
You get access to an experienced team of remodeling contractors and home designers when you request a consultation with Imagine Remodeling.
Call (559) 365-6542 or click here to use our convenient online form to request a free consultation today.