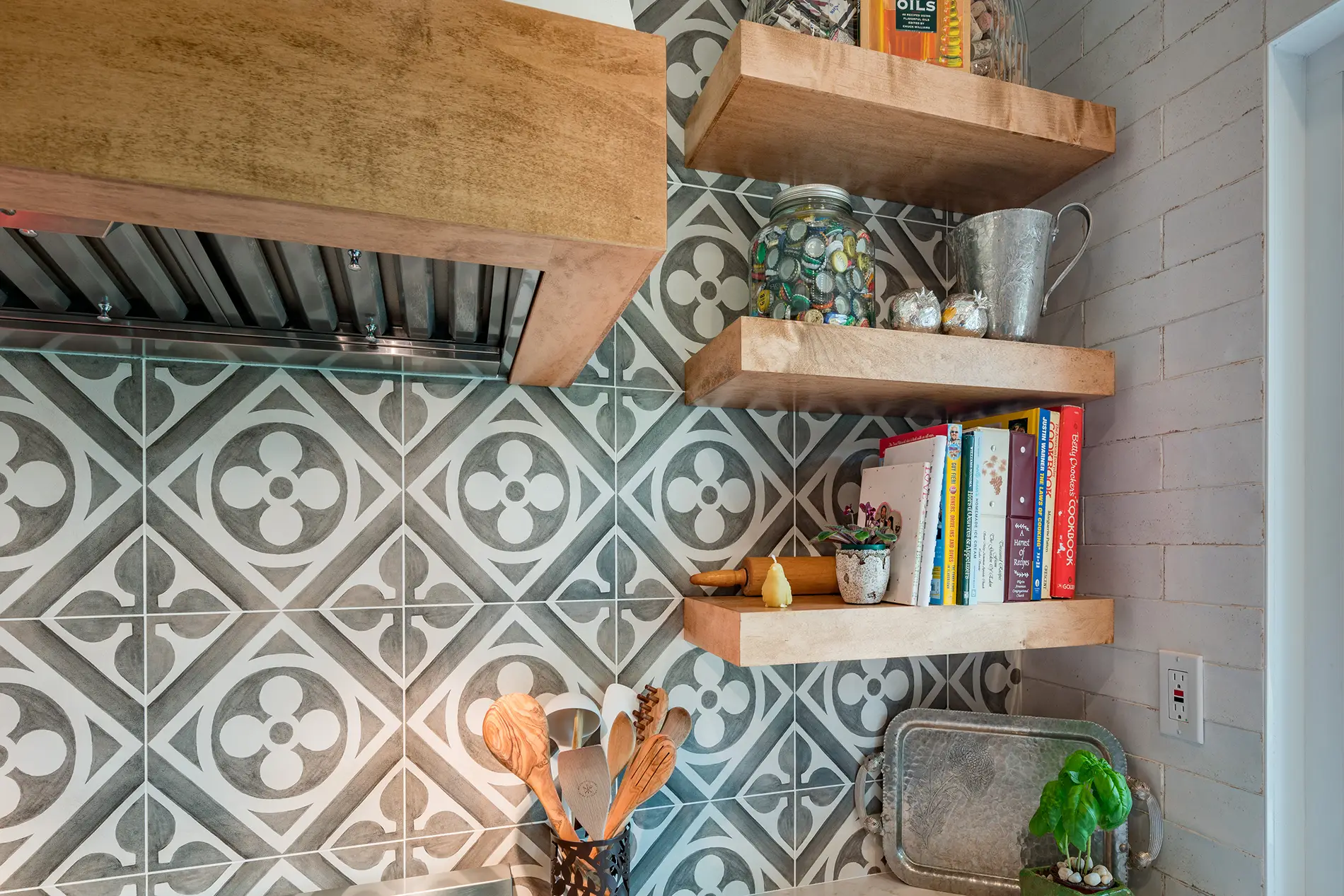 It's a key element that is often not given the attention it deserves, so if you're wondering "how to choose the perfect backsplash for my kitchen," you deserve recognition for being ahead of the game. Bravo!

A backsplash serves to prevent water, grease, or other messes from damaging your kitchen walls – especially the walls behind your sink and stove. They can range from a few inches off the counter to all the way up to the upper cabinets, or even as high as the ceiling. Along with countertops, cabinets, and flooring, your backsplash is a vital part of your kitchen, and important design decision when remodeling.

The backsplash also can significantly impact the overall aesthetic of your kitchen. There's an array of materials, colors, and patterns to choose from, which makes the selection process exciting … and also sometimes overwhelming.

But we're here to help guide you in making a decision you'll be happy living with.

Things to Consider When Choosing Your Backsplash

Ideally, your backsplash should be a harmonious blend of aesthetics and functionality. Think of both aspects as you consider the following:

Your Personal Style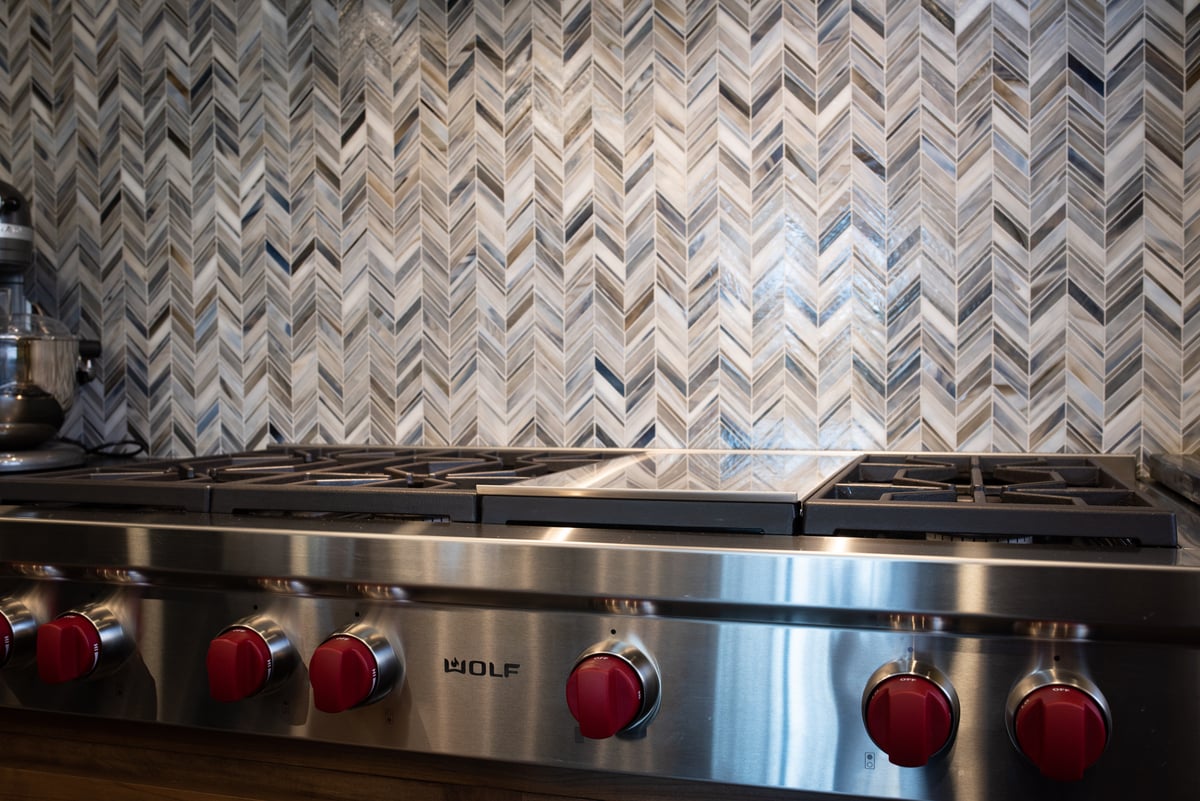 The backsplash is an opportunity to showcase your personal style and enhance the visual appeal of your kitchen. For example, are you drawn to sleek, modern designs, or do you prefer a more rustic farmhouse aesthetic?
Consider your overall kitchen theme and select a backsplash that complements it. Subway tiles, mosaic patterns, and natural stone are just a few of the versatile options available.

Maintenance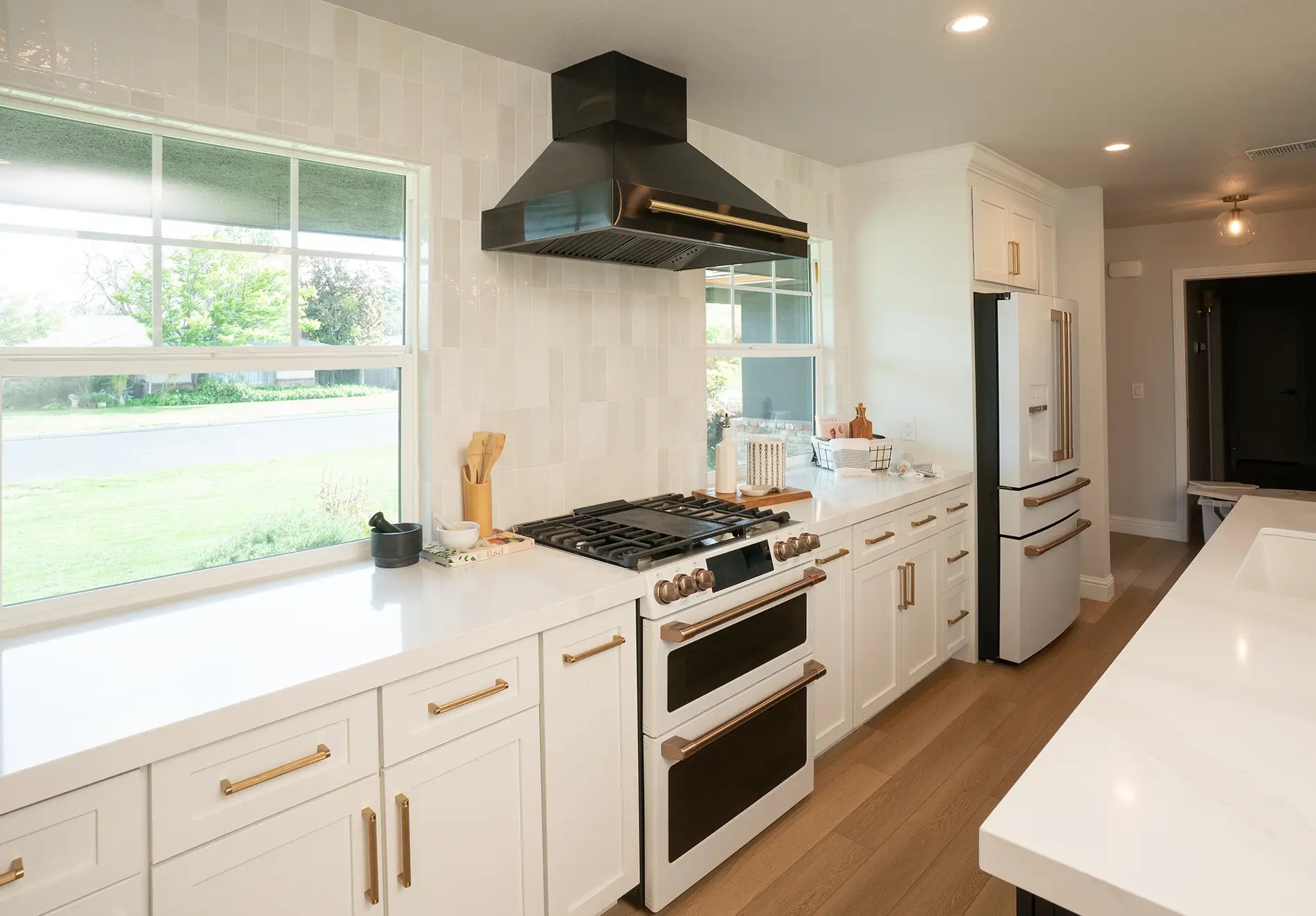 Kitchens are high-traffic areas prone to spills and splatters. When choosing a backsplash material, it's crucial to think about how easy it will be to clean and maintain.
For instance, while natural stone tiles can be beautiful, they are also porous, which can lead to staining and additional maintenance to keep sealed properly. Ceramic, glass, and porcelain tiles are durable and stain-resistant options.

It's important to be aware of maintenance requirements when you're choosing your backsplash so that you're not surprised later.

Color Palette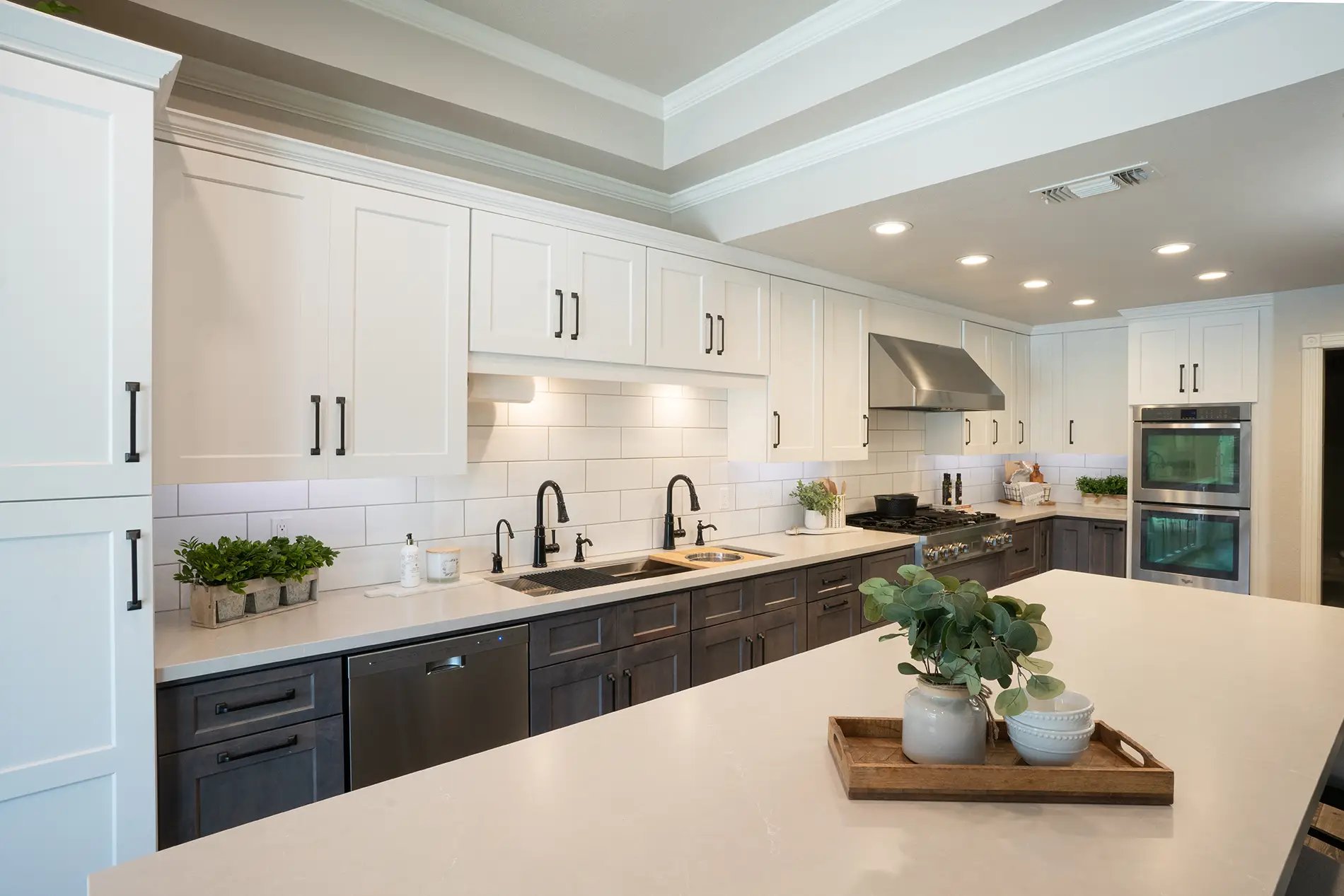 Your chosen backsplash should seamlessly tie together the other various elements in your kitchen — such as cabinets, countertops, and appliances. You'll generally want to opt for colors that either harmonize or provide an appealing contrast to these larger elements.

If in doubt, a professional designer can provide invaluable insights to help you ensure a cohesive color scheme.

Texture and Pattern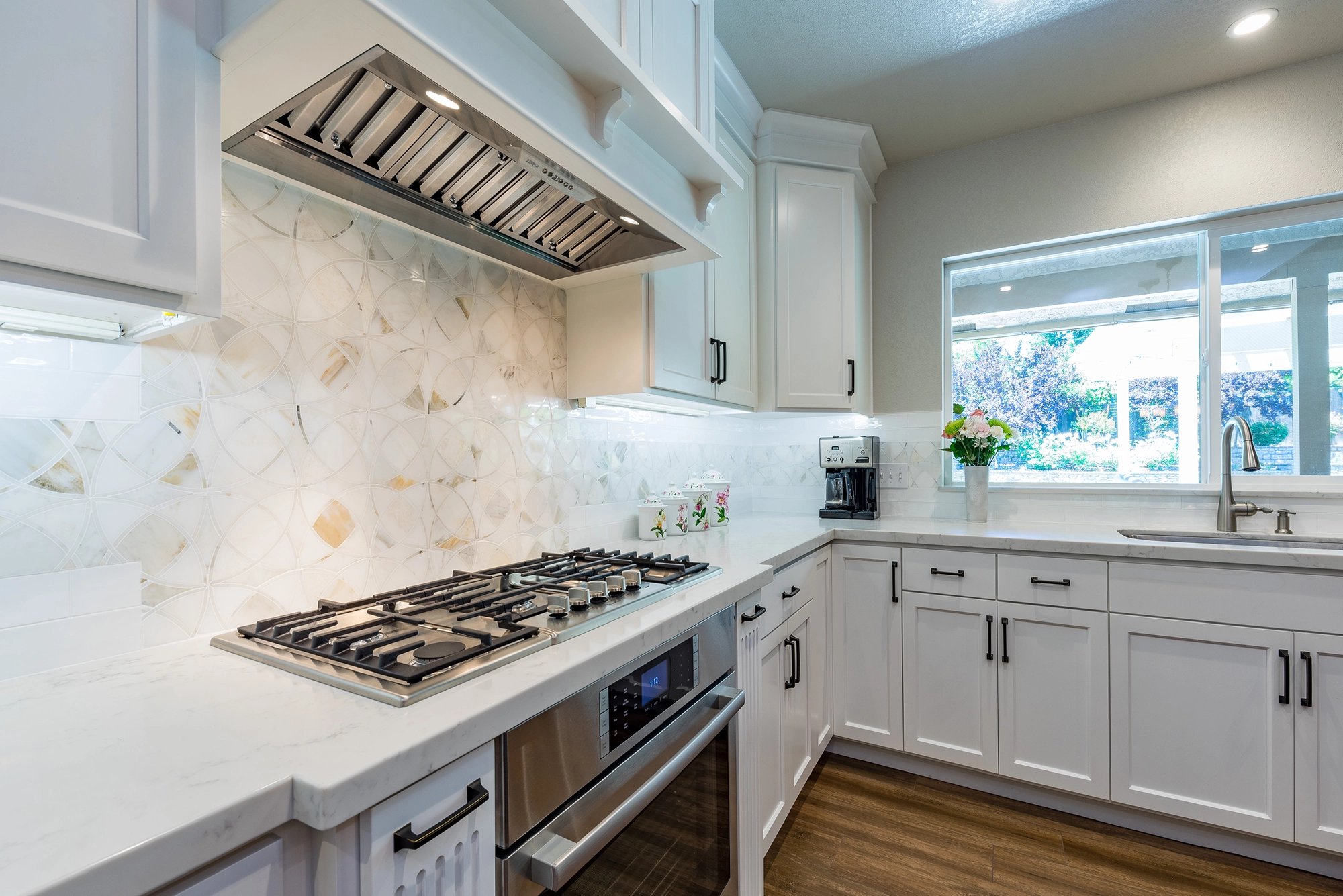 Texture in a backsplash can add depth and visual interest to your kitchen. Depending on your preferences, you can opt for smooth, glossy tiles for a modern look, or textured tiles for a more tactile and unique feel.
Additionally, visual patterns like herringbone, chevron, basketweave, or other patterns can lend an air of sophistication to your kitchen space.

Choosing the perfect backsplash for your kitchen is a decision that requires careful consideration of aesthetics, functionality, and your personal preferences. The right backsplash truly can transform your kitchen in a way that reflects your unique style and enhances your environment.

Getting Design-Build Help

When remodeling a kitchen, there are countless design choices that need to be made aside from just choosing a backsplash. It is a good idea to hire a design build company with extensive experience in kitchen remodels who can assist with the design process and help avoid common pitfalls.

Here are a few more examples of how a Design-Build company can streamline the remodeling process:
Seamless Integration of Design and Construction

One of the most significant advantages of partnering with a design-build company is the seamless integration of the design and construction processes.

With an in-house design team working closely with the construction experts, communication gaps are minimized, resulting in a smoother project flow. This ensures that your design is executed accurately and efficiently.

Expertise and Creativity

Design-build firms employ professionals who are well-versed in both design principles and construction techniques. Their expertise allows them to suggest innovative backsplash ideas that not only enhance the aesthetics but also align with your kitchen's layout and functionality.

Whether you're looking for a statement piece or a subtle backdrop, their creativity can make your vision a reality.

Comprehensive Project Management

Juggling between different contractors, suppliers, and timelines can be overwhelming for homeowners. Design-build companies take on the responsibility of managing the entire project from concept to completion.
This means you can focus on enjoying the design process while leaving the logistical details to the experts.

Cost and Time Efficiency

A design-build approach often leads to cost and time savings. Having all aspects of the project under one roof eliminates potential conflicts and delays that can arise when multiple parties are involved.

Additionally, the collaboration between the design and construction teams ensures that the design is both aesthetically pleasing and structurally feasible, reducing the risk of costly modifications later on.

Personalized Guidance

Design-build firms prioritize understanding your needs and preferences. Their in-house design teams work closely with you to create a backsplash that aligns with your vision and lifestyle. From material selection to color coordination, their guidance ensures that every detail contributes to the overall harmony of your kitchen.
We're Here to Help if You Need It.

Imagine Remodeling is a design-build company with an in-house design team at your disposal to help you make your dream kitchen a reality.

We invite you to call (559) 365-6542 or click here to use our convenient online form to request a free consultation today.

In the meantime, you might find the kitchen projects in our Fresno Remodeling Gallery inspiring and fun to look at. You can also explore Kitchen Remodeling Insights here.