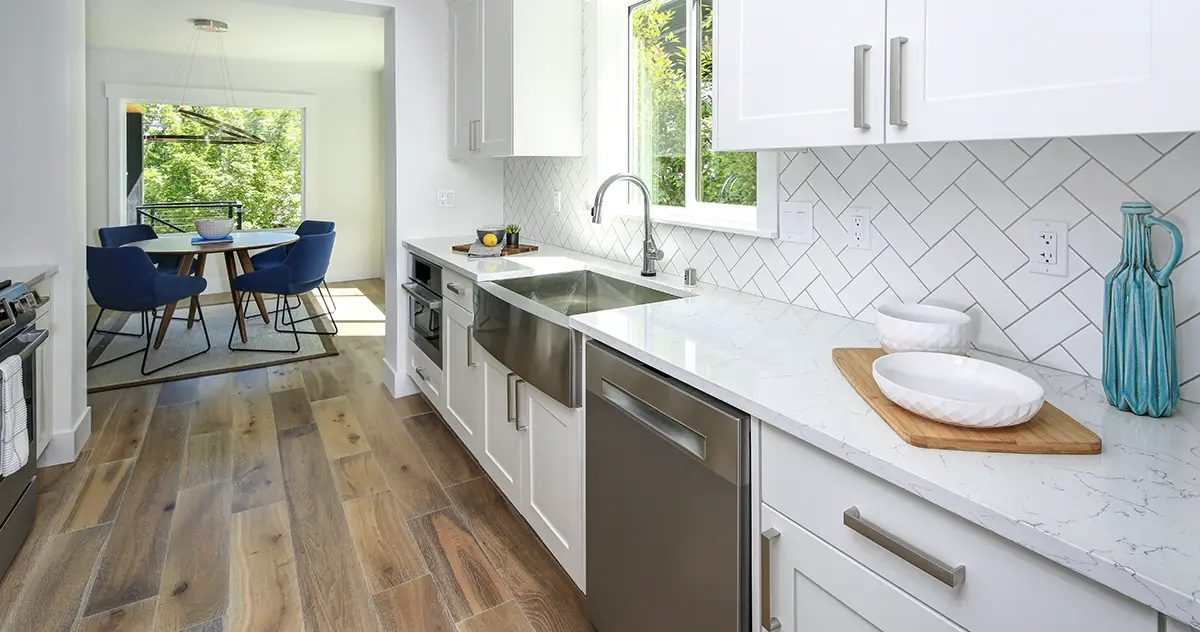 When it comes to upgrading your home, not all projects are created equal. There are three home renovations that will give you the best return on investment (ROI).
If you want your remodel to result in a great new living space but also make smart financial sense, there are three key areas to focus on: kitchen remodels, bedroom and bathroom remodels, and thoughtful home additions. These projects not only promise substantial ROI but also bring many other benefits that can enhance your living experience.
To ensure the success of these endeavors, it's crucial to collaborate with both an interior designer and a contractor.
1. Kitchen Remodels: The Heart of the Home
The kitchen is often referred to as the heart of the home, and with good reason. It's a space where families gather, conversations flow, and delicious meals are prepared. A kitchen remodel is an investment that can yield impressive returns.
According to Remodeling Magazine's Cost vs. Value Report, national averages show a minor, mid range kitchen remodel can recoup around 86% of the project cost in resale value, while a major remodel can potentially recover up to 42%.
Beyond financial gains, a kitchen remodel offers several lifestyle advantages as well. Updated appliances and modern conveniences can streamline your cooking and meal preparation process, making it more enjoyable and efficient.
Redesigned layouts can enhance the functionality of the space, making it easier to work and interact within the kitchen.
A well-designed kitchen can increase your home's overall appeal, making it more attractive to potential buyers should you decide to sell in the future.
Collaborating with an interior designer is essential for a successful kitchen remodel. They can offer insights into the latest design trends, help you select color schemes, materials, and fixtures that align with your vision, and ensure that the space is both aesthetically pleasing and highly functional.
2. Bedroom and Bathroom Remodels: Your Personal Retreats
Your bedroom and bathroom have the potential to be your personal retreats, where you unwind, rejuvenate, and start each day afresh. Like a kitchen remodel, remodeling these spaces also can provide a substantial ROI and improve your quality of life.
A well-executed bathroom remodel can recoup around 67% of its cost, according to the same Remodeling Magazine report.
Upgrading your bedroom can lead to better sleep and relaxation. Incorporating features such as ample storage solutions, cozy lighting, and comfortable seating areas can transform it into a serene oasis.
Similarly, a bathroom remodel can turn a utilitarian space into a spa-like sanctuary. Modern fixtures, luxurious finishes, and smart storage solutions can create a more enjoyable and functional bathroom experience.
In both these remodels, the role of an interior designer is paramount. Their expertise can help you strike a balance between aesthetics and functionality. They can guide you in selecting furniture, color palettes, and textures that align with your desired atmosphere while optimizing the layout for maximum comfort and usability.
3. Thoughtful Home Additions: Space Tailored to Your Needs
Home additions go beyond remodeling existing spaces — they involve expanding your living area to meet your evolving needs. Whether it's a mother-in-law suite, an extra bedroom, a home office, or a new bathroom, these additions can provide exceptional ROI.
The potential ROI can vary widely depending on the type of addition and local real estate trends, but a well-planned and executed addition can significantly enhance your home's value.
Apart from financial benefits, a thoughtfully designed addition can offer lifestyle improvements that are hard to quantify. A home office, for instance, can increase your productivity and work-life balance.
An extra bedroom or a mother-in-law suite can provide comfortable accommodations for guests or family members. These additions can also reduce the feeling of crowding in your existing spaces, contributing to a more harmonious living environment.
When considering a home addition, collaborating with both an interior designer and a contractor is essential.
An interior designer can help you conceptualize the new space, ensuring it seamlessly integrates with the existing architecture and interior design. They can also assist in selecting materials, colors, and furnishings that complement the rest of your home.
A contractor, on the other hand, brings the technical expertise required to execute the addition efficiently and in compliance with building codes.
The Power of Collaboration
While the potential ROI of these home renovations is compelling, the process is not without challenges. This is where the importance of collaborating with professionals comes into play.
An interior designer brings creativity and expertise in creating spaces that reflect your personality while optimizing functionality.
A skilled contractor ensures that the renovation or addition is carried out smoothly, on time, and within budget.
You get both when you work with Imagine Remodeling for your home renovation. We're a design-build company with a holistic approach to architecture, design, and construction. Our professional, expert contractors and in-house design team ensure your project meets your needs for both style and functionality.
We invite you to consult with the home renovation experts at Imagine Remodeling to further explore these or other home remodeling ideas you may have in mind.
Call (559) 365-6542 or click here to use our convenient online form to request a free consultation today.
In the meantime, you might find our Fresno Remodeling Gallery inspiring and fun to look at.