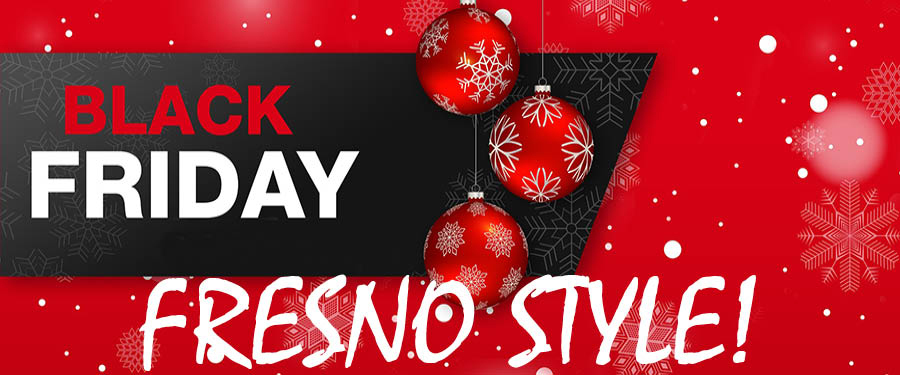 Major retailers such as Costco and Walmart are already touting their Black Friday deals and specials. And while these are national chains, you can expect to find these deals at your local Costco or Walmart stores.
But what if you want your Black Friday shopping to have more of a Fresno flair? Here's a look at some of the great shopping opportunities in the Fresno area that may allow you to select holiday gifts that are a little bit different—and help support your local merchants and neighbors.
Regardless of which Fresno neighborhood you live in, you're not far from most of these local merchants! Shopping locally also puts a little bit more fun back into the whole Black Friday experience. Your shopping excursion can be more of a discovery and adventure instead of a re-enactment of an episode of Survivor!
If you're looking for traditional shopping and great Black Friday deals, here's a list of the top 15 Fresno-area places to shop (courtesy of foursquare). You can use the information to map out your Black Friday strategy!
Breaking Out of the Black Friday Box
If you're looking for a different kind of Black Friday shopping experience, you have other options in the Fresno area. Here's a look at some alternatives that can help you break out of the Black Friday shopping box. You'll find a wide variety of gift ideas—and even have fun in the process.
Wine Can Be Fine
While we tend to think of electronics and clothing as typical Black Friday purchases, you might want to consider something a bit more refined. Check out the offerings of some of Fresno's specialty wine shops, such as The Tasting Room, that offers live music every Friday and Saturday evening from 7 to 10 pm. They also have karaoke nights and paint nights where you can paint and sample wines at the same time! Pinot's Palette is another Fresno shop that sponsors wine/beer sampling with painting.
Think Outside the Shop
Some of the best gifts you can give may not be found in a shop—large or small. Turning someone on to a new skill or craft can be a great gift that will keep on giving for years. If you know someone who's always toyed with the idea of doing pottery, consider giving them the gift of a pottery class. Clay Mix offers a variety of pottery classes for all levels that limit class size to 10 students so that everyone receives individualized instruction from an instructor.
If you have a friend or relative who is a budding musician (or would like to be), consider guitar lessons, or piano lessons from a local teacher such as Guitar and Bass Lessons with Johnny Lightfoot. Maybe you know someone who would love to expand his or her culinary skills. A gourmet cooking class might be the perfect Black Friday purchase—and you won't have to fight the crowds to get it. Here's a list of the top 10 cooking instructors near Fresno so you can choose the style and location that best suits you.
If conventional Black Friday sales have left you a little tired and frazzled, try Black Friday shopping with a distinctive Fresno flair this year!
Image by Ondřej Šponiar from Pixabay