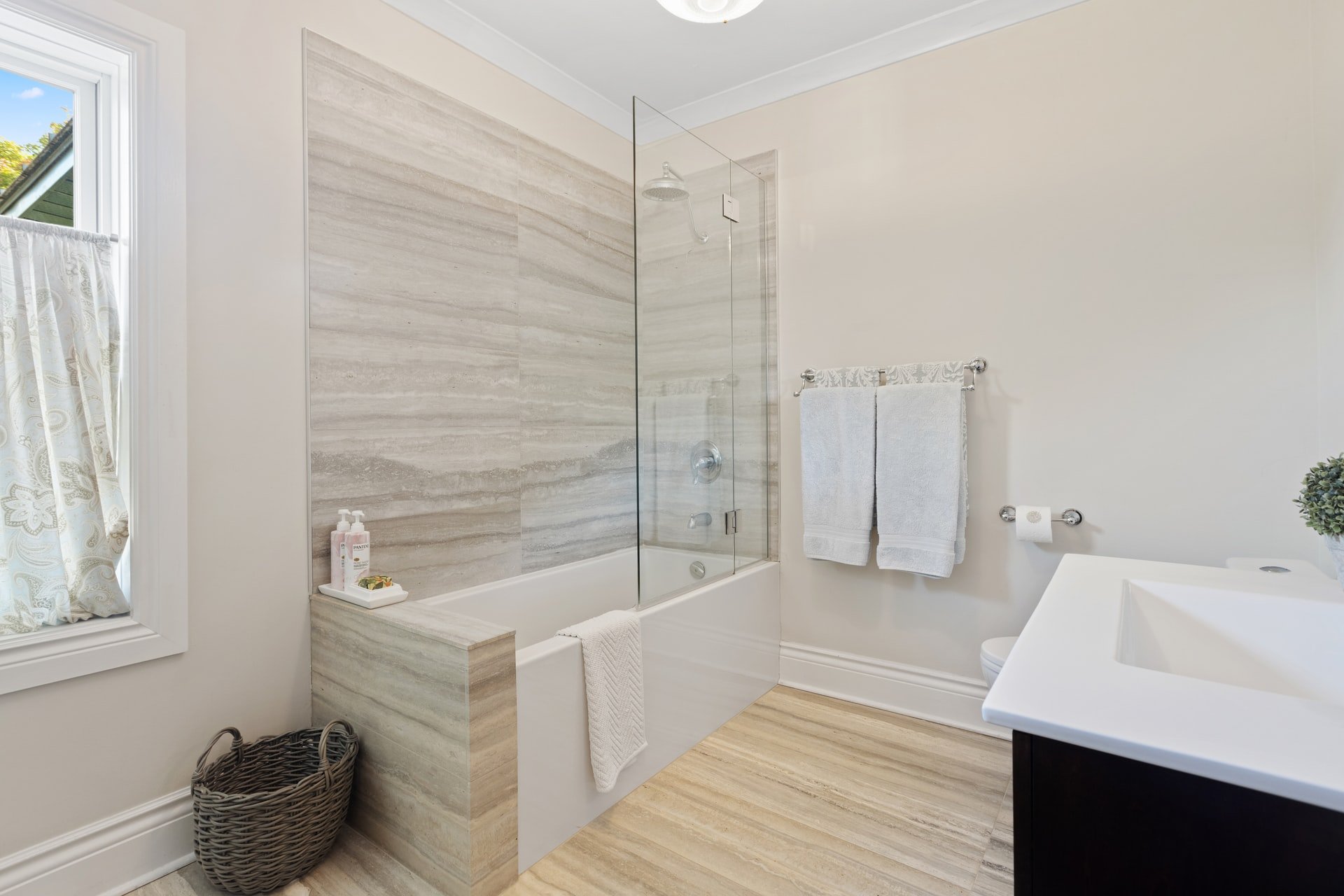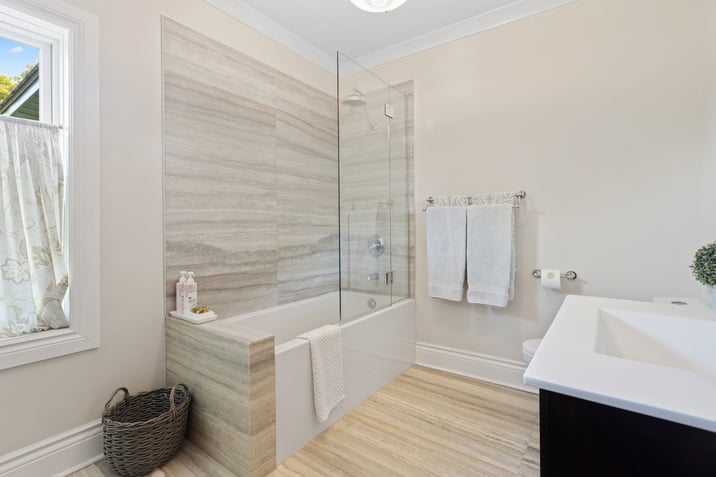 Cleaning grout just may be one of the most unsatisfying bathroom cleaning jobs. No matter how hard you scrub discolored grout lines, ugly stains and black mold remain stuck between the tiles. Fortunately, cleaning your bathroom will be much easier when you ask your Fresno remodeler to include grout-free options in your bathroom renovation.
The Problem with Grout in your Shower
Grout helps a wall of tiles function as one unit. Unfortunately, cement-based grout, the kind commonly used between the shower and floor tiles, begins to break down after years of use. When that happens, the grout no longer repels water, which can lead to a build-up of mold and mildew in your bathroom.
Thanks to failing grout, water can find its way under the tiles, jeopardizing the structural integrity of your shower wall and causing an unseen mold and mildew issue. If your bathroom smells like mold and mildew, even though it looks clean, there's a good chance there's a big problem lurking under your tiles.
In addition to making your bathroom look or smell unclean, mold and mildew are bad for your health. Exposure to mold can cause headaches, runny nose, itchy eyes, sneezing, and red eyes and may trigger asthma flare-ups.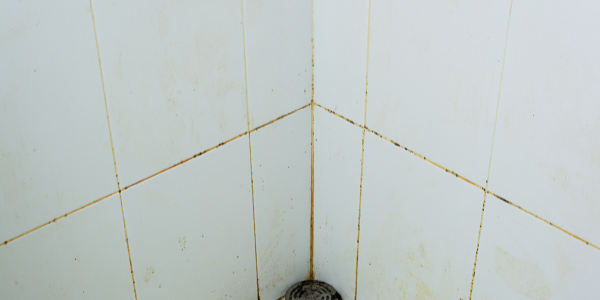 Grout-Less Options for Your Shower Walls
Slab shower walls eliminate the need for grout and enhance the beauty of your bathroom. Instead of covering your wall with multiple pieces of tile, your renovator attaches a slab that's big enough to cover your entire shower wall. Slabs are available in natural stone and engineered stone, as well as materials that look like acrylic, wood, and other materials. If you like the appearance of tiled showers, you can even choose slab styles that look just like subway tiles, shiplap, or other popular tile choices.
No Grout Slab choices include:
Natural Stone: A slab wall made of granite, marble, or other types of natural stone gives your new bathroom a custom look.
Engineered Stone: These panels consist of a layer of stone or engineered stone (like engineered marble or quartz) over several layers of polyvinyl chloride (PVC). Composite panels offer a less expensive way to get the look of real stone.
Solid Surface: Corian and other solid surface materials aren't just for kitchens anymore. These solid surface slabs are available in a variety of styles and sizes designed to fit any shower.
High Gloss: High gloss acrylic panels look a lot like glass and are available in nearly any color imaginable.
Porcelain: Porcelain is ideally suited to cover bathroom walls. The material is durable and can be manufactured with veining and color variations that make it look just like marble, granite, and other types of stone.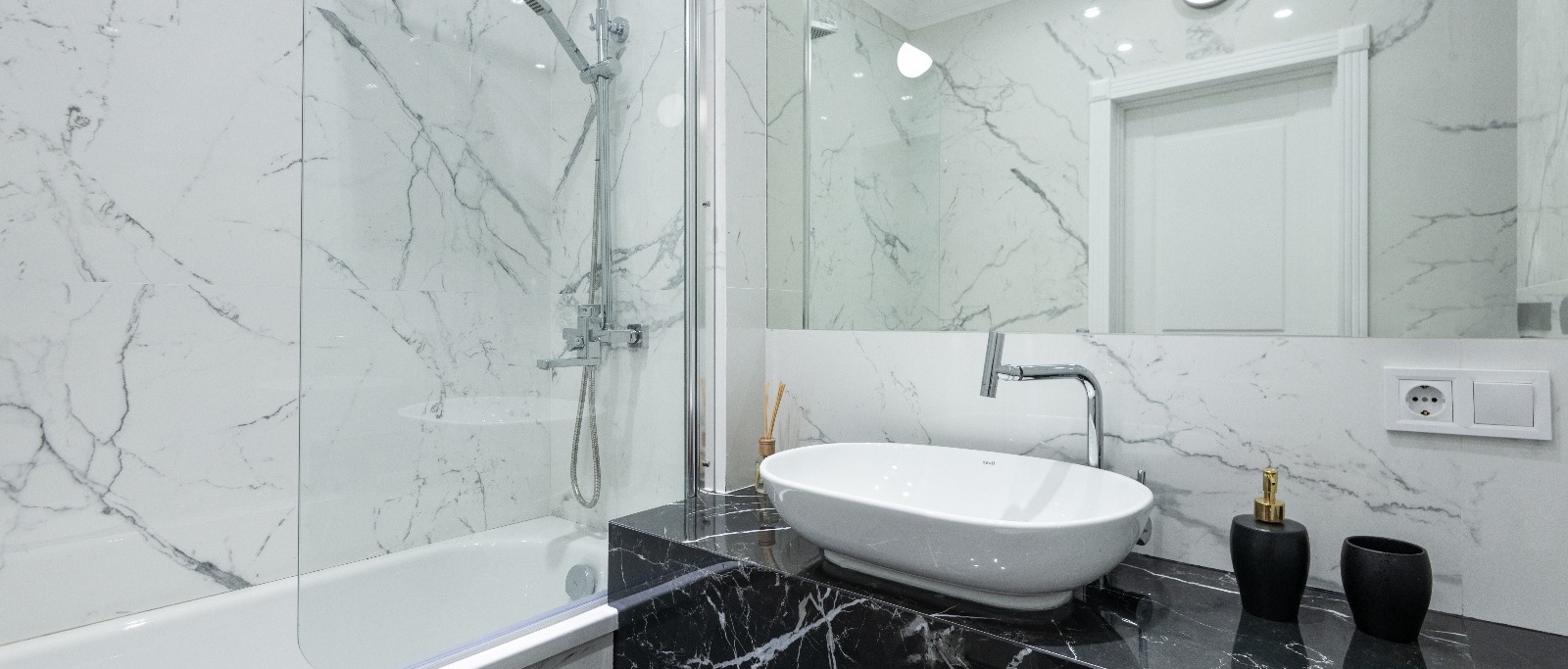 Not Ready to Give Up Grout? These Products Offer a Better Solution
If you prefer grouted tiles, manufacturers offer several alternatives to traditional cement grouts, including these options:
Polymer Cement Grout: Adding latex polymers to cement grout improves both strength and water resistance and minimizes shrink.
Epoxy Grout: This type of grout absorbs much less water than traditional grout, is stain resistant, and doesn't flake or crumble after years of use.
Single Component Grout: Made of acrylic-silicone or urethane, single component grout is mold- and mildew-resistant, doesn't fade or require sealing, and is stain resistant.
Although you will need to clean these types of grouts, using large format tiles will minimize cleaning time. When you choose 24" by 24," 30" by 30" or other large tiles, your shower wall will have fewer grout lines to clean.
Are you thinking about updating your shower during your Fresno bathroom remodel? We can help you upgrade the room with slab shower walls and other luxurious touches. Get in touch with us if you're ready to start your renovation.