When it comes to choosing the place you want to live and call home, there are several reasons to consider Fresno, California. Nestled within the San Joaquin Valley, this moderately sized metropolis blends small-town, family-oriented charm with a plethora of urban amenities, a thriving job market, and affordable cost of living.
While the surrounding community and its attributes are vital to your family's health and happiness, your home has equal—if not more—impact on your overall quality of life. As you start scouring the Fresno housing market for your next residence, it can help to know what factors influence housing prices, as well as what range of costs you are likely to encounter in this up-and-coming city.

What Factors Affect New Home Costs?
There are numerous variables that impact the housing market and even individual home prices. Some of the more obvious factors include the size of the home, the number of bedrooms and bathrooms, and volume of usable space; the age and condition of the house; and the average value of comparable homes (comps) in the neighborhood. If a home you are looking at has undergone a recent upgrade, addition, or renovation, that also is going to impact the selling price.
However, there are large-scale determinants to be aware of as well, including the current health of the local real estate market, supply versus demand, interest rates, unemployment rates, and other economic indicators. When there is more new and older housing available in an area than is in demand, prospective buyers have greater control of the market. You have a much wider choice of housing options and the ability to negotiate a lower price for your favored property.
Finally, cost is also affected by buyers' preferences and housing trends, such as a desire for certain interior and exterior features. When you're searching for a new home, cost should not be the only factor you consider. For example, it may be worth acquiring an older home and fixing it up if it's located in a top-notch school district or close to your place of employment. Outdoor lovers may be willing to pay extra for proximity to natural attractions, such as biking and hiking trails, while young singles may enjoy living closer to Fresno's vibrant downtown core and dining, shopping, and entertainment venues.
2020 Housing Costs in California
It's no secret that California has a reputation for its expensive housing market. In August of this year, the median home price in California exceeded $700,000 for the first time, according to the state Department of Finance.
The market has been impacted this year by the California wildfires and COVID-19 pandemic. Sales for existing single-family homes dropped substantially in several parts of the state during the spring before stabilizing and even growing. As of August, single-family home sales grew to 465,400 units—an increase of 14.6% from August 2019—which was the first time since Summer 2016 that sales increased three consecutive months. Price growth and velocity in the California housing market are also high. While sales of homes priced under $400,000 are dropping across the state, sales of more expensive homes continue to rise.
In terms of new home construction, most California homeowners pay between $155,000 to $416,250, not to mention the cost of land. On average, new home construction (not including custom homes) costs range between $100 to $155 per square foot depending on the region and other factors.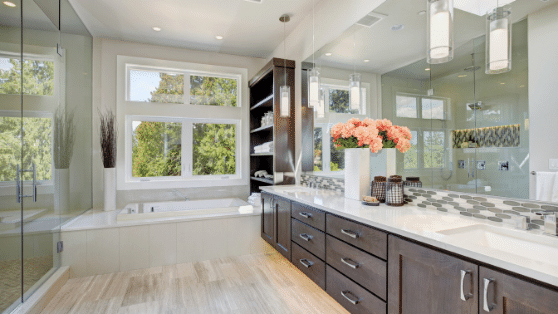 2020 Housing Costs in Fresno
Compared to the rest of the Golden State, Fresno has relatively moderate housing prices, although they have crept up steadily over the past five years. From September 2019 to September 2020, the median home value fluctuated between $272,000 and to $312,000. In that time period, nearly 500 homes were sold—a year-over-year decrease of 6%. Currently, the Fresno real estate market is very competitive. Most homes receive at least two offers and only stay on the market a median of eight days, which means prospective home buyers must move quickly to secure the property they want.
For lower-priced homes, some of the preferable Fresno neighborhoods to consider include Roosevelt, Edison, Mclane, and Central. More high-end homes can be found in Bullard and Woodward Park.
According to Zillow, the majority of dwellings on the Fresno market are two- and three-bedroom, single-family homes. Additionally, there is a heavy presence of small apartment buildings, creating a fairly even ratio of homeowners to renters. The median year of construction for Fresno homes is 1975, which means there are plenty of opportunities to purchase an older property and renovate it to suit your lifestyle and personal tastes.
Renovating Your Home in Fresno, CA
It can be difficult to find a new home that features the precise style and condition you hope for. Fortunately, remodeling empowers you to make the most of your existing residence or a fixer-upper that is located in the ideal Fresno neighborhood. At Imagine Remodeling, we understand the importance of having a functional, attractive home within the community you love. We can help you design and construct custom-designed bathrooms, kitchens and whole home remodels to improve the overall quality of your living space, and your life, in Fresno.