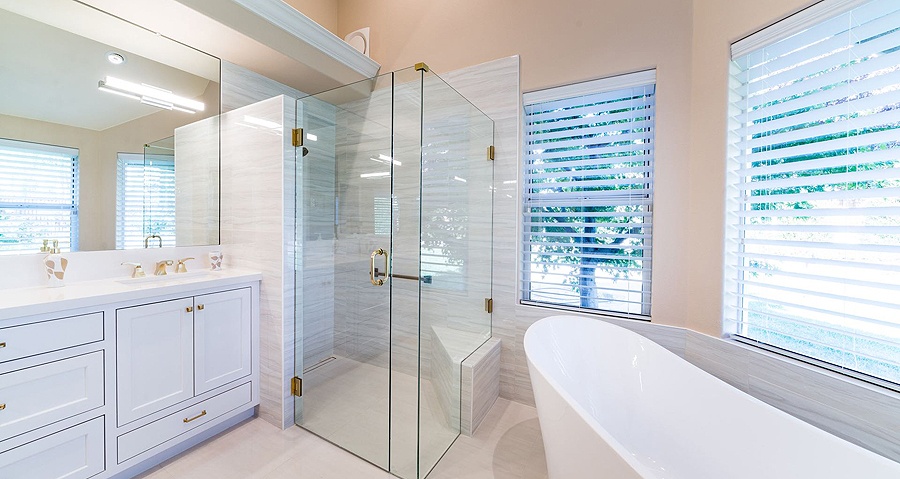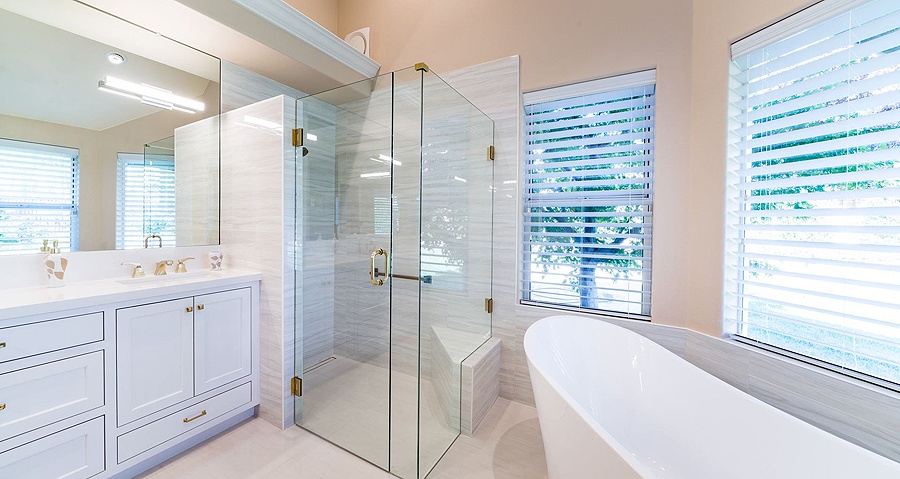 There are several reasons that bathroom remodels are so popular among Fresno homeowners. One of the most important reasons is that people no longer want a boring bathroom. Homeowners today recognize that their bathroom can set the tone for the whole day—or night. They're after comfort, convenience, and a sense of wellbeing. For many that means having a space that pampers them a bit. Another reason bathroom remodels are so popular is that they provide a good return on investment. According to the Remodeling 2017 Cost vs. Value Report (www.costvsvalue.com) a midrange bathroom remodel provides a 78 percent return on investment and an upscale remodel generates an 83.7 percent return on investment in the Fresno area. With that in mind, let's look at how to create a spa bathroom Paradise.
Key Features and Amenities
Let's look at some of the features that make Fresno bathrooms truly special. As with so many features in great design, we'll look at both form and function: things that look fantastic, but also deliver comfort and utility.
Showers: A lip-less walk-in shower such as the one you see above from a remodel in Sutton is spacious, with bold clean lines. There is no threshold to step over, which reduced the risk of tripping. The shower has built-in seating and grab bars for added safety. It's easy to keep clean and the glass panels add visual space to the room.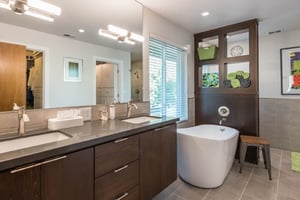 Soaking Tubs
: Tubs for soaking at the end of the day have become increasingly popular. These tubs are much more elegant than the whirlpool-type tubs of the recent past—plus they are a lot more energy-efficient. They come in a variety of styles such as the tub in the top photo or the tub we installed in the Kelso bathroom you see here.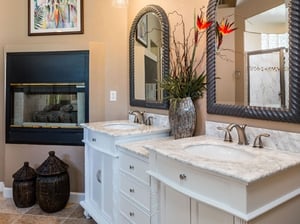 Sinks: Dual sinks are one of the most popular features in remodeled master bathrooms. Couples don't have to jostle for position to use the sink when getting ready for work in the morning—or winding down for the evening. The dual sink you see here in a Portsmouth remodel we did offers dual sinks that are separated in the middle by a cabinet. There are twin mirrors that help define the space for each user. You might choose to have a single long countertop with more modern sinks if you like clean long lines. But this Portsmouth bathroom also includes a very special feature: a built-in gas fireplace that adds both visual and physical comfort to the room! Click here to take a closer look at this beautiful bathroom. (If you do, you'll notice a tiled-in soaking tub off to the side)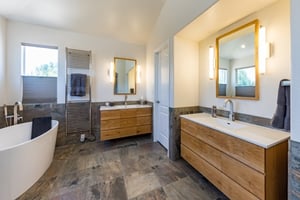 Flooring: The flooring you choose for your bathroom can add a real touch of luxury to your room. You'll have lots of options. The pictures we've shown so far have used lighter colored marble flooring that creates a nice, bright space. But the flooring in this Fieldstone bathroom is a darker marble material with a very interesting pattern. Rather than making the room dark, however, it actually adds warmth and interest. By the way, notice another added touch: This bath includes a heated towel rack (with timer) so that your towels will be the perfect temperature when you step out of the tub or the shower. Here's a helpful post that explores the topic of bathroom flooring in more detail.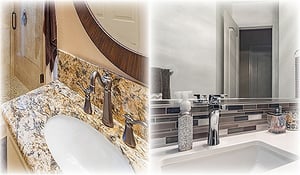 Lighting and Fixtures
: Having the proper lighting makes a huge difference in the feel and function of your spa bathroom paradise. You'll notice that many of the rooms pictured here take good advantage of natural light to create softly bright and inviting rooms. But you'll also notice that there is task lighting around the sink areas to make tasks such as shaving or applying makeup comfortably. Naturally, the fixtures you choose also make a big difference in how your bath—whether you opt for traditional fixtures or more modern styles.
Whatever your preferences in terms of style or comfort, you never have to settle for a boring bathroom in your Fresno-area home. We'd be delighted to walk you through the process—from ideas, to design to construction—to ensure that you end up with the spa bathroom paradise you want!