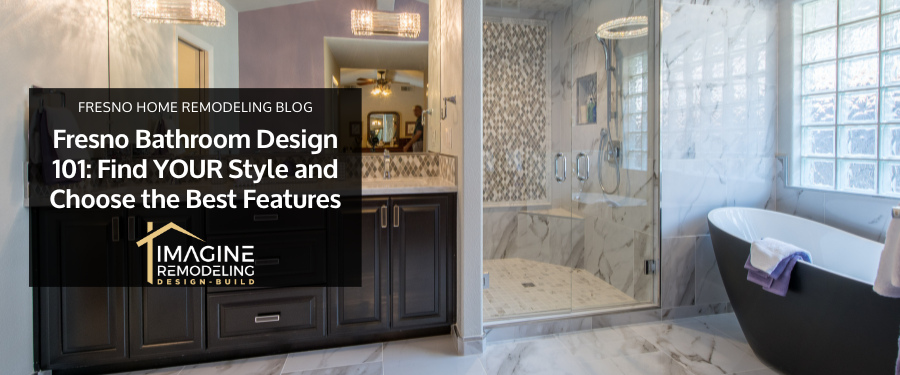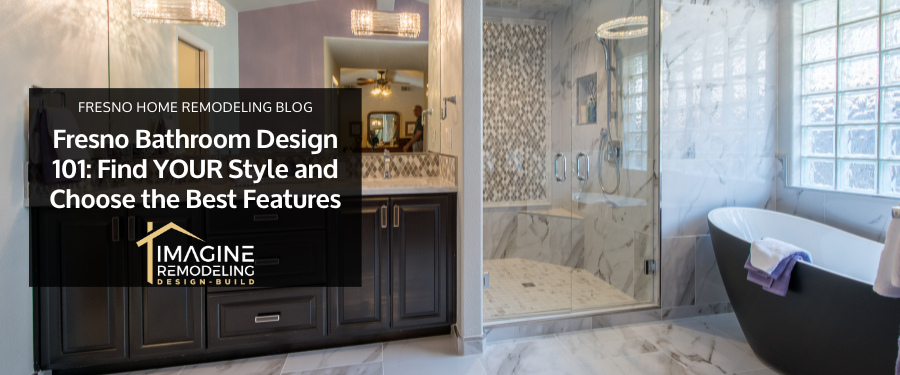 The bathroom plays an important role in our daily routine and it's easy to overlook this room that's used heavily. There are several main styles to choose from when renovating your bathroom. You know the difference between traditional and modern, but a merged look is in all the details. Here are some tips to use to refine your bathroom's style.
Traditional Bathroom Style
A traditional bathroom is generally formal in style with classic architectural details. The use of natural stone, carved or embellished cabinetry, and vintage-look fixtures.
Marble and granite are best bets for countertops. Other options are concrete, pewter, or hammered copper.
Dark wood finishes are favored; select cabinets with timeless flair.
A traditional-style bathroom best fits a traditional-style home but can work in any style of home.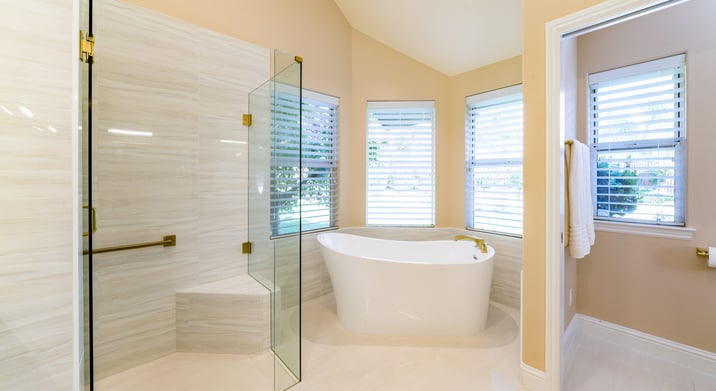 Modern Bathroom Style
Modern is sleek, streamlined, and clutter-free. This style makes use of reflective materials such as glass, chrome, and solid-surface countertops.
Clean lines and simple geometric shapes are key. Choose sleek materials such as stainless steel and glass tile.
Keep cabinetry free of fussy details. Popular wood choices are also eco-friendly, such as bamboo and cork.
All-white is a popular palette, especially when paired with pops of energizing colors such as turquoise, red, orange, and yellow.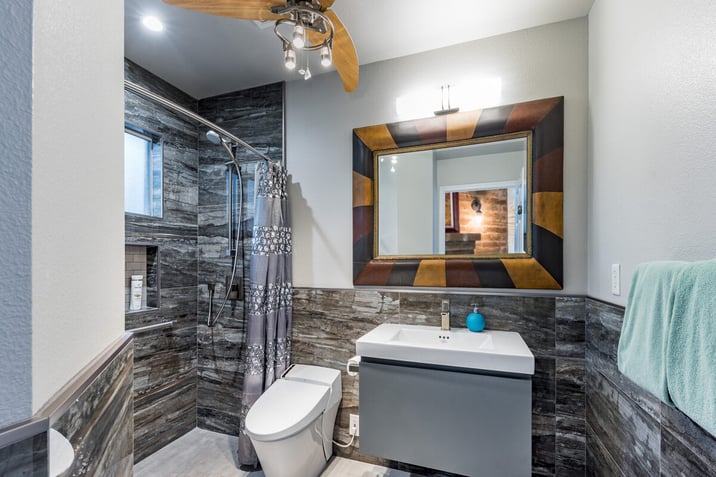 Cottage Bathroom Style
Cottage is casual, warm, and reminiscent of country style and continues to gain popularity.
Commonly used architectural features are hardwood floors and bead board or wainscot paneling. Cabinets resemble antique furniture and are often painted or distressed.
Vintage or hand-me-down accessories are part of the decor and add personality. Colors are often feminine and softer in tone.
Shop for vintage accessories and cottage-style furniture at estate sales, flea markets, antique auctions, or thrift stores.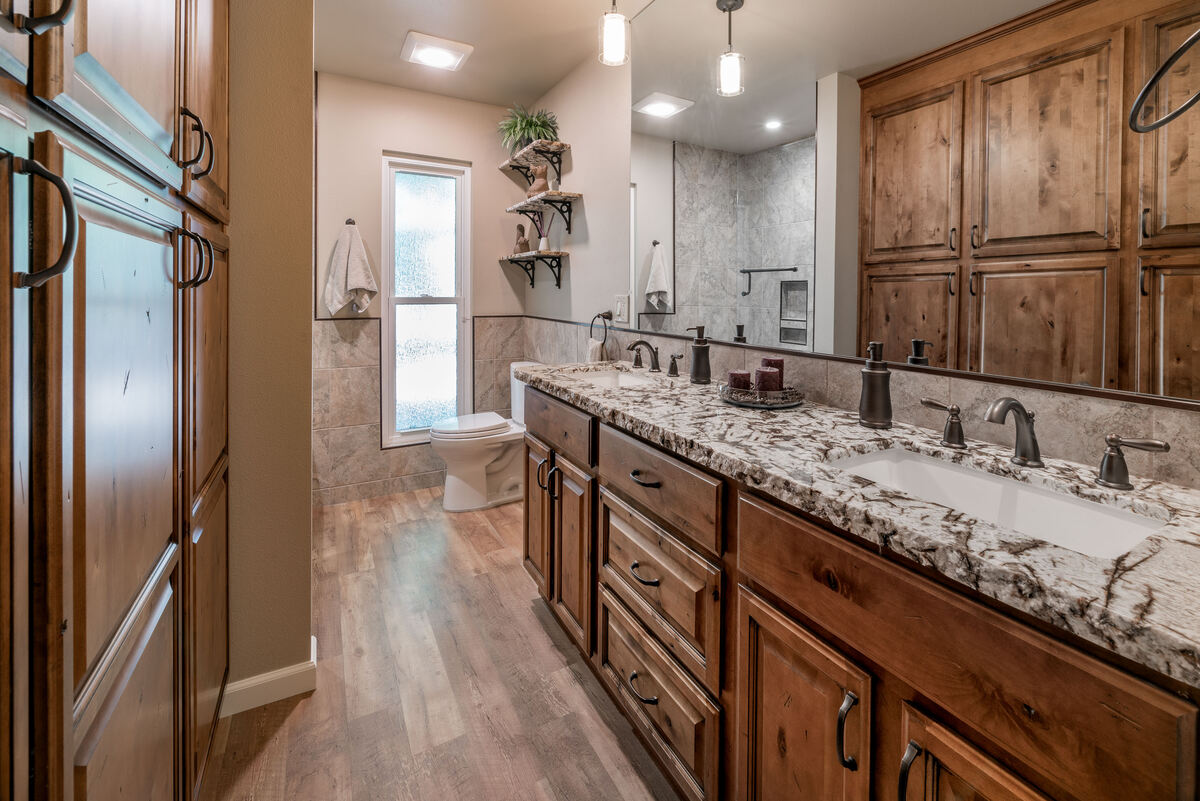 Eclectic Bathroom Style
Eclectic is a creative mix of different design styles with inventive color, pattern, and material combinations.
Mix different styles, periods, and looks. Design by instinct: if you love it, it will work.
Don't forget the details: accessories like wall sconces, glassware, and linens make a big difference in a room design.
Create a one-of-a-kind look with bold pattern choices, such as stripes, geometrics, or prints.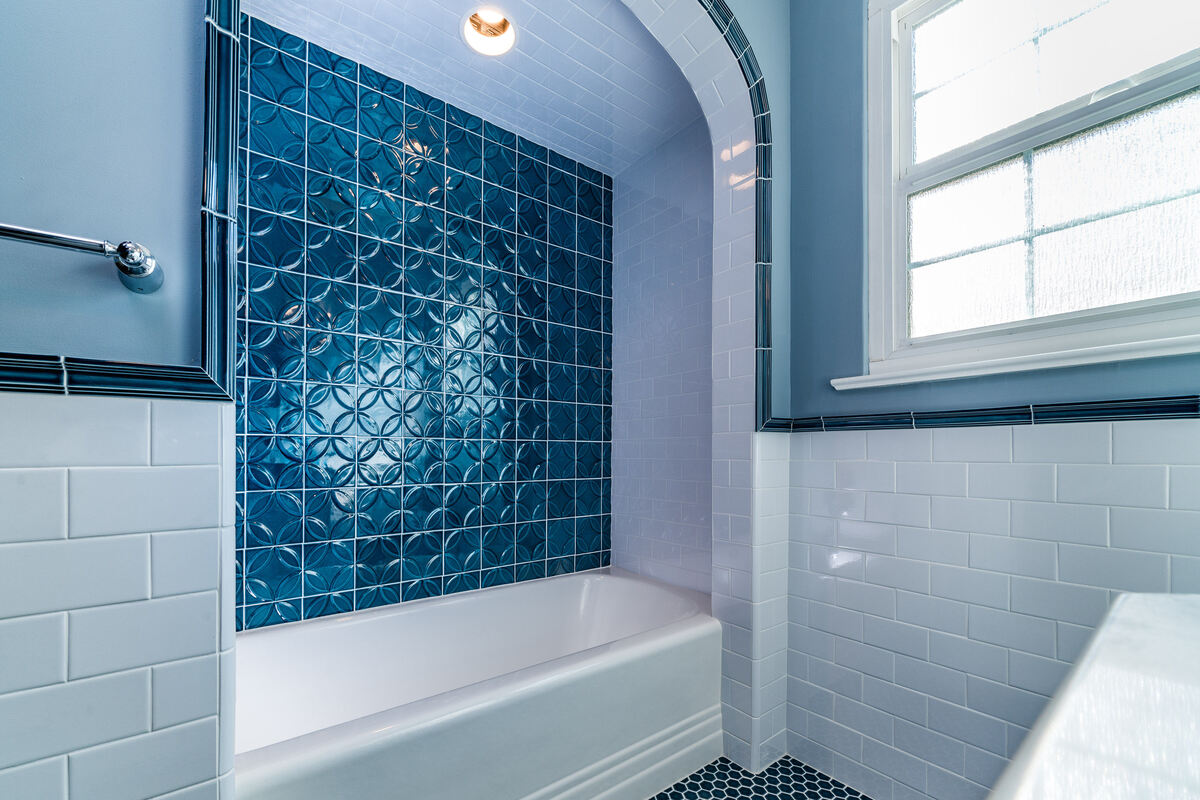 Choose Your Bathroom Features
Now that you have an idea of the different styles and one you are leaning towards, it's time to determine the features that you want to include in your bathroom remodel. Whether you are looking for gold bathroom faucets, heated floors or towel racks, or a rainhead, discover several luxurious bathroom ideas to include below.
A Glass-enclosed, Walk-in Shower
It's not a surprise that glass-enclosed, walk-in showers are such a big trend. They look elegant and add a lot of functionality without occupying much visual space. There is also a comfort/safety component to these larger, sleek showers. Installing a shower that has no lip makes it easier to step in and removes tripping danger—especially for mature adults. And if you're thinking ahead about Universal Design, you can add additional features such as built-in seating that matches the walls along with elegant-looking grab bars.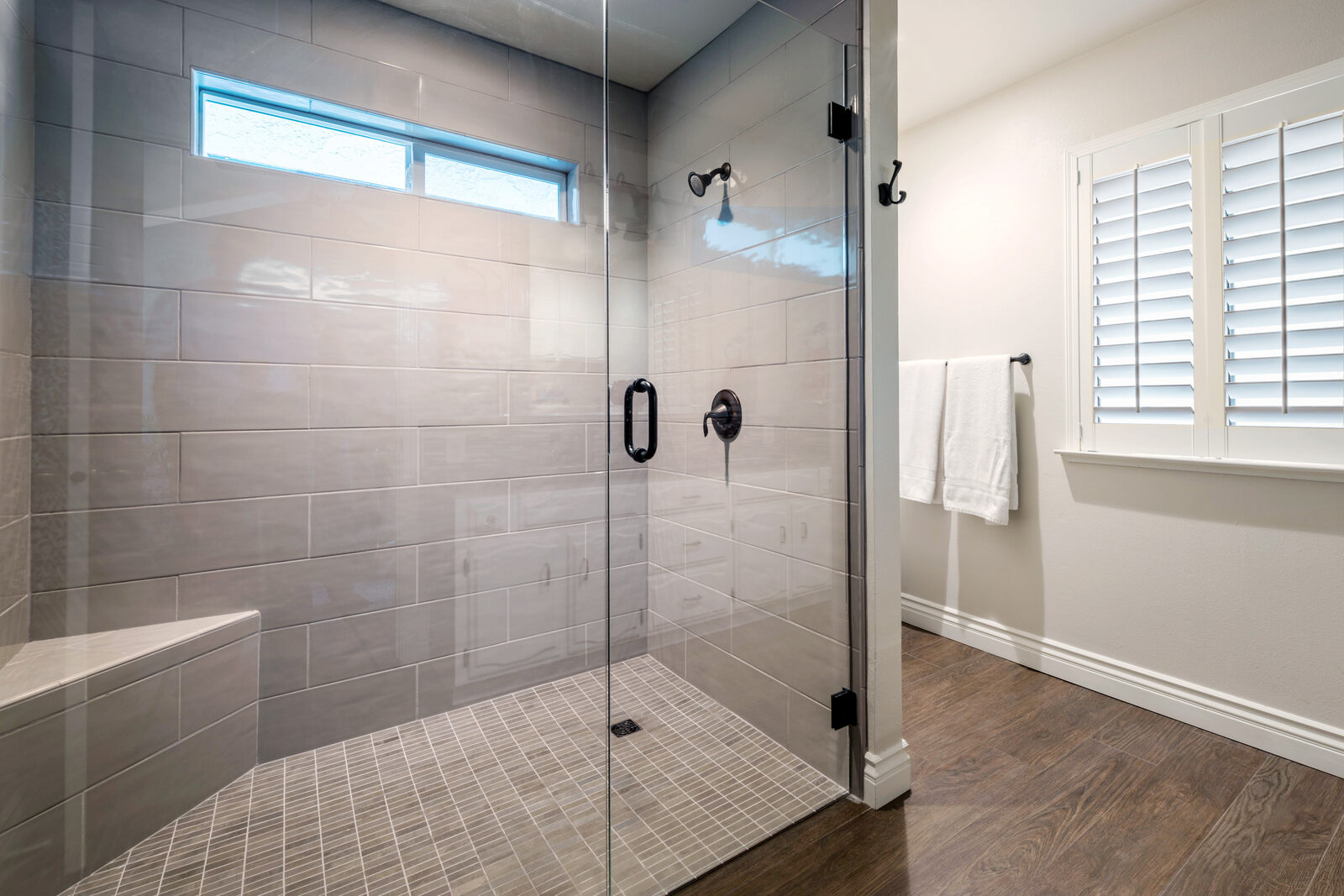 An Elegant Soaking Tub
Stand-alone soaking tubs have become increasingly popular in the last few years. If you want to create a comfortably beautiful spa-like space where you can relax at the end of the day, a stand-alone soaking tub can be very inviting. In addition to looking great, these beautiful tubs are much more compact than the bulky whirlpool tubs homeowners installed years ago.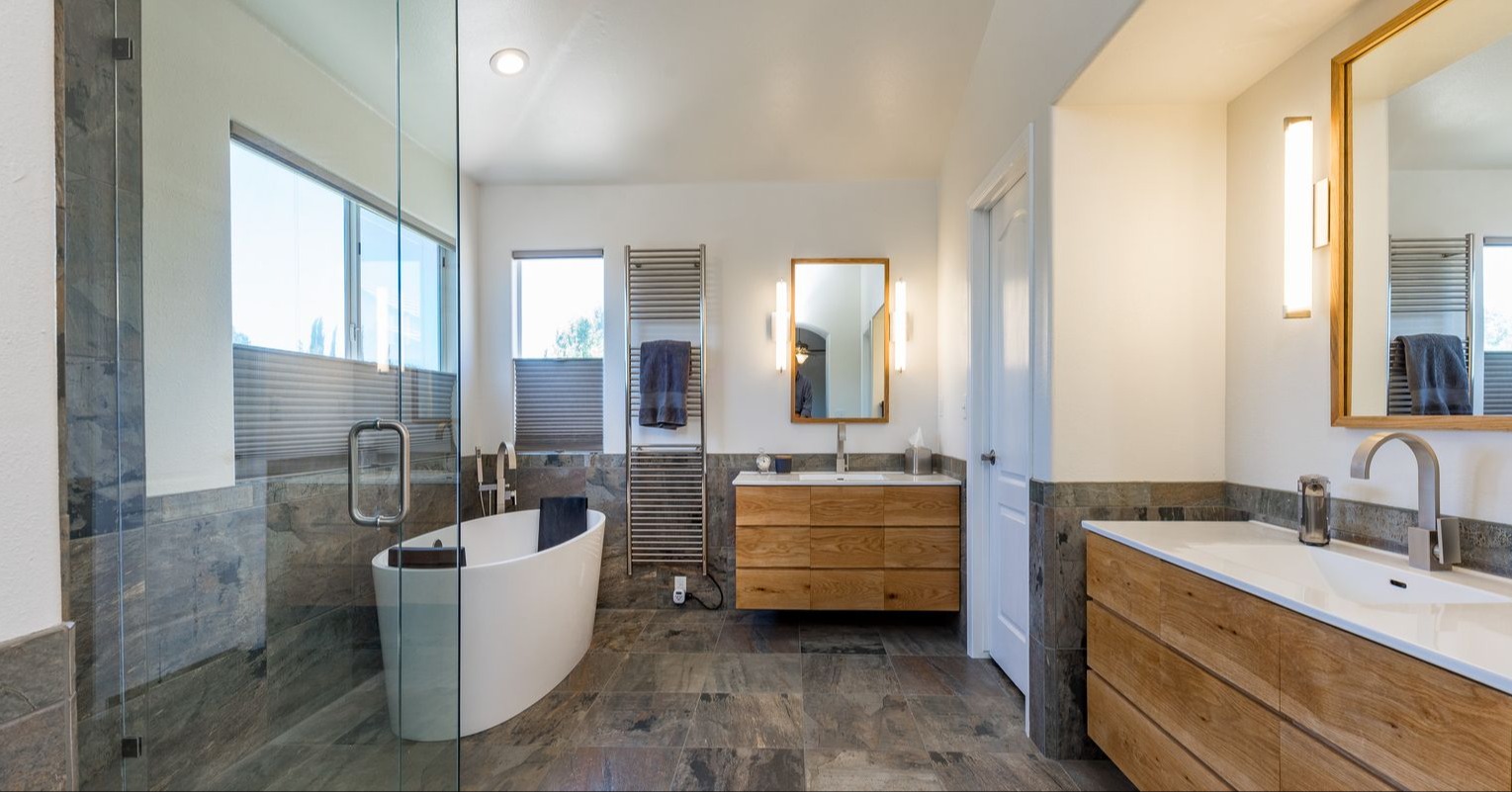 Windows and Coverings
The windows and coverings you include can make a world of difference in your bathroom remodel. On the one hand, you'll want to ensure privacy so that you can enjoy your solitude in comfort. On the other hand, if you're fortunate enough to have a nice view from your master bathroom, you may want the ability to easily open shades to let you enjoy the scenery. Either way, you'll want to let in as much natural light as possible to make the room feel open (and larger).
Concealing the Commode
While the design of toilets has come a long way over the years, some people simply don't like having to stare at a commode when they are getting ready for work in the morning or winding down their day in the evening. For that reason, it's become increasingly popular to conceal the commode in a separate space of its own. The footprint of your existing bathroom may determine whether this is feasible for you or not. One thing to consider is that you don't have to create a separate room for the toilet. Having a wall—or even a half wall may provide the look you're after. In the image here (from a recent Master bathroom remodel) you can see that we were able to "hide" the commode off to the side of the shower.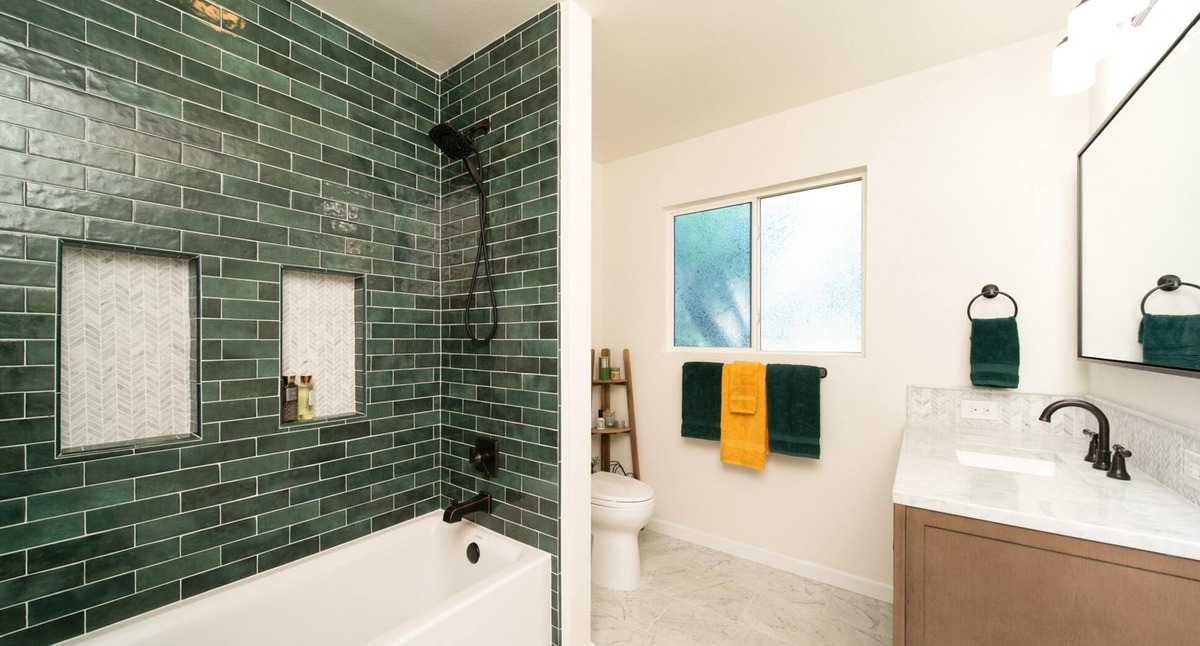 Finishing Touches
Sometimes the delights are in the details. Adding finishing touches can make even a ho-hum bathroom beautiful and comfortable. Think about the tile in your shower. You can make it simple and sleek, or you can get adventurous with multiple colors or even patterns. The same goes for the fixtures you install for your sinks, tub, and shower. You may even want to include multiple showerheads—or a detachable showerhead that allows for showering while seated. And for an added touch of luxury, you may want to talk to your remodeler about putting in a steam shower.
There is no need to settle for a boring bathroom! Your personal taste and budget are the only things that should constrain you. We invite you to visit the "Bathrooms" section of our Project Gallery for ideas and inspiration.
Once you choose the style that fits you best, you'll be able to easily transition to the design phase of your bathroom remodel.