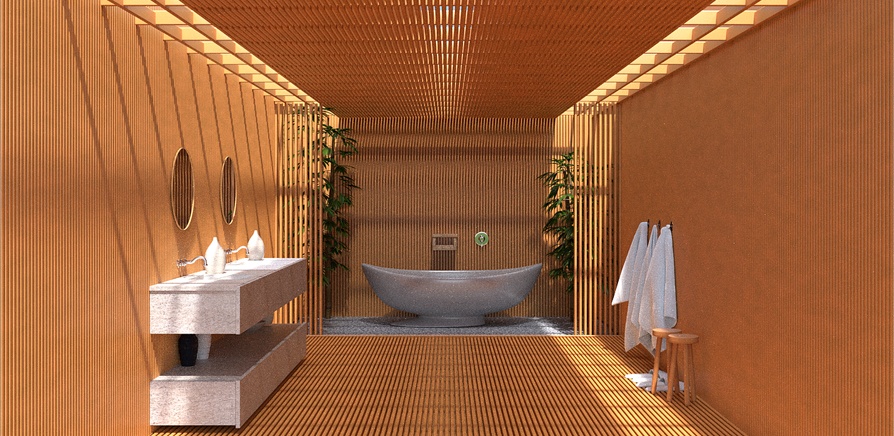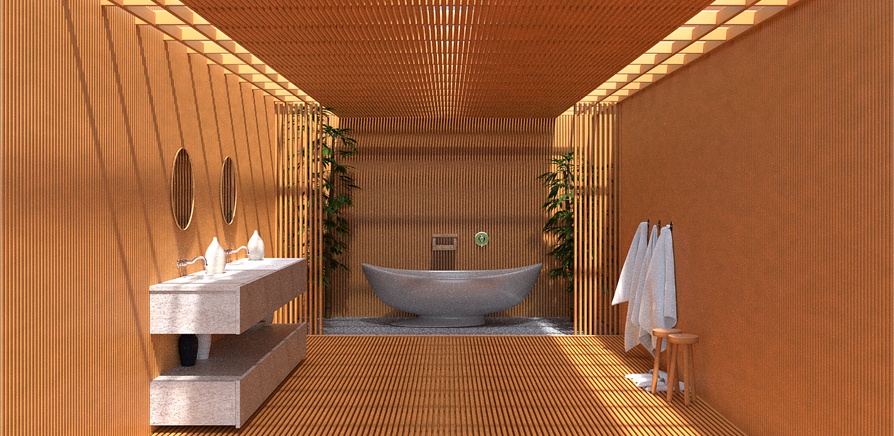 Once upon a time, bathrooms were the rooms that nobody talked about. They were "necessary" rooms that homeowners used and left behind. These days, bathrooms are often spa-like places to relax and escape at the end of a busy day—or to get ready for the day in comfort and convenience. Let's take a look at 5 inspirational bathrooms for your Fresno home.
Luxury Galore
This particular bathroom comes to us from the opposite coast—in Miami, to be precise. It's still an inspiration because it includes elements that would work well in a Fresno home. Notice the use of high windows to let in lots of natural light—while preserving privacy. You'll also see that the shower has a seamless entry that makes it a great option for someone looking for Universal Design features. The soaking tub has it's own space and plenty of light—along with a hardwood floor and stone tile wall for warm ambience.
Serenity Now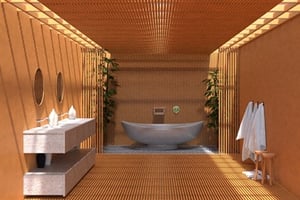 I mentioned that today's bathrooms are often spa-like places to relax in serenity. The image you see here (and at the top) captures that feeling of serenity beautifully. We should mention, however, that this isn't a photo of a Fresno bathroom. In fact, it's not even from this country! It's a picture of a Japanese bathroom! The Japanese are known for their baths and for their sense of peaceful, relaxing design that evokes serenity. We're featuring it here because it serves as a reminder that simple, uncluttered design can be extremely beautiful and relaxing.
It's really not necessary, however, to travel to Miami or Japan to find inspiring ideas for your Fresno-area bathroom. Let's look at a few examples from right in your backyard.
Small Space with Big Impact
You don't need a huge bathroom in order to have a big impact. This bathroom remodel near Fresno uses clean, sleek lines to get the most out of a smaller room. The doorless shower helps extend the visual space to make the room feel bigger. A side benefit is that it eliminates a potential tripping hazard—a key element for anyone considering universal design or aging in place.
Update to Bright & Light
Our Fieldstone bathroom originally had a large whirlpool-style tub with a white tile base and a matching tile-based "step-up-and-in" shower. Replacing the clunky old tub with a sleek soaking tub and an elegant glass shower helped brighten things up. New flooring, sleek cabinets and countertops, and improved lighting gave this bathroom a warm modern feel—and even make the space feel roomier.
Natural Light and Mirrors
The Pierpoint Circle renovation you see here turned a dated and unimpressive bathroom into a thing of beauty. Notice how the high windowpane runs the entire length of the shower to let in lots of natural light—without compromising privacy. The tasteful tile work and clean lines of the cabinets and counters keep the look uncluttered. And the use of a large mirror creates additional visual space.
These are just a few of the bathrooms we've remodeled in the Fresno area recently. We invite you to check out our project gallery for a closer look at these projects (and many others). You'll also be able to compare "before-and-after" images for each project so that you get a better idea of the dramatic difference remodeling your Fresno bathroom can make.
Top photo by noh950