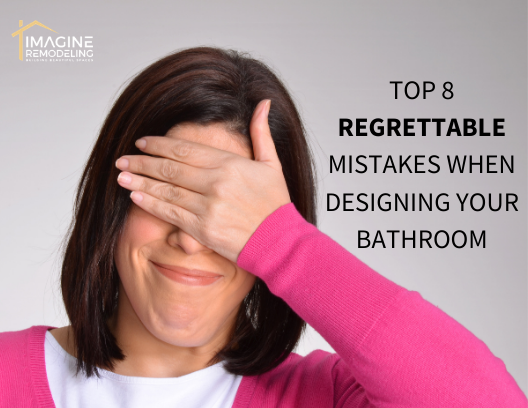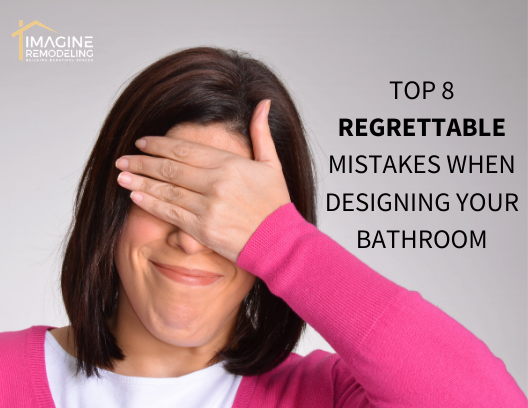 It is easy to make a mistake or overlook a key step when it comes to remodeling your bathroom. With so many pieces to consider it is easy to miss one, and then you have to live with the results. Planning ahead and knowing what to look out for will ensure a successful upgrade to your home and allow you to enjoy your bathroom for years to come.

So what are the top mistakes homeowners make during a bathroom remodel? We have put together a list of the top 8 that we commonly see in the Fresno area. Paying a little extra attention to these things in the beginning stages of planning will help your entire renovation project be more successful.
1. Small square footage and not making the most of available space
We've all been there- trying to do our business with knees uncomfortably close to doors, cabinets, or walls. Nobody wants that! It can be very uncomfortable using a tiny bathroom, if there is an opportunity to increase your bathroom size, it's usually a good idea. Our team looks for creative ways to utilize an adjacent room, closet or change doors to create more space. If cost is your main concern with adding space, wait and save for the added expenses, you won't regret it.
2. Going overboard with current bathroom design trends
If you are looking for the latest trends, like illuminated faucets, you will be disappointed when they are out of date in 5 years. Stick to natural materials and classic styles. You could change less expensive accessory items with the growing trends. While stark white bathrooms are everywhere on Pinterest now, we're already seeing more color coming back in 2021. Going all in with one design trend should always be considered carefully. Style decisions like these are a great reason to hire a seasoned professional who can tell you which trends are likely to stick around and remain a good investment decision.
3. Ignoring the Fresno building codes
Safety first. Electricity and water in the same room can be extremely dangerous and cause permanent damage to the entire electrical system in your home. A poorly planned bathroom project can also land you in hot water with the Fresno County Building and Safety department. Know the codes for your area and make safety your number one priority.
4. Unrealistic budget for the bathroom you really want
It's not good enough to just hope for the best or cross your fingers when it comes to your budget. Add another 20- 30 percent to your budget for unexpected problems, you never know what you may find behind the walls Dry rot, mold, leaky pipes...you get the point. You may find that you want a luxury bathtub or storage upgrades you didn't know existed. Again, a professional bathroom designer can help you choose which expensive features are worth it for your unique needs. For the most accurate bathroom budget planning info, download our Remodeling Cost guide to help you get started.
5. Improper ventilation
Mold and mildew are the result of poor ventilation and can be hazardous to your health. You will want to make sure you have the proper size ceiling fan for your bathroom's square footage. Ok, I will say it again….check the building codes in your area.
6. Inadequate lighting
Nobody wants to get ready in a dark bathroom! A well lit bathroom will appear larger and allow you to apply your makeup perfectly and keep you from stumbling in dimly lit areas.

7. Inefficient fixtures - water conservation is becoming more and more important in the United States. Low flow shower heads, and high efficiency toilets can save water and save you money year after year. Just think of all that money you can save!

8. Lack of storage
You can never have too much storage…right? A sink base cabinet is great for storage as well as built-in storage cabinets. Hang shelving, hooks and towel bars so those bathroom essentials are at your fingertips.

Now that you know what not to do, are you ready to get started on that bathroom design? You will want to line up an experienced contractor to help you with your remodel.