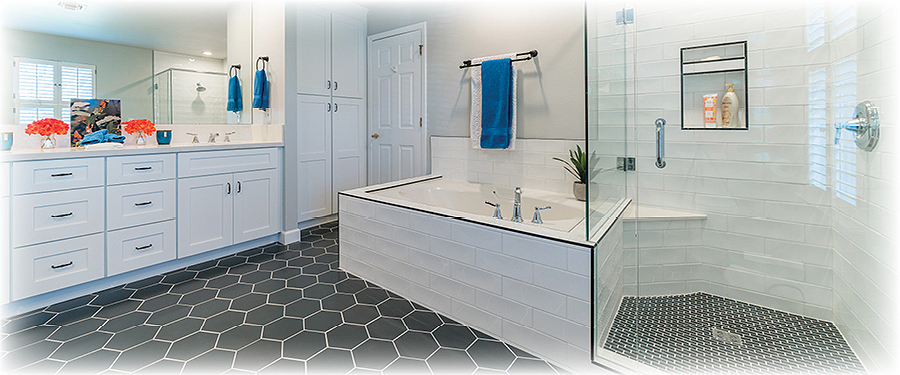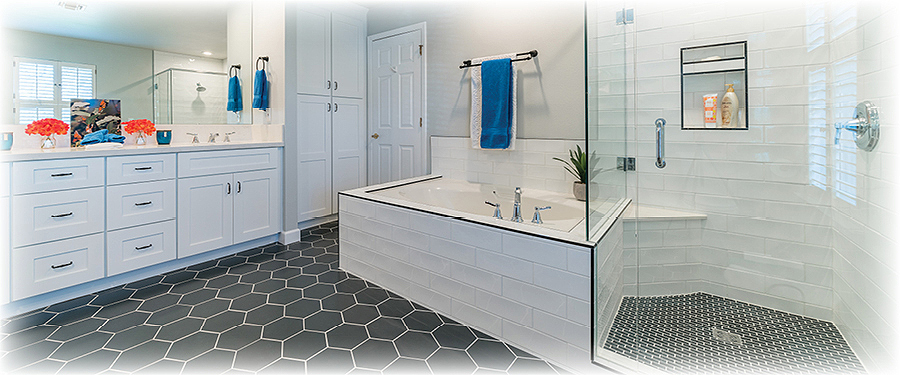 Few remodeling projects deliver more "bang for the buck" (in terms of financial return on investment and for enhancing your enjoyment of your home) than a bathroom remodel. So how can you ensure that you end up with bathroom remodeling results that will deliver what you want? Let's take a look at 3 gorgeous Fresno bathroom remodels you'll love.
Black & White & Beautiful
Our first example is a master bathroom we recently remodeled in West Magill. The clean, sleek lines result in a bathroom that exudes simple elegance. The beautiful black flooring is a perfect complementary shade for the white subway tile cladding of the tub and shower. And notice how the tile in the shower itself ties together the subway tile and the flooring designs.
Adding a soaking tub was a great addition because it adds dimension (both visually and practically) without dominating the room. It not only looks good in the room, but it's also functional for those times when you want a luxurious soak.
Take note of how the use of the large mirror magnifies the visual space. But there's a practical element you may not catch at first glance. Notice how the mirror stops several inches above the countertop. That prevents water, soap, and even toothpaste from splashing on the mirror. Nothing takes away from the elegance of a beautiful bathroom like a messy mirror!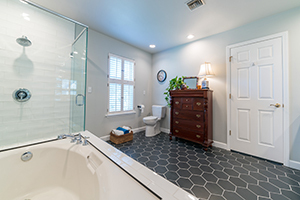 Two more comments about the color scheme: First, the understated starkness of the black and white theme lets accent colors jump out. Second, the use of a wooden dresser adds great storage space, and the wood itself adds an element of warmth to the room. Take a closer look at larger images of this bathroom by clicking here.
Standard to Stunning Smaller Bath
Not all bathroom remodels have to be large (in fact, here's a helpful post that focuses exclusively on creative ideas for small bathrooms). This smaller bathroom we recently completed in Fawn Lane is a great example.
The homeowners made a bold move from a very standard looking bathroom into a stunningly beautiful room with sleek black and gray color scheme for walls that are accented by a grey vanity and bright white countertop and toilet. They also had us install a seamless shower entry with stylish grab bars and a detachable showerhead. Those elements are just of few of the things that turned this very ordinary bathroom into an eye-catching space that's ideal for anyone wanting to age-in-place (which happens to be one of our specialties). Click here for larger images—and for a before-and-after photo that shows you the impact of this design and remodel.
From Dated to Dashing
It's been said that nothing dates a home quite as much as a kitchen or a bathroom that hasn't been updated. This bathroom we remodeled in Glen is a good example of that. While tile sinks were quite popular at one time, they look dated today (and that's even if you can keep the grout between the tiles clean!).
The homeowners opted to replace the dated countertop, sink, and fixtures with a beautiful granite countertop, a new sink, and updated fixtures. They also chose complimentary stonework and flooring in the shower that helped complete the new look. The old tile floor (with small tiles) was also replaced with larger stone tiles that help expand the visual space in the room.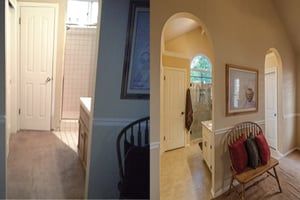 One important thing to remember when remodeling a master bathroom is that the master bath is an extension of the master bedroom. If you take a look at the difference in the view from the bedroom into the bath, you'll see a dramatic difference from what was a rather dim and uninviting bathroom to one that is warm, welcoming, and inviting. This really makes it feel like a master suite instead of two vaguely connected rooms. We also worked to keep some of the great existing features of the room—such as incorporating the arched window into the new design in a way that really lets it shine. Click here for larger images of these and other features of this remodel.
Of course, these three remodels are just a small representation of the possibilities you have for creating a Fresno bathroom you'll love. Visit our Project Gallery and click on the "Bathrooms" tab for additional ideas.