Feb 01, 2019
Comments Off on

The Top 5 Kitchen Remodeling Mistakes You Can Easily Avoid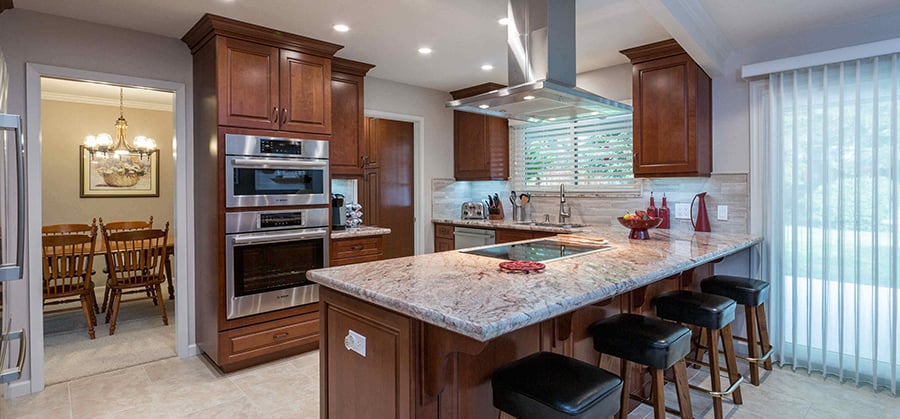 Remodeling your kitchen can be one of the most rewarding home improvements you can make. There is arguably not another room in your home that gets as much use—by your families and your guests. That's why in modern homes; the kitchen often sets the tone for the whole home. There are, however, a number of potential pitfalls that homeowners frequently make in this kind of project. Let's look at the top 5 kitchen remodeling mistakes you can easily avoid in your Fresno kitchen.
1.
Not Balancing Form and Function
There are a lot of beautiful kitchens out there. Just take a look at some of the kitchens we've remodeled in the area to see what we mean. But it's important to remember that the kitchen is a working room—whether that involves food preparation or entertaining.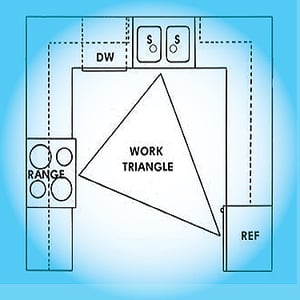 That's why it's critical to balance form (aesthetics if you will) and function (utility). Great kitchen design is about more than cool countertops, fabulous flooring, and beautiful cabinets. Keep the "kitchen work triangle" in mind. Think about how your kitchen functions—how you perform daily tasks.
There are a number of ways to configure a work triangle for your kitchen, but you'll want to keep your use of your cooktop, your refrigerator, and your sink in mind. By the way, this doesn't exclude the use of a kitchen island. Just make sure your triangle still enables you to reach everything easily. It won't matter how fantastic your finishes are if it's not comfortable and convenient to work in your kitchen. Click here for some tips for designing an effective kitchen.
2.
Not Keeping Current
Because open design architecture is so popular today's kitchens are very visible. Kitchens that are outdated can stick out like a sore thumb. It's a good idea to consult with a professional who is aware of current directions in kitchen design so that you don't spend a lot of money on a kitchen that will quickly look outdated. Here's a look at some current trends that we think could be around for a while.
3.
Paying Too Much Attention to Trends Rather Than Good Design
This is the other side of the "keeping current" coin. It can be tempting to go after the latest trend just because it's popular. Here's an example. Open shelving has been a popular trend for a while. It still has its place (depending on your kitchen style). But some homeowners take this trend a bit too far. Too much open space shelving can make your kitchen look cluttered. Not everything in your kitchen needs to be on display.
4.
Ignoring the Little Things
It's been said that God (or the devil) is in the details. Sometimes, however, it's the little things that get overlooked—and those little things can make a big difference. Think about how kitchen cabinets and drawers open (and close). A refrigerator that opens the wrong way can ruin the flow of your kitchen. Not including enough outlets is a mistake you'll regret for years. It's better to have more outlets than you need than to constantly fight for a place to plug in. Where are you going to put your trash? Building in cabinets to hide recycling bins and trash receptacles is a small thing, but nothing detracts from the beauty of your kitchen more than an ugly trash can. And don't forget about adequate ventilation. Nobody wants to be in a beautiful kitchen that smells like last nights grilled garlic shrimp.
5.
Little Attention to Lighting
Sadly, lighting is often the last thing homeowners think about when redesigning a kitchen. The impact of inadequate lighting, however, is huge. Good lighting, however, is about more than brightness. You'll want to think through different kinds of lighting. You'll want task lighting for specific cooking/cleaning tasks. You'll want overhead lighting for general tasks and overall comfort. And you'll want ambient lighting or accent lighting to set the right mood.
Keeping these common mistakes in mind when planning your kitchen remodel can help you enjoy the remodeling process a lot more—and will help ensure you get the most bang for your buck when you remodel. Another key to success is to make sure you hire a reliable and experienced contractor. Here's an article that highlights 5 critical questions to ask any contractor you're considering.