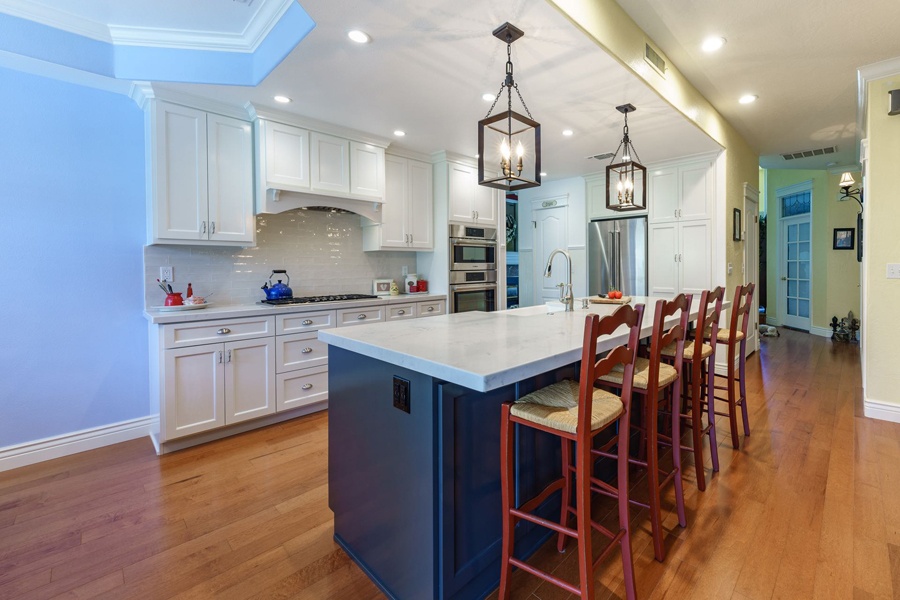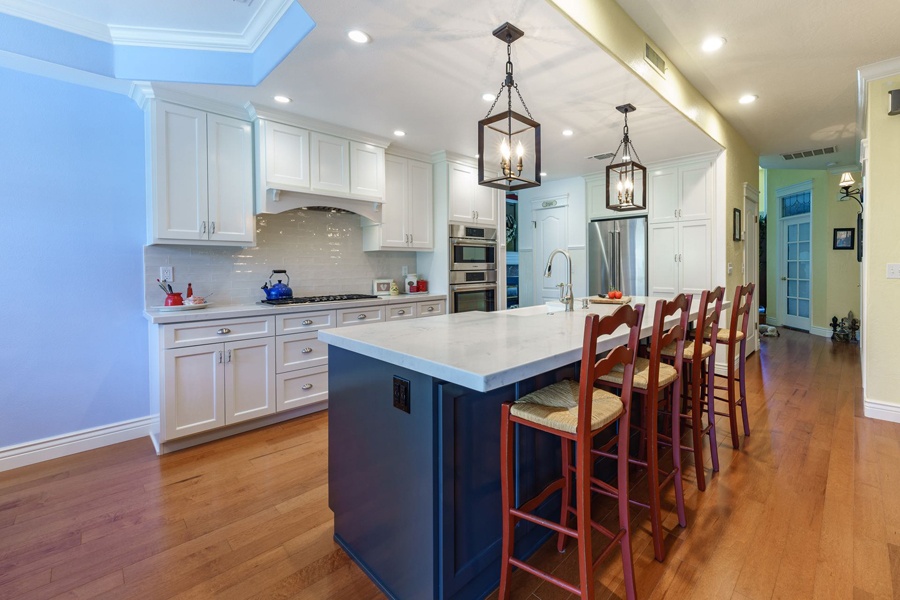 When you've decided to remodel the kitchen in your Fresno home you'll want to begin collecting ideas that you can implement. In addition to considering the style of your kitchen, you'll want to consider how you'll use your kitchen—and look at designing it to maximize efficiency. Collecting ideas that inspire finishes, color schemes, and décor (Our Project Gallery has lots of examples of great Fresno-area kitchen remodels that can help with that!) is another essential step, but maybe most importantly, you'll want to set a realistic budget for your project. But where do you begin? How much does a kitchen renovation cost in Fresno, California?
That can be a bit of a complicated question because all kitchen renovation projects are unique. Your remodeled kitchen won't look exactly like anyone else's. As a result, your exact kitchen remodeling costs will be affected by the scope and complexity of the project, the materials you use, and the amount of customization you require. Nonetheless, there is information available to you so that you don't have to head into the budgeting process without a clue.
Hanley Wood Media Inc. publishes its annual Cost vs. Value report to provide consumers with information about what projects in specific areas cost. According to the Remodeling 2021 Cost vs. Value Report (www.costvsvalue.com) here are estimated costs for several different kinds of kitchen remodeling projects for Fresno, California. In each case, we'll start with a basic project description, followed by the cost. Not all of the prices in the guide reflect the actual "on the ground, up to date" pricing for a professional level remodel in Fresno. Included next to the Cost vs Value Price is our price range.
Midrange Minor 10x10 Kitchen Remodel Cost in Fresno
In this example, we're talking about a functional but dated 100-square-foot kitchen with 30 linear feet of cabinetry and countertops. It assumes leaving cabinet boxes in place but replacing the fronts with new shaker-style wood panels and drawer fronts, and hardware. The cooktop or oven range will be replaced and a slide-in refrigerator will be replaced with a new energy-efficient model. Laminate countertops will be replaced and a mid-priced sink and faucet will be installed. Price will include repainting of trim, adding of wall covering, and removal and replacement of resilient flooring.
Imagine Remodeling can create a similar kitchen remodel with upgrade materials as well. This remodel would include builder to mid-range cabinetry, level 1 stone or quartz countertops, tile flooring, full tile backsplash, plumbing fixtures, and lighting upgrades. Re-use existing appliances, or owners to purchase new ones.
Estimated cost of Minor Kitchen Remodel: $27,263
Imagine Remodeling Costs $38,000-$45,000
At resale, the homeowner can expect to recover 65.6% of that cost.
Cost of a 14x14 Midrange Major Kitchen Remodel
This project calls for an update of an outmoded 200-square-foot kitchen with a functional layout of 30 linear feet of semi-custom wood cabinets, including a 3-by-5-foot island. It also assumes laminate countertops, and a standard double-tub stainless-steel sink with a standard single-lever faucet. Also Included are an energy-efficient range, ventilation system, built-in microwave, dishwasher, garbage disposal, and custom lighting. Additionally, it will include the installation of new resilient flooring. The project includes painted walls, trim, and ceiling.
Luckily, Imagine Remodeling can provide more value than this data suggests! In place of laminate countertops, we can typically offer level 1-2 stone or quartz countertops, a full tile backsplash, tile flooring, etc at this price point.
Estimated cost of Midrange Kitchen Remodel: $77,740
Imagine Remodeling cost $55,000-$70,000 (without appliances)
At resale, the homeowner can expect to recover 48.5% of that cost.
Upscale Major Kitchen Remodel
An upscale project would involve the updating of an outmoded 200-square-foot kitchen with 30-40 linear feet of upscale cabinets with built-in sliding shelves and other interior accessories. Countertops are assumed to be stone with an imported ceramic or glass tile backsplash. Included is the installation of a built-in refrigerator, commercial-grade cooktop and vent hood, a wall oven, and a built-in microwave unit. The project also includes the installation of a high-end undermount sink with designer faucets and a water filtration system. New general and task lighting (including low-voltage under-cabinet lights) are also included. The contractor will install tile or similar flooring that looks like wood.
You'll see the cost below seems high. That's because it is. The cost vs. value report takes into account averages. If these prices are scaring you, don't panic! Your Fresno kitchen renovation could cost less than you might think. Still worried? Just contact us, and we'd be happy to talk you through the process and what certain features may cost. That way you have all the information you need to make an informed decision!
Estimated Cost of a Major Kitchen Remodel: $152,617
Imagine Remodeling Cost $90,000 - $125,000 (without appliances)
At resale, the homeowner can expect to recover 47.6% of that cost.
As mentioned above, the specific finishes you choose for your Fresno kitchen will impact the final cost. Other factors—such as removing walls or re-routing plumbing or electrical will also affect your exact cost. These examples, however, provide a baseline for determining what your remodel will cost.
Thinking Beyond Your Kitchen Remodeling Costs
No matter what you end up paying for your kitchen remodel, hiring the right contractor to do the work is something you can't overlook. And while the price is important, what also matters is the value you receive from the work that's done. In addition to great results, you'll also want the remodeling experience to be as pleasant as possible. With that in mind, here's an article that can help you choose the right contractor.
If you have additional questions we invite you to contact us so that we can help you move forward with your Fresno kitchen remodeling project.