May 27, 2020
Comments Off on

Should I Replace My Kitchen Plumbing?
If you're thinking about renovating your home, you may be wondering if you should replace your kitchen plumbing and fixtures – but you may not be sure replacing your kitchen plumbing is a good idea, or if it's worth it.
In this guide from Imagine Remodeling, we'll discuss a few things you should know about replacing your kitchen plumbing – and whether or not it's a good idea for your project.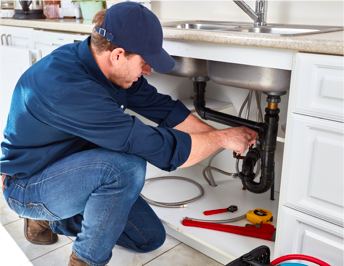 When Should I Replace My Kitchen Plumbing?
First, let's discuss a few situations when it makes sense to replace your kitchen plumbing and plumbing fixtures. Here are a few of the best times to replace your kitchen plumbing.
During a Kitchen Renovation
If you are planning a major kitchen renovation, this is the perfect time to replace old pipes and fixtures in your kitchen. Since you'll likely be removing cabinets, countertops, and other important elements of your kitchen, it will be easier for a plumber to access the plumbing and fixtures of your kitchen and replace any damaged, outdated, or worn-out components.

In addition, you may need to overhaul your plumbing if you're making new additions to your kitchen. For example, if you want to install a water line to your fridge for an ice maker, or you're installing a dishwasher and you've never had one before, you're going to need some new plumbing pipe and fixtures – and your old plumbing may need to be removed in this process.
After a Major Leak or Water Damage
If you have a serious plumbing issue in your kitchen, it may be a good idea to have your entire plumbing system examined, and replace most or all of its components.
For example, if your sink cracks or one of the pipes leading to your sink bursts, this may be a good time to have your kitchen plumbing inspected and replaced or restored. It's better to be safe than sorry – and you definitely want to avoid further water damage in the future!
When Installing New Fixtures and Appliances
If you're having a new plumbing fixture or appliance installed, such as a kitchen sink, an ice maker, garbage disposal, or any other such appliance installed in your home, this may be a good time to have your kitchen plumbing inspected and replaced.
If You Have an Older Home and Don't Have Records of Previous Plumbing Work
If you live in a home that was built before the 1980s, there are a few types of pipes that could be troublesome, and may be used in your kitchen.

Galvanized pipes, for example, were widely used before the 1960s, but corrode and become brittle after about 60 years. Polybutylene pipes, which were introduced in the 1970s, were heralded as a "pipe of the future" upon their introduction, but over the intervening years, it was found that they flaked, became brittle, and cracked over time – leading to class-action lawsuits against manufacturers.

If you have an older home and don't know what kind of pipes are in your kitchen – and the rest of your home – it may be a good idea to contact a plumber to take a look at your pipes and ensure that they're in good shape and are safe to use.

When an Experienced Plumber Recommends Replacement


If you hire an

expert plumber

for an inspection and they recommend replacing your kitchen fixtures or pipes, it's a good idea to listen. It's a good idea to have your pipes – including your kitchen plumbing – inspected every 2 years to ensure that your plumbing systems are in great shape.



While there are a few other reasons you may want to think about replacing your kitchen plumbing, the above scenarios are the most common – so if any of them apply to you, you definitely should consider replacing your plumbing and kitchen plumbing fixtures.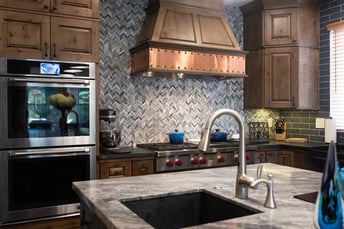 What To Consider Before Replacing Kitchen Plumbing
If you are thinking about replacing the plumbing in your kitchen, there are a few things you may want to consider before you start your project.
What to do with Your Old Plumbing Fixtures and Pipes


If you're replacing pipes and plumbing fixtures that are in reasonably good condition, it's possible that you could donate them to a charity like

Habitat for Humanity

.

Depending on the material used for your plumbing fixtures and pipes, it may even be possible to recycle them, which will minimize your environmental footprint. Ask your contractor or plumber about the options you have for reusing or recycling your old fixtures and pipes.



Personal Style and Desired Results
Replacing kitchen plumbing during a renovation is a big investment, so it may be wise to work with a professional interior designer and a qualified contractor to ensure that you create a kitchen that lives up to all of your expectations, and matches your personal style.


Your Budget for the Project


The amount of money you have to spend on a kitchen renovation or kitchen plumbing replacement will definitely be a major factor for your project. The average cost for a minor kitchen remodel is about $25,000

– but this can vary quite a bit, based on the specifics of your project, the materials you use, and more.

DIY vs. Professional Installation
We highly recommend that you work with a professional plumber and home contractor to replace your kitchen plumbing. While there are many projects that homeowners can take on themselves, plumbing is not usually one of them.
Poor quality work can cause water damage, leaks, problems with appliances like fridges and dishwashers, and more. It may be tempting to attempt some DIY projects on your own if you're handy and save a few bucks – but it's not worth it in the long run.
Plumbing for Future Improvements
It may be a good idea to "future-proof" your kitchen if you are planning on making additional upgrades in the future, but don't have the budget for it now.
For example, if you plan on upgrading your electric cooktop to a gas cooktop in the future, a kitchen renovation is the perfect time to install a gas line in your kitchen, and run it to your stove. Even if you don't use it now, it will be in place when you're ready to make your next upgrade.
The best way to make sure your project goes smoothly and meets your expectations is to work with a qualified renovation company such as Imagine Remodeling. We can advise you throughout every step of the kitchen renovation process, and make sure you get the best possible results.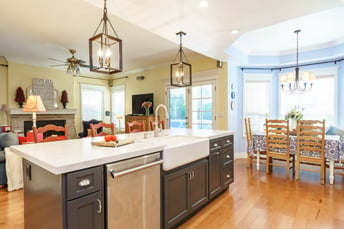 Know Whether Replacing Kitchen Plumbing Is Right For You – And The Help You Need
We hope the above guide has been helpful, and assisted you in deciding whether or not it's time to replace your kitchen plumbing.
If you do choose to replace your kitchen plumbing and fixtures, make sure you do plenty of research and choose a reputable plumber for your project, as well as an experienced general contractor, if necessary. You're making a big investment – so a little bit of caution is definitely warranted before you sign any contracts or put down any payments!