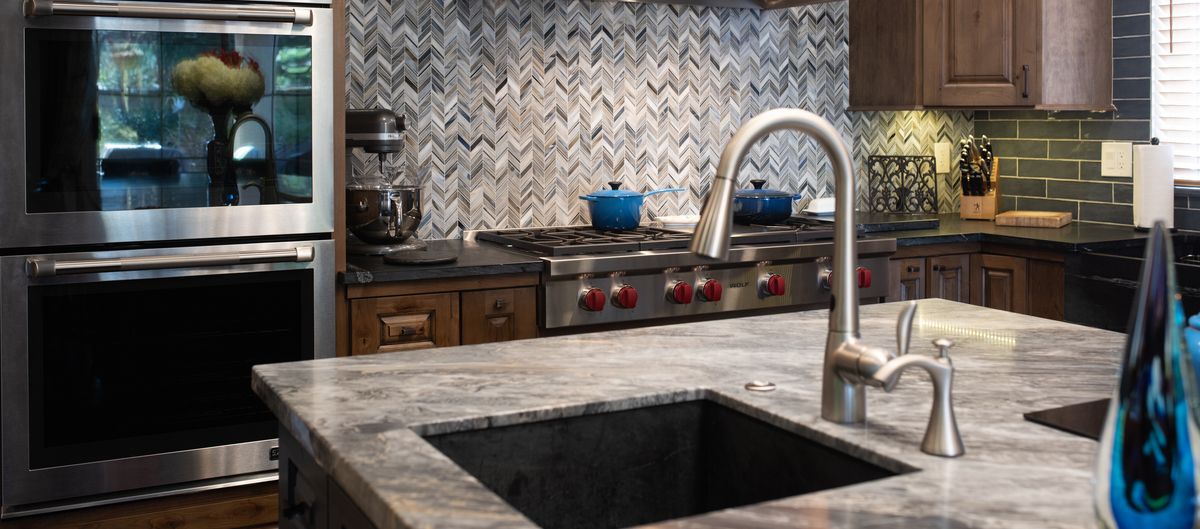 Pipes and fixtures can become damaged and outdated just like any other part of your Fresno home. Although it's not always necessary to replace kitchen plumbing, it may be the best option in some cases. Not sure if your plumbing can benefit from an upgrade? As part of the planning process for your remodel, we'll help you decide if it's time to get rid of leaky pipes or vintage fixtures.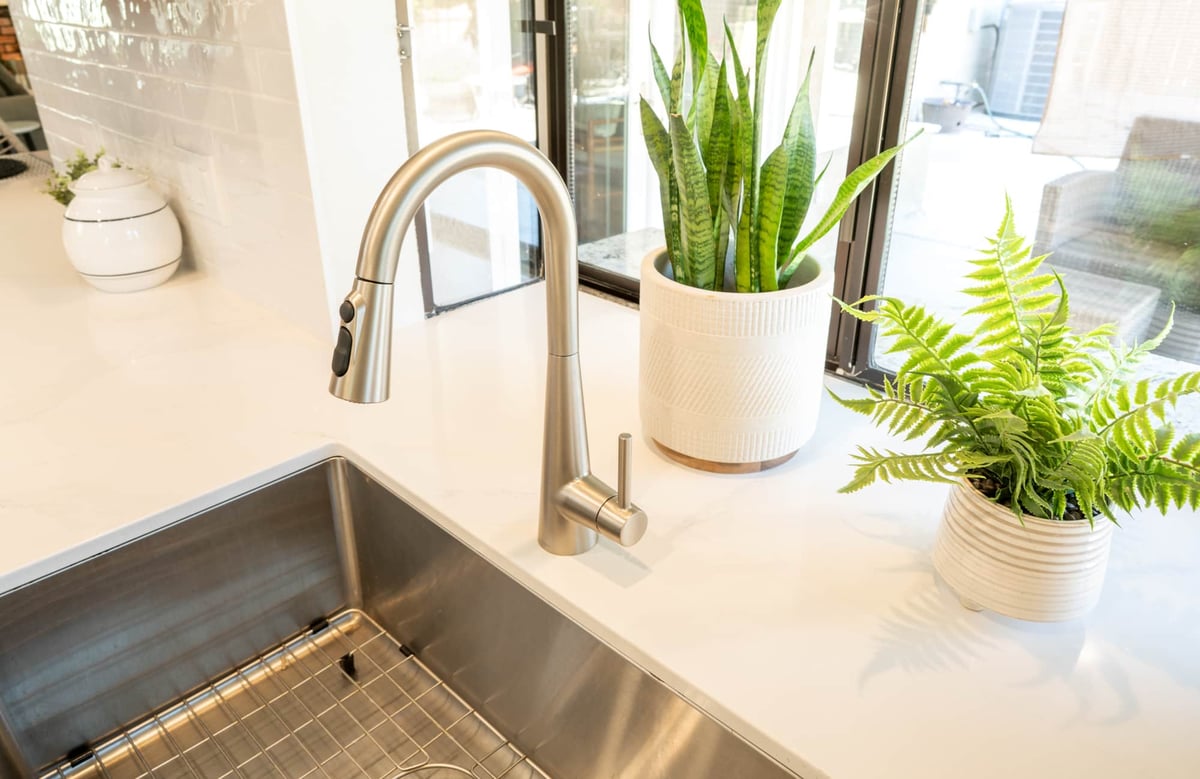 How Fresno Homeowners Are Updating Their Plumbing in 2022
Kitchens have certainly changed a lot over the years. Once regarded as strictly utilitarian rooms, today's kitchens are attractive and comfortable spaces that feature innovations that make preparing meals and entertaining easier and much more fun.
Not sure what features you'd like to include in your kitchen remodel? Take a little inspiration from your Fresno neighbors and add a few of these upgrades to your new kitchen.
Touchless Faucets: Turning on the kitchen faucet is a challenge when your hands are full or covered in dough. Touchless faucets turn on when they detect motion and help you keep faucet handles spotless.
Butler's Pantries: Whether you entertain often or just need more space for food preparation and clean-up, a butler's pantry is an excellent addition to your kitchen. If the pantry will include a bar sink, dishwasher, or refrigerator, you'll need to plan for new plumbing lines in the room.
Beverage Stations: Made popular by Instagram posters and bloggers, beverage stations keep coffee and tea supplies corralled in one area. Adding a sink to the area makes clean-up much easier, as does a coffee maker plumbed into a water line.
Island Sinks: If one sink is good, two are bound to be better. Your island is the ideal place to put your second sink, particularly if more than one cook is busy in the kitchen at the same time.
Pot Fillers: Hate dragging a heavy, water-filled pot over to the stove? Include a pot filler in your Fresno kitchen renovation. These faucets are added to the wall at the back over your range to make filling pots quick and simple.
Water Filtration Systems: A water filtration system purifies your water and improves its taste. The systems can be installed under the counter or hidden in the wall.
Adding new plumbing will definitely increase your total remodeling costs, but upgraded plumbing and fixtures are often an essential part of remodeling. Wondering what you'll pay for a kitchen remodel these days?
According to Remodeling.com's Cost vs Value report, a major mid-range kitchen remodel costs $74,905 in the Fresno area, while a major upscale renovation costs $147,700. Your total cost may vary depending on the features, materials, fixtures, and appliances you select, and the amount of labor needed.
4 Reasons to Replace Plumbing in your Fresno House
Overhauling your plumbing may be a good idea if you're:
Renovating Your Kitchen: During a kitchen remodel, it makes sense to replace worn or damaged pipes or unattractive fixtures. It's much easier for a plumber to access plumbing lines and features when countertops, cabinets, flooring, and walls are removed.

Does your remodel involve moving or adding appliances and fixtures? Your plumber may need to install a water line for the ice maker in your new refrigerator or reconfigure water supply and drain lines if you're changing the size or depth of your kitchen sink.


Dealing with a Leak: You may have fixed the leaking pipe under your sink but what about the plumbing in the rest of the kitchen? Since all the water and drain lines in your kitchen are usually the same age, others may also be damaged or leaky. It's also a good idea to ask a professional to take a look at sinks, faucets, garbage disposals, and dishwashers when you're remodeling your Fresno kitchen. Although the pipes make look fine, hidden leaks or cracks could mean that you'll face a major leak in the not-too-distant future.


Adding New Fixtures and Appliances: Are you excited about outfitting your kitchen with a brand-new dishwasher, garbage disposal, sink, faucet, or refrigerator with an ice maker? Your new fixtures and faucets may be in good condition, but the pipes attached to them might not be. Replacing and repairing plumbing before installing new appliances and fixtures offers a simple way to prevent costly water damage due to leaky or damaged pipes.


Worried About Old Plumbing: Older pipes often aren't as durable or safe as newer versions. If your house was built before the 1980s, it may have galvanized or polybutylene pipes. Galvanized pipes, popular in the first half of the 20th century, become brittle and corroded after 60 years of use. Polybutylene pipes, touted as "the pipes of the future," were considered innovative when introduced in the 1970s. Unfortunately, the pipes flaked, cracked, and became brittle, resulting in lawsuits against the manufacturer.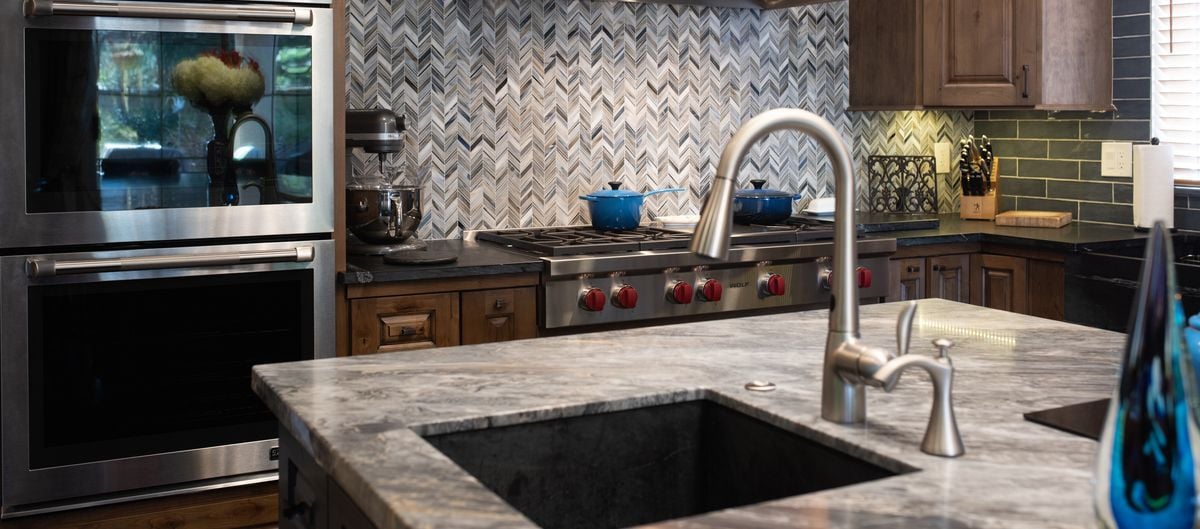 Lead pipes were outlawed by Congress in 1986, but unfortunately, many of these pipes are still in use in homes throughout California. Drinking water contaminated by lead can cause high blood pressure, kidney problems, and reproductive issues and may affect intellectual abilities in children, according to the U.S. Environmental Protection Agency. If you're not sure which type of pipes you have, it's a good idea to ask your plumber or renovator to check them out.
Should You Move Your Plumbing if You Gut Renovate Your Kitchen?
Kitchens, whether they're 100 years old or just a few years old aren't always designed with convenience in mind. If your kitchen has an inefficient layout or is just too small, gutting it and starting over may be the best option.
Gut remodels involve removing everything from the room, including fixtures, appliances, lighting, walls, ceilings, and floors. Once everything is out of the kitchen, the space is redesigned and built to meet current building code requirements.
During your gut remodel, you may want to swap your dishwasher and range or add a pot filler, garbage disposal, second dishwasher, or new refrigerator complete with icemaker and water dispenser. All these changes will involve relocating water and drain lines. Fortunately, it's much easier to move plumbing lines when your remodeler has already taken the room down to the studs.
Updating your Fresno kitchen plumbing also makes it easier for future changes and renovations. For example, you may want to run a gas line to your cooktop in case you ever want to swap your electric cooktop for a gas one.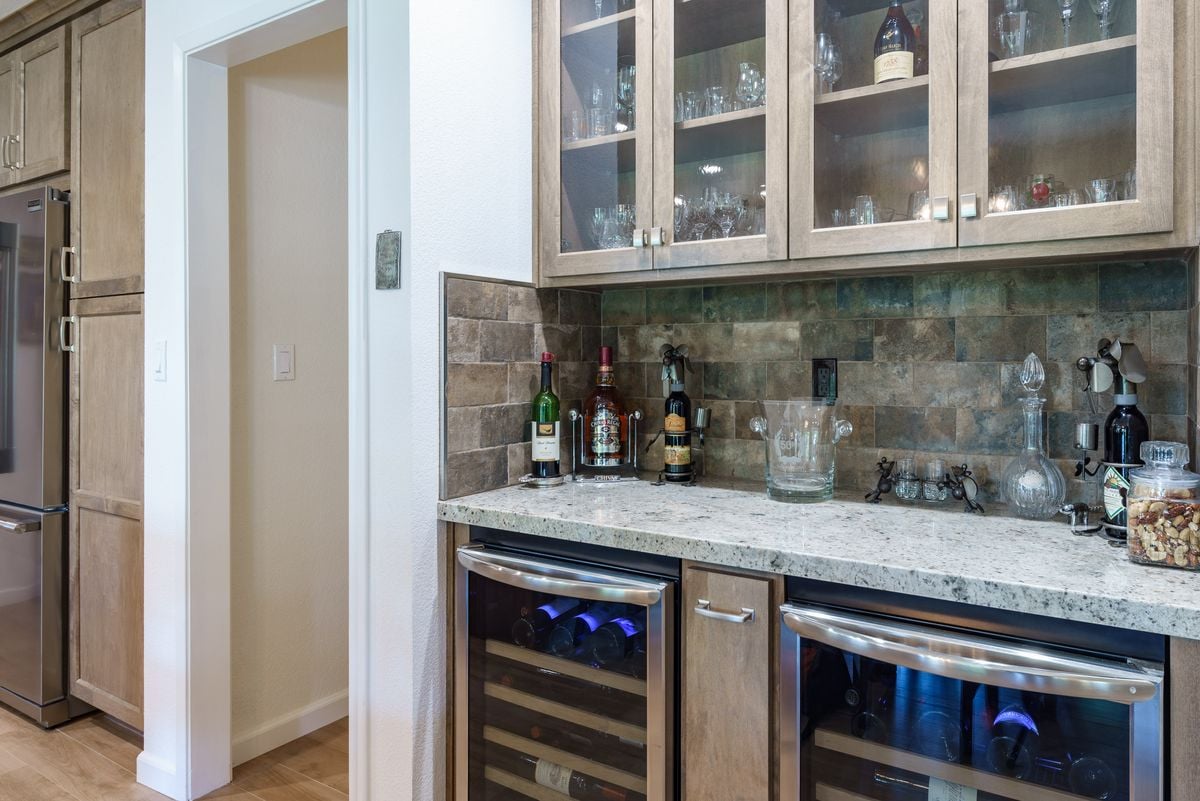 What To Consider Before Replacing Kitchen Plumbing
If you are thinking about replacing the plumbing in your kitchen, there are a few things you may want to consider before you start your project.
Personal Style and Desired Results: Replacing kitchen plumbing during a renovation is a big investment, so it may be wise to work with a professional interior designer and a qualified contractor to ensure that you create a kitchen that lives up to all of your expectations, and matches your style.

Your Budget for the Project: The amount of money you have to spend on a kitchen renovation or kitchen plumbing replacement will be a major factor for your project. The average cost for a minor kitchen remodel is about $40,000 – but this can vary quite a bit, based on the specifics of your project, the materials you use, and more.

DIY vs. Professional Installation: We highly recommend that you work with a professional plumber and home contractor to replace your kitchen plumbing. While there are many projects that homeowners can take on themselves, plumbing is not usually one of them.

Poor quality work can cause water damage, leaks, problems with appliances like fridges and dishwashers, and more. It may be tempting to attempt some DIY projects on your own if you're handy and save a few bucks – but it's not worth it in the long run.


Plumbing for Future Improvements: It may be a good idea to "future-proof" your kitchen if you are planning on making additional upgrades in the future, but don't have the budget for it now.

For example, if you plan on upgrading your electric cooktop to a gas cooktop in the future, a kitchen renovation is the perfect time to install a gas line in your kitchen and run it to your stove. Even if you don't use it now, it will be in place when you're ready to make your next upgrade.
The best way to make sure your project goes smoothly and meets your expectations is to work with a qualified renovation company such as Imagine Remodeling. We can advise you throughout every step of the kitchen renovation process, and make sure you get the best possible results.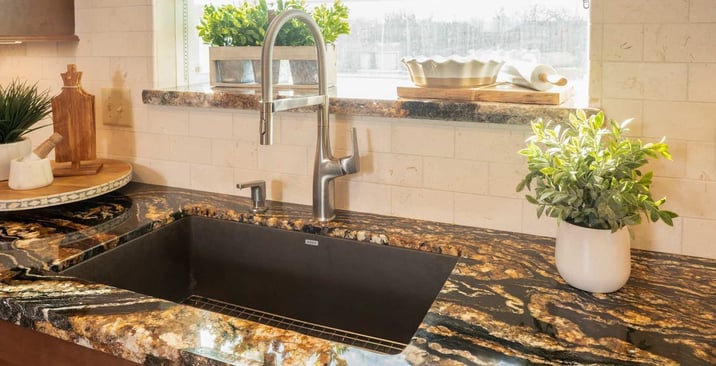 Make the Change to Modern Kitchen Plumbing
If you have older-style iron pipes running through your home, upgrading to a modern plumbing option like PVC is an excellent investment you can make when remodeling your kitchen. By upgrading, you will make it easier to maintain your plumbing and to reroute plumbing if you want your sink or appliances in a different location than they are now.
Consider Adding in Additional Plumbing for the Future
Many kitchen remodels include new fixtures and requirements that were not previously present. If you get the fridge with the ice maker, you'll need to run a water supply line to it. If you want to install a dishwasher or garbage disposal, you'll need to modify your plumbing. These are important considerations, so sit down and talk with your plumber to ensure that all of the necessary plumbing is in place for every kitchen enhancement you'll be making.

Ready to Replace Your Plumbing?
Have you been thinking about upgrading your plumbing on your own? While there are many types of projects homeowners can tackle, plumbing is usually not one of them. Amateur plumbing work can cause leaks and problems with appliances Unfortunately, you may end up spending much more on the project than you anticipated if a leaky pipe warps your new cork floor or your dishwasher malfunctions.
Replacing kitchen plumbing during a renovation is a big investment. Rather than attempting to do the work yourself, get in touch with us. Our design-build team will help you create an attractive, functional kitchen that lives up to your expectations and matches your style.