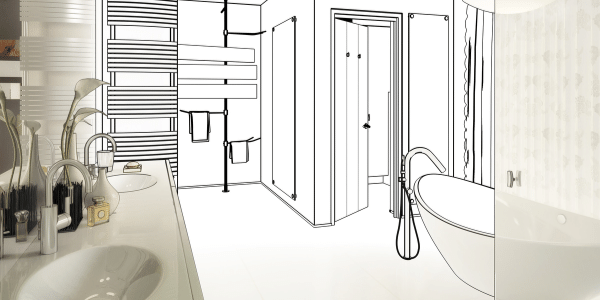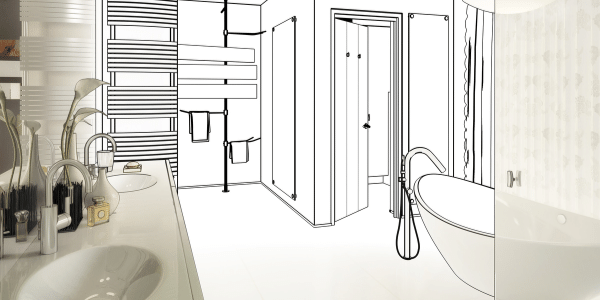 If you find your bathroom is outdated, not meeting your needs, or just doesn't have the organization or storage space you need, it might be time to remodel. There are several things that you should take into consideration when remodeling your Fresno bathroom. Whether you just want to do a little redecorating or a full bathroom transformation, you should design your bathroom to be functional based on your lifestyle. Ultimately, you want a bathroom that expresses your style and personality and either match or complement the overall design of your home.
Planning Your Fresno Bathroom
To help you design your bathroom, you should ask yourself a series of questions to narrow your choices and guide your design plans as you begin talking to the professionals who will assist you throughout the process.
1. How Will the Bathroom be Used?
This is the first question that you should ask, because this will direct a lot of the design elements. Will the bathroom be a relaxing retreat, an efficient master bathroom, a fun family bathroom, a kid's bathroom, or a simple powder room?
Answering this question will determine the fixtures and their placement in the bathroom. If you are creating a relaxing retreat, you might want to install a large soaking tub. However, if you are designing a simple powder room, you might want to include a pedestal sink and a low flow toilet.
2. What Bathroom Style Fits Best in Your Home?
After you've determined how the bathroom will be used, you'll want to start thinking about style. There are six major styles to choose from, including historical styles complete with fixtures and color schemes unique to a certain time period, modern styles, eclectic styles that mash a variety of seemingly unrelated elements to form a unique space, a country style that incorporates natural elements, a romantic style with soft colors and textures, or regional styles like Tuscan or French.
As you are selecting a style for your bathroom, you want to make sure that it is consistent with the rest of your home. For example, if you have a historical home, it might not be the best thing to design a French style bathroom.
3. What Colors Would You Like in Your Bathroom?
The colors you choose will set the mood of the bathroom. Selecting bright and bold colors is invigorating and creates energy, however, selecting pale colors creates a relaxing environment. Be sure to select colors that are consistent with the use and style of the bathroom.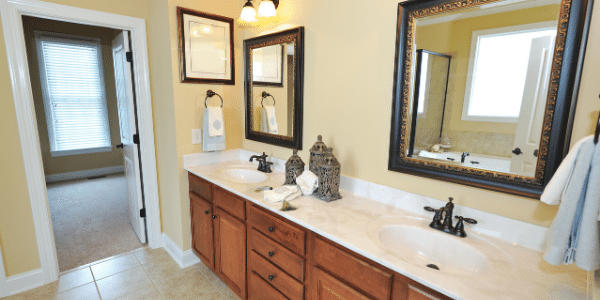 Bathroom Remodel Considerations
Remodeling your bathroom gives you the opportunity to incorporate new features into your home. Advances in technology always give rise to a host of new bathroom features that have come along after your home was built. As you develop a list of priorities for your bathroom remodel, consider these ideas to create a bathroom that better serves your current needs.
Conserve Water
One of the best things you can do as you remodel your bathroom is to install water saving fixtures. Low flow or dual flush toilets and hands-free faucets are great additions to the bathroom that are not only stylish, but definitely help conserve water.
Light It Up
Another thing you can do to help improve your bathroom is add light, and lots of it. Add a window, a skylight, or a solar light tube to increase natural light or install a lighted vanity mirror, a chandelier, or a showerhead with LED lights in it to increase the light in the bathroom.
Go Glass
When it comes to the shower, go with glass shower doors. These doors are not only stylish, they take up less space than shower curtains, they light up the bathroom, and they make the space appear larger. Rain shower heads, or handheld shower heads will change the way you experience a shower. If you want to go a step further, a large walk in shower can completely transform your shower into an incredible spa-like experience.
Increase the Ventilation
Bathrooms are moist environments and are prone to molds and mildews. However, increasing the ventilation will reduce this problem by keeping the bathroom dryer. Choose ventilation with quiet fans and humidity sensors so you don't have to worry about turning them on or off. Another option is to introduce a larger window into the space to prevent humid air from building up.
Smarter Storage
Bathrooms naturally collect clutter, however, items are better tucked away than left out in the open. As you are remodeling your bathroom, choose a vanity with storage options that allow you to hide away the clutter for a clean look. Consider installing recessed shelves inside your shower or along a wall in your bathroom for extra storage space. Baskets, hooks, and furniture pieces can all add to a bathroom and serve as great places to store all necessary bathroom items. Choosing the right storage accessories will help keep the bathroom organized and clutter-free.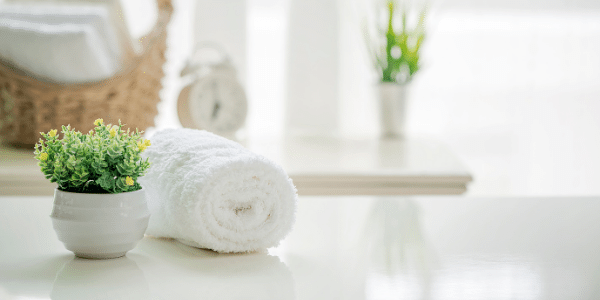 Bathroom Decorations
Choosing the right bathroom accessories can help complete and personalize your bathroom. You first want to make sure you have the basic bathroom accessories.
For each bathroom, it is recommended that you have four sets of towels, including bath towels, hand towels, and wash cloths. You will also want to have one or two sets of coordinating bath rugs and shower curtains. Remember to include items like soap dishes, cups, toothbrush holders, canisters, and wastebaskets.
After you've acquired the basic bathroom necessities, you can really add to your bathroom with other décor items and furniture pieces. As you are choosing the right accessories for your bathroom, keep these tips in mind:
Function First
The most important thing to consider as you are choosing bathroom décor is their function. It is very easy to choose accessories that look good, but only serve as clutter because they don't fulfill any specific function. Select bathroom accessories that will meet your needs.
Colors, Patterns, and Textures
This is where decorating the bathroom gets fun. Choose bathroom accessories that have colors, patterns and textures that appeal to you, but also fit with the basic style of your bathroom. The colors, patterns, and textures you use in your bathroom will determine how the space feels. If you are looking to create a retreat choose light colors, flowing patterns, and soft textures. If you a looking to create a fun kid's bathroom, choose vivid colors, bold patterns, textures that remind you of childhood.
Selecting a Contractor For Your Fresno Bathroom
Imagine Remodeling uses the design build process for a wide range of renovation projects in Fresno, from whole home remodels to additions and single-room renovations. Our designer and builder work together from the start, combining their expertise to complete your bathroom remodel project as efficiently as possible. Reach out to us for a consultation to begin discussing options with you. Through our collaborative process, we will work together to plan and design a bathroom that fits your lifestyle needs.