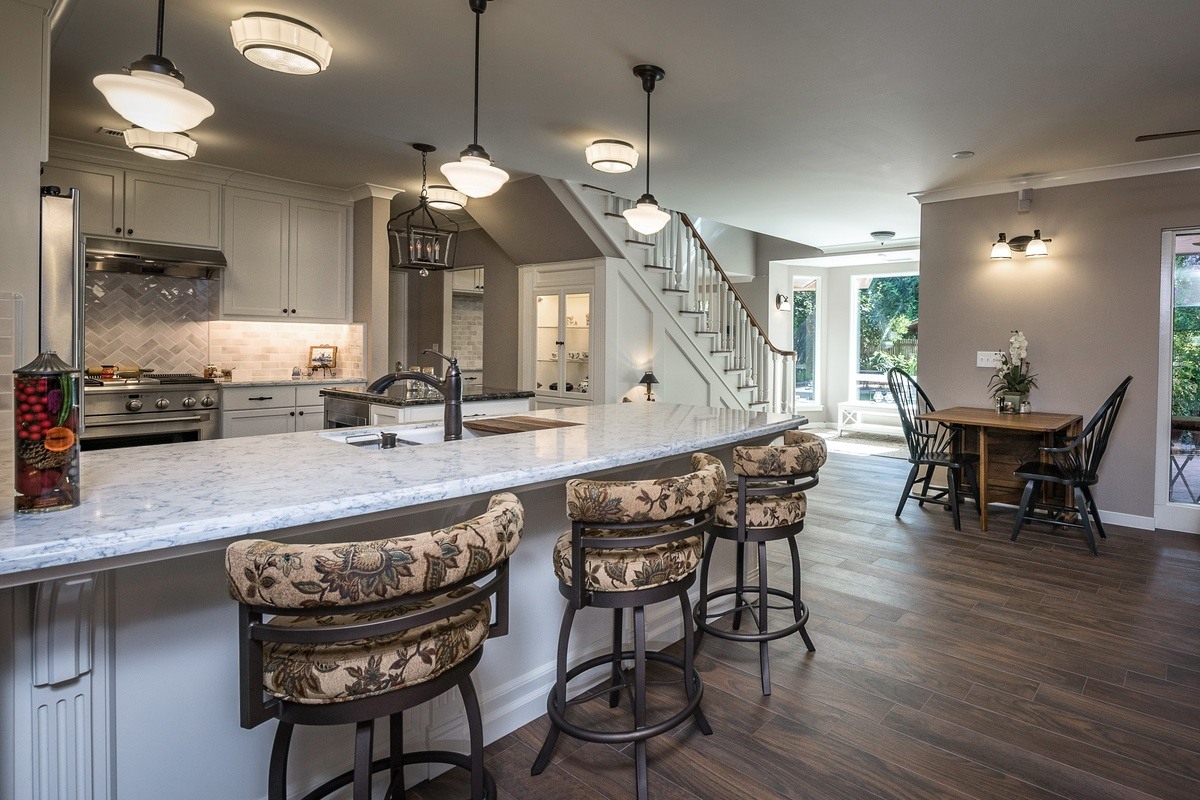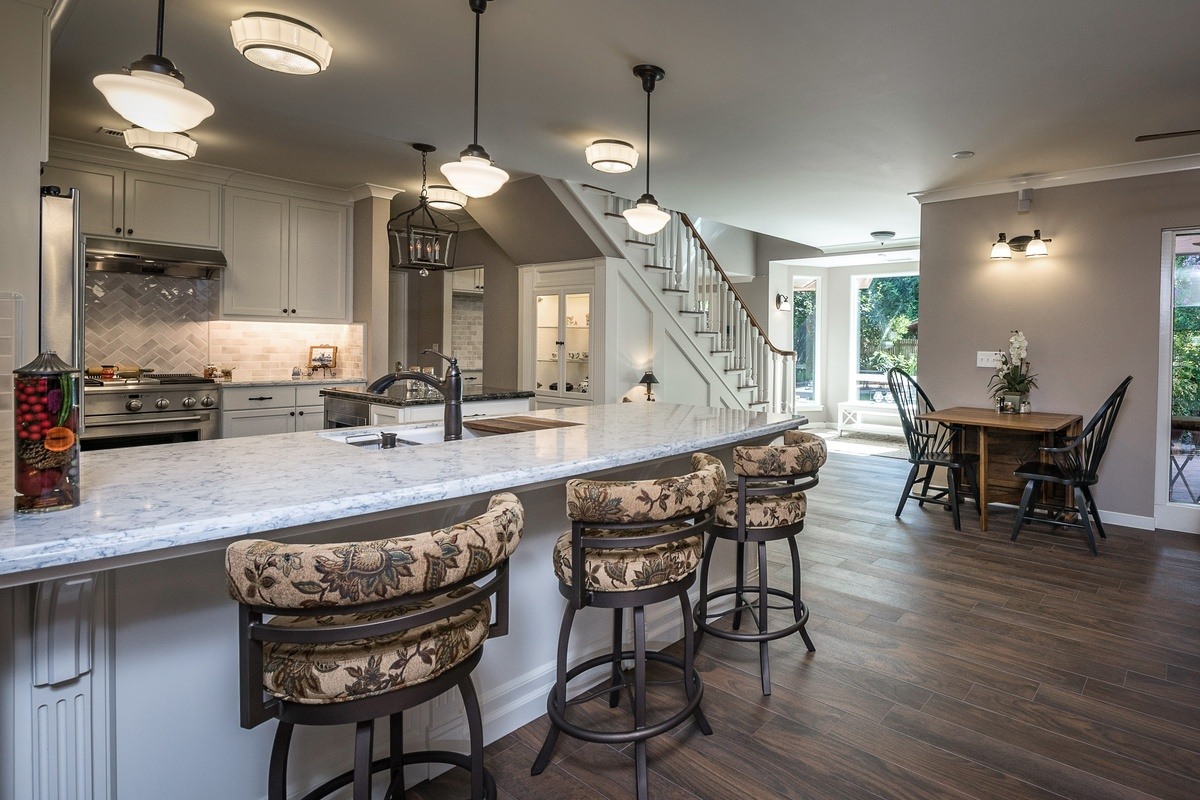 Are you ready to expand your kitchen or add a master bedroom suite to your home but aren't sure how much to budget for the renovation? An Internet search will provide national cost estimates but may not reflect actual prices in the Fresno area. Our breakdown gives you a more accurate idea of what you'll pay for five common types of remodeling projects.
Kitchen Remodel
An outdated kitchen not only makes cooking and cleaning up less convenient but also impacts the feel and flow of your entire first floor. If your vintage kitchen doesn't match the modern style of your family room, or your closed-in kitchen keeps your home from feeling airy and open, it's probably time to remodel.
Remodeling's Cost vs. Value Report offers a good place to start when considering renovation costs. According to the report, mid-range remodels in our area cost $75,000, and upscale kitchen renovations cost $147,000. Click on the report to see the descriptions. The report estimates the cost for a minor remodel at $26,000, but we do not perform cabinet refacing or laminate countertops. Our company starts at the mid-range level, and you can anticipate $45,000 to $65,000 price range.
Our version of a mid-range kitchen remodel is what we call a "remove & replace". It involves replacing your old cabinets with new, high quality, Wellborn cabinetry, installing a mid-grade quartz countertop, full tile splash, flooring, plumbing fixtures, and new recessed lighting.
Our upscale kitchen remodeling projects can run from $65,000 to over $125,000. These projects generally have walls being removed and or relocated, window and door changes, and relocation of appliances and plumbing locations. Upscale projects have even higher quality cabinetry with more options, and higher price point plumbing, lighting, tile, quartz or stone, etc.
Bathroom Remodel
It's often possible to guess the approximate age of a home simply by taking a peek at the bathroom. Builder-grade oak cabinets and white linoleum floors may have been in fashion in the 1990s when the house was built, but those features tend to make a bathroom look dated now. Fortunately, a bathroom remodel will improve the appearance and function of the room and give you plenty of modern conveniences, like radiant heating in the floor or a luxurious soaker tub.
Based on our experience, you can expect to pay $28,000 to $33,000 for a full mid-range bathroom remodel, $55,000 to $90,000 for an upscale renovation. Universal/Accessibility design can make your make more functional and easy to use as you age gracefully in your own home. A barrier-free roll-in shower can add $2,000+/- to the cost above. While items like grab bars, roll-under sink area only add a few hundred dollars each
Mid-range bathrooms contain all the basic features you need to update a 50-65 sqaure foot bathroom (toilet, shower only or tub/shower, vanity, mirror, light, ventilation fan, wall tile, LVT or LVP flooring, painting, and trim work). An upscale bathroom is larger and includes high-end touches, like separate shower with slide bar-hand shower feature, soaker tub, toilet compartment, stone/quartz countertops, new cabinets, two sinks, in-floor heating, and custom cabinets.
A universal design bathroom is a good choice if someone in your home is disabled, or you plan to age in place. The bathrooms are designed to fit wheelchairs and offer many accessible features.
Bathroom Addition
Do you have too many people in your home and not enough bathrooms? The addition of a new bathroom makes life much more pleasant when everyone is getting ready for work and school at the same time.
Based on our estimates, you will pay about $85,000 for a mid-range bathroom addition and $110,000+ for an upscale bathroom renovation (up to 75sf). Mid-range bathroom additions generally include a tub/shower with tile surround, toilet, cabinetry, stone top with undermounted sinks, wall or ceiling light, mirror, linen storage, tile floor, painting and trim in a 6x8' room.
Upscale bathroom additions (100 square feet) include all of the features listed above in the upscale bathroom remodel section.
Master Suite Addition
Older houses often have fairly small master bedrooms and even smaller attached bathrooms. Mid-range master suite additions may include features like walk-in closets, soaker tub, separate shower, toilet, double-bowl vanity, tile floor, lighting, painting, and trim in a 24x16' space.
Upscale master suite additions add as much as 32x20' to your home and might feature a sitting area, walk-in closet, fireplace, custom bookcase, bar area, French doors, stone walls and floor, dual-shower system, separate soaker tub, in-floor heating, double sinks in a stone countertop and other luxurious features.
Based on our own estimates, Fresno homeowners can expect to pay about $125,000 for a mid-range master suite addition and $175,000 or more for an upscale master suite addition.
Whole House Remodel
When your entire house is outdated or inefficient, a whole house remodel makes sense. Prices vary depending on the size of the home and the type of renovation. Of course, the cost of a whole home remodel, like any type of remodel, can vary significantly depending on the quality of the building materials and appliances, the size of your home, and the amount of custom work involved.
If you're thinking about remodeling any part of your home, give us a call or complete the contact form on the website. We can help you create an attractive, comfortable space that will increase your enjoyment of your home.