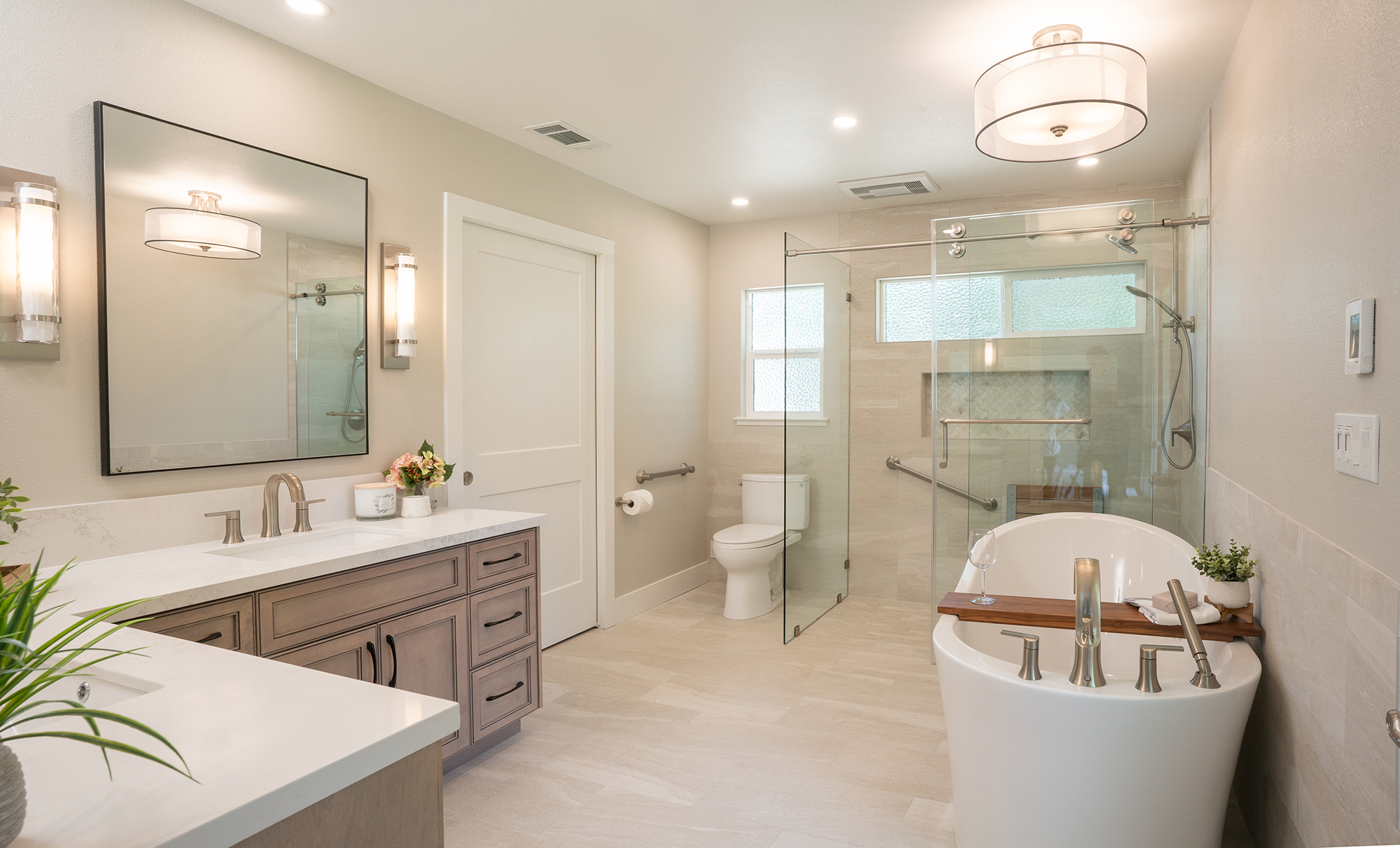 Why settle for "standard" or "average" bathroom options when there are these 10 luxury upgrades for your bathroom renovation to consider?

After all, your bathroom doesn't have to be just functional. It can be your sanctuary for relaxation and rejuvenation. With the right upgrades, you can transform your bathroom into a luxurious oasis.

Here are some luxury upgrades to consider …

1. Spa-Worthy Bathtub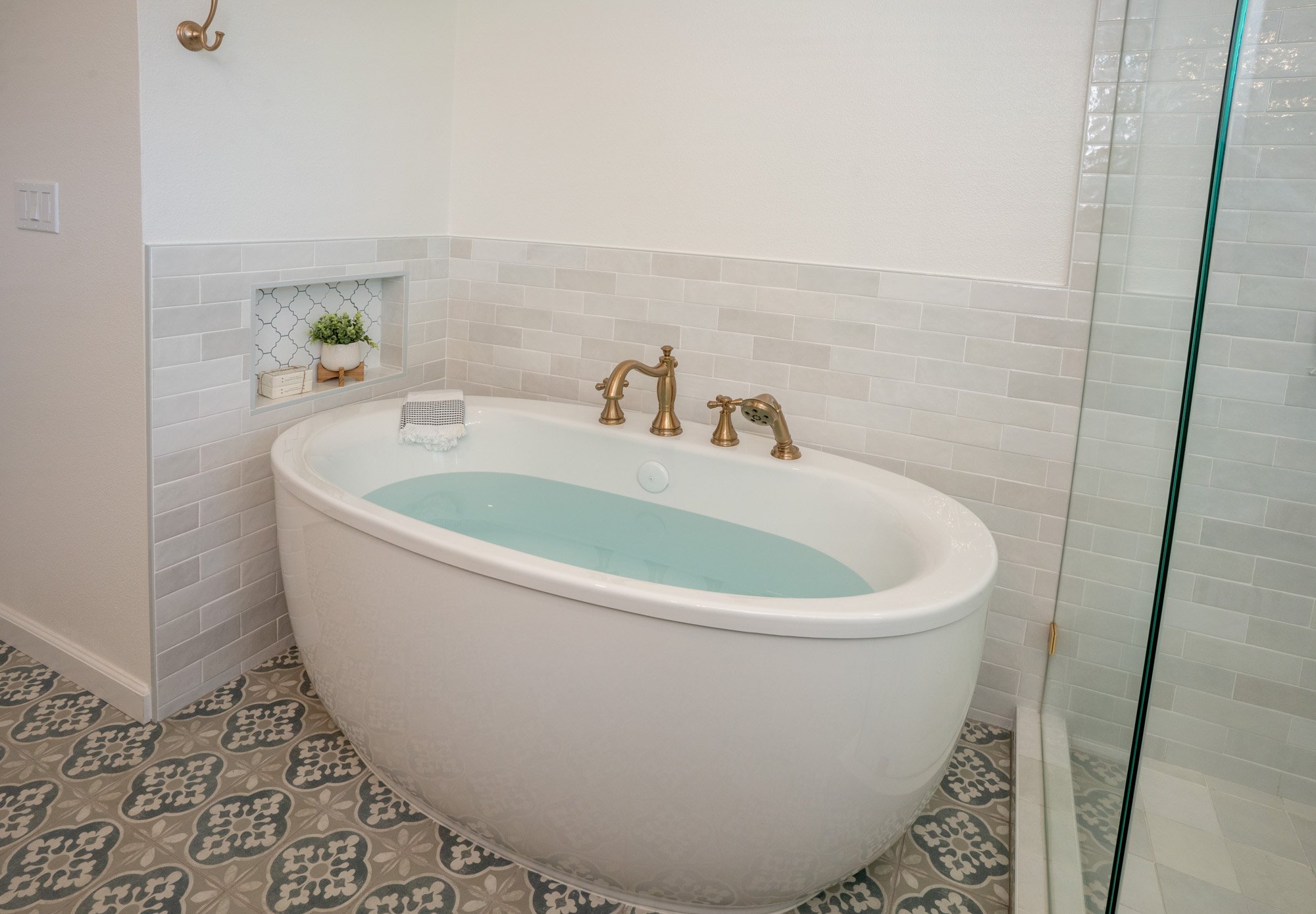 Upgrade your standard bathtub to a spa-worthy soaking tub. A freestanding, deep soaking tub can transform your bathroom into a haven of relaxation. Imagine sinking into a warm bath after a long day, with a glass of wine and soothing music. It's not just a bath; it's an experience.

2. High-End Shower Systems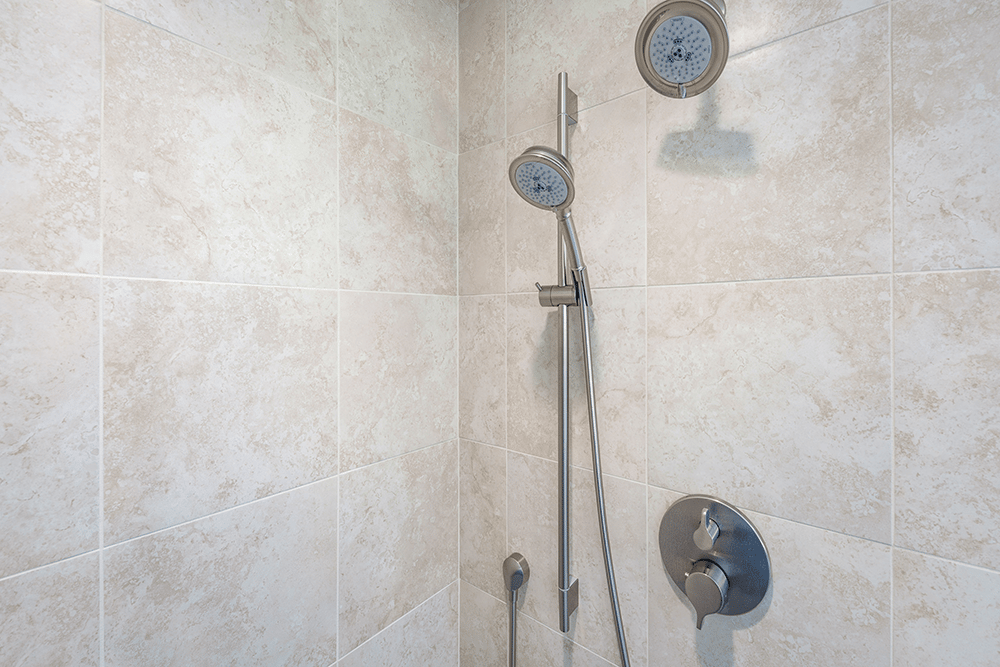 Say goodbye to the ordinary showerhead and embrace a high-end shower system. Rainfall showerheads, body jets, and digital temperature control create a luxurious showering experience. A design-build company can help you select and install these intricate systems seamlessly.

3. Heated Floors

Stepping onto warm tiles in the morning is a luxury you won't want to give up. Heated floors not only provide comfort but also add value to your home. With precise installation requirements, it's best to trust a design-build company to handle this upgrade.

4. Custom Cabinetry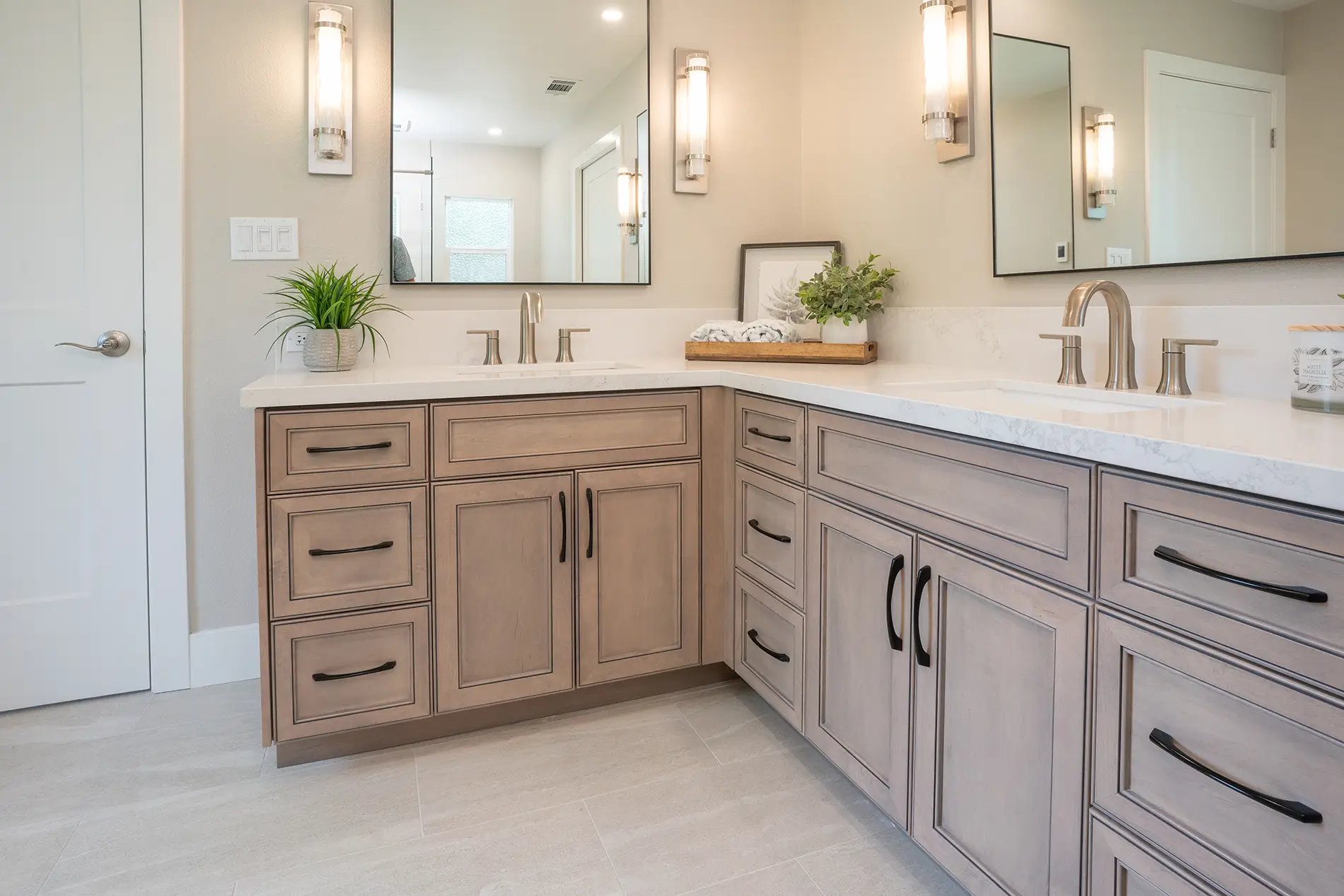 Say farewell to mass-produced cabinets and opt for custom cabinetry in your bathroom. Tailored to your space and style, custom cabinets offer a wide range of style and color options and can be precisely designed to fit tricky spaces.

Also consider cabinet accessories that can solve storage issues. For example, custom inserts for hair tools, charging drawers, and hampers are all items to consider and will elevate the aesthetic of your luxurious space.

5. Elegant Lighting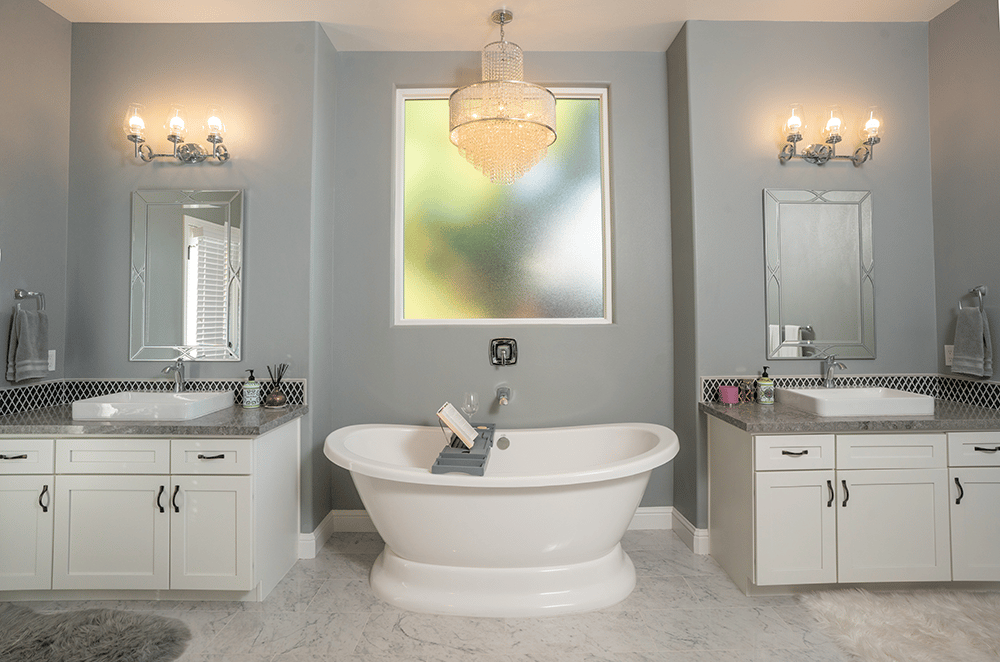 Luxury bathrooms often feature elegant lighting fixtures that create a warm and inviting ambiance. From chandeliers to sconces, lighting can be both functional and decorative. A design-build firm can help you choose the right fixtures, placement, and layout to ensure an optimum lighting design for your space.

6. High-Quality Countertops

Investing in high-quality countertops, such as marble or quartz, not only enhances the aesthetics of your bathroom but also ensures durability. These materials are not only stunning but also stand the test of time.

7. Smart Technology

Bring your bathroom into the 21st century with smart technology. Smart mirrors, touchless faucets, and integrated sound systems can elevate your bathroom's functionality and convenience. Design-build companies can seamlessly integrate these technologies into your design.

8. Steam Showers

Transform your shower into a spa-like retreat with a steam shower. Steam showers offer numerous health benefits, including relaxation, improved circulation, and respiratory relief. A design-build firm can handle the technical aspects of installing a steam generator for your shower.

9. Luxurious Tilework

Luxury bathrooms often feature intricate and beautifully designed tilework. From mosaic patterns to unique textures, the right tiles can turn your bathroom into a work of art. A design-build company can help you select and install tiles that complement your vision.

10. Customized Vanity

Your bathroom vanity can be more than just a functional element of the bathroom. It can — and perhaps should — be a focal point of your bathroom's design. Opting for a customized vanity that reflects your personal style and provides ample storage adds a high-end luxury feel to the bathroom.

Benefits of Luxury Upgrades Over Standard Options

While luxury upgrades may require a higher upfront investment, they offer several key benefits over standard options.
Increased Home Value — Luxury upgrades can significantly increase the resale value of your home. Potential buyers are often willing to pay more for a home with a well-appointed, luxurious bathroom.
Improved Quality — Luxury materials and fixtures are often of superior quality, ensuring durability and longevity. You won't need to worry about frequent repairs or replacements.
Enhanced Comfort and Enjoyment — Luxury upgrades transform your bathroom into a space where you can truly relax and enjoy your daily routines. They enhance your quality of life and make your home a more enjoyable place to live.
Personalization — Luxury upgrades allow you to customize your bathroom to suit your personal style and preferences. You can create a unique space that reflects your taste and personality.
Long-Term Savings — While luxury upgrades may have a higher upfront cost, they can save you money in the long run by reducing maintenance and replacement expenses.

Why Choose a Design-Build Company to Help with a Luxury Bathroom Remodel?

If you're considering any of these luxurious upgrades, enlisting the services of a design-build company is a smart choice. Here are a few reasons why it makes sense to choose a design-build company to help with your bathroom renovation:

Streamlined Communication

A design-build company serves as a one-stop-shop for your project. They handle both the design and construction aspects, ensuring seamless communication between the design and construction teams. This eliminates miscommunication, reduces delays, and keeps your project on track.

Cost-Efficiency

Design-build firms are experts at managing budgets. They can provide accurate cost estimates from the initial design phase, helping you make informed decisions about your luxury upgrades while staying within your budget.

Time Savings

With a design-build approach, your project is completed faster. The design and construction phases overlap, reducing the overall timeline. This means you can enjoy your luxurious new bathroom sooner.

Accountability

When you work with a design-build company, you have a single point of accountability. If any issues arise during the project, you don't have to worry about pointing fingers between separate design and construction teams—the design-build firm takes full responsibility.

Expertise and Experience

Design-build companies specialize in creating custom, high-end spaces. They have a deep understanding of luxury materials, fixtures, and technologies, ensuring your bathroom renovation is of the highest quality.

Imagine Remodeling is here for you with in-house design and production teams to help you transform your bathroom into a luxurious oasis that you'll love to spend time in.

We invite you to call (559) 365-6542 or click here to use our convenient online form to request a free consultation today.
In the meantime, you might find the bathroom projects in our Fresno Remodeling Gallery inspiring and fun to look at.