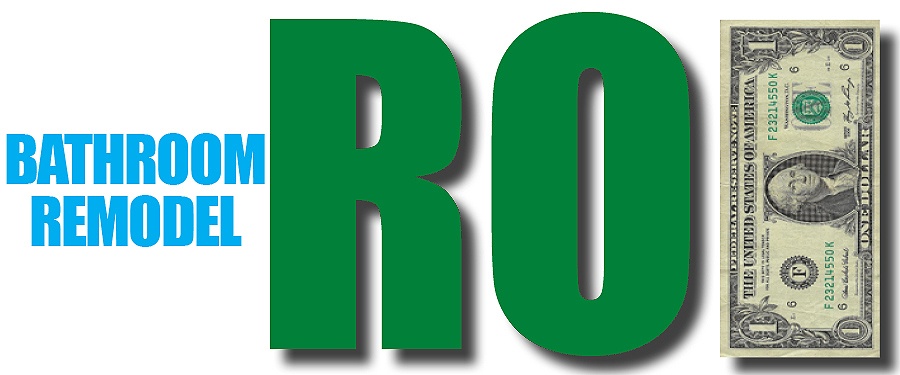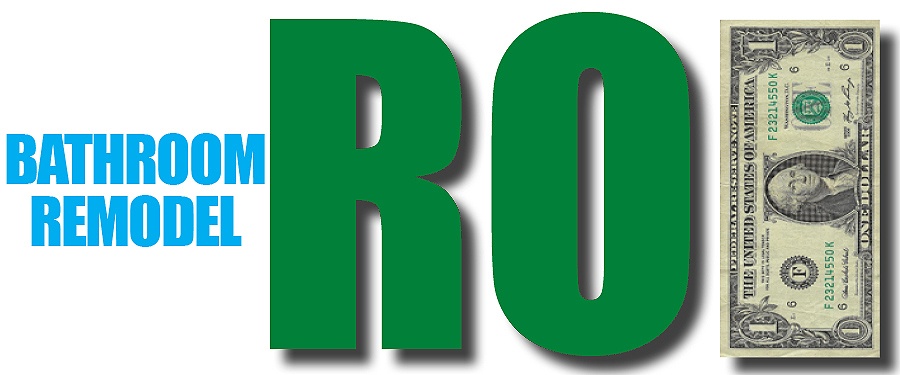 When it's time to remodel the bathroom of your Fresno-area home, you'll face the question of, "How much will my bathroom remodel cost?" There is, however, another, related question you'll want to consider: "What's the long-term payout for this project?" Both questions are important, but they aren't exactly the same. Here's an article that tackles what a typical bathroom remodel in the Fresno area should cost. But let's take a look at how to get the best ROI on your bathroom remodel. Let's look at a few general concepts and then examine a few specific examples.
Consider Why You're Remodeling
Some homeowners remodel because their old bathroom looks or feels a bit "tired" or dated. Others are frustrated because their bathroom simply isn't very efficient. Some homeowners are looking for universal design elements that will enable them to live independently for longer in their own homes. And some are planning to sell their existing home and want to make updates that will help them sell quickly and at a good price. All of these are absolutely valid reasons to remodel. But your reason for remodeling can impact which elements you change—and your return on investment.
Go For Timeless Rather Than Trendy
There are always new trends and fads in home design and décor. Every year brings a new "color-of-the-year" for homes. Materials (stone, tile, fixtures, reclaimed wood, etc.) rise and fall in popularity. Reclaimed wood is very popular right now, but that doesn't mean you should necessarily use it in your bathroom—particularly if what you really like is a more sleek and modern style.
Don't Go Overboard
It can be easy to get excited about a new trend or style. That's not a bad thing, but you'll want to keep in mind that not every improvement you make will pay back equally. In fact, Forbes.com reported that "According to Remodeling Magazine's report, the average recouped costs for remodeling projects was less than 60 percent. For the most part, they found that less expensive projects generally have a higher return on investment, while more expensive projects tend to cost more with less return." This doesn't mean you can't make the changes that you want. It simply means that not everyone will value your choices the same way you do. So if you go for a higher-end item that you love—enjoy it! Just don't assume it will have the same value to someone who may buy your home later.
So What Kinds of Improvements DO Pay Off?
There are some features that tend to pay a better return on investment. These are some of the improvements that will bring the best bathroom remodeling return on investment.
Sinks


A new sink may not strike you as overly sexy, but it's so important to a bathroom. It's something you use every day. It's often the first thing you see when you enter the bathroom (or when a potential buyer comes in). Nothing makes a bathroom feel dated faster than an outdated sink with aging fixtures. If possible, go for double sinks and vanities. They are so much more convenient (and aesthetically appealing), and they are something homebuyers look for. A double vanity is both a good investment for you and for potential buyers. In fact, there are homebuyers that won't even consider purchasing a home that doesn't have a double vanity. For even more impact makes those sinks under mounted to eliminate the caulk joint and make it easy to wipe the countertops.
Tile


Classy tile can absolutely make a bathroom. It adds texture, depth, and warmth to the room. You'll have a lot of options when it comes to choosing tile. For instance, here are five tile styles that have staying power. One thing to keep in mind is that a lot of expensive custom tiles can be somewhat style-specific. You'll pay more for them up front. That's OK if it's really what you want, but you may not get that money back when you sell your home.
Lighting


Good lighting is one of the most important investments you can make. Keep in mind that it's not simply a matter of making things brighter. Think through your lighting with your remodeler. You'll want task-specific lighting for things such as applying makeup or shaving. But you'll also want ambient lighting for the rest of the room. A well-lit bathroom will be much more attractive to you—and to prospective buyers.
Aging-in-Place Features


It doesn't matter whether you call it Universal Design or Aging-in-Place design. Increasing numbers of homebuyers are looking for features throughout their homes that will allow them to live in them independently for longer. Bathrooms are one of the most important rooms in the home when it comes to keeping the home convenient, comfortable and safe. Here's an article that delves deeper into how smart remodeling can help you stay in your home longer. That's a great return on investment! Not only is it less expensive to live at home, but it's also much more enjoyable.
Remember That It's YOUR Home
It's really important to keep in mind that you're most likely remodeling for your own benefit. That puts bathroom remodeling return on investment in a different perspective. If you like a certain style, or a certain kind of material, or a particular kind of fixture, you should probably pursue that. You may not recover as much of your investment when it's time to sell, but you're not remodeling for the next buyer—you're remodeling for your own comfort and enjoyment. What is that worth to you? It's almost impossible to attach a dollar amount to things such as comfort, convenience, and pure aesthetic pleasure. Yes, you'll still want to stay within a budget that's reasonable for you, but it's also extremely important to create a home (including your bathroom) that makes you happy and comfortable.