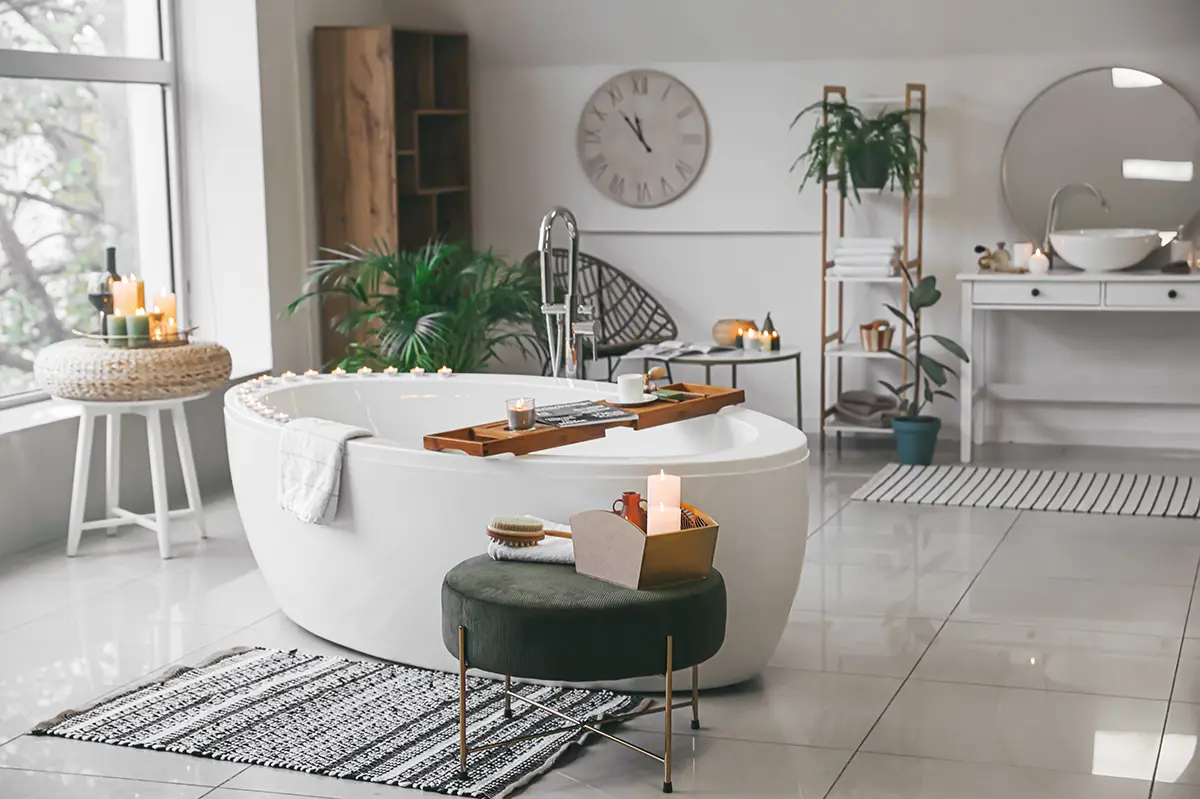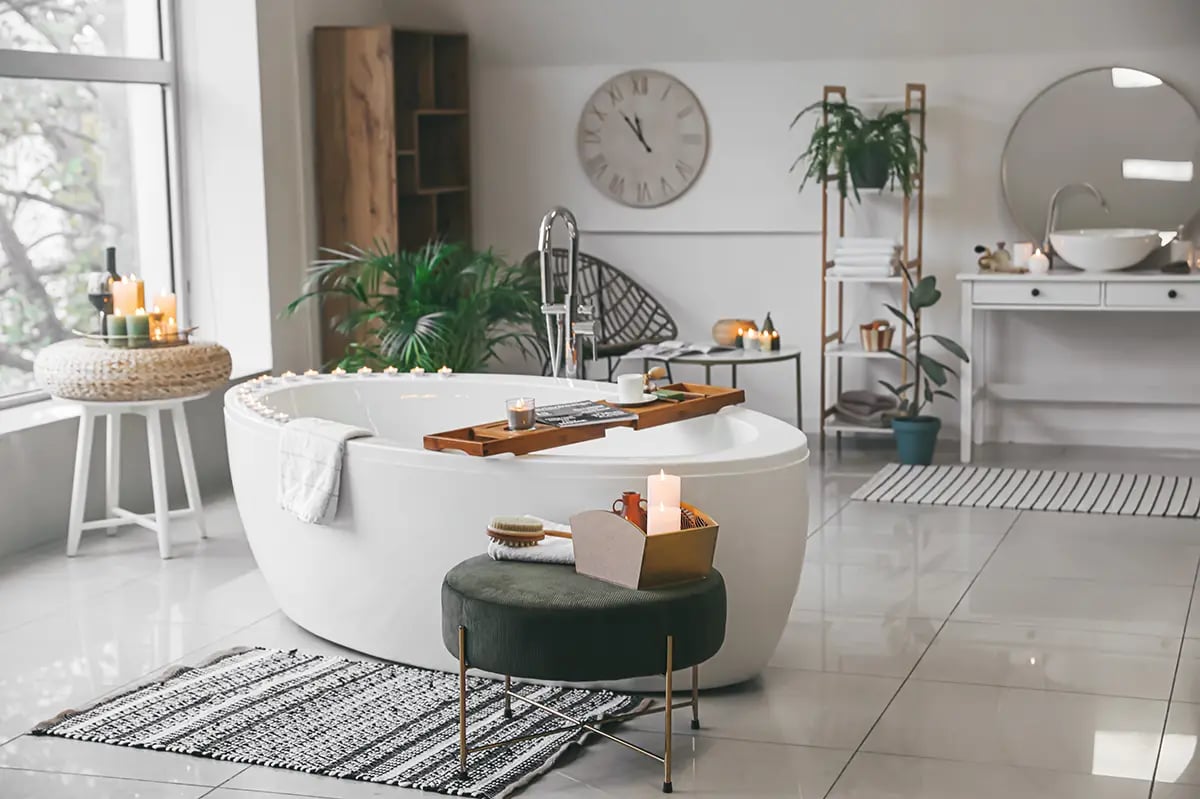 Imagine having your own serene sanctuary that's a haven for relaxation and self-care … with these 5 ways to make your master bath feel like a spa, you can have that serenity conveniently located right in your own home.
With just a few strategic changes, you can transform your bathroom into an oasis that promotes tranquility, rejuvenation, and indulgence. With a spa-like master bath, you'll be able to easily escape the stresses of daily life and embrace a renewed sense of well-being.
Consider these five ways to make your master bath feel like a spa …
1. Use a Calming Color Palette
The colors you choose for your master bath play a crucial role in setting the mood. To evoke a spa-like ambiance, go for a calming and soothing color palette in neutral shades.
Shades such as soft blues, tranquil greens, and warm earth tones can create a sense of tranquility and relaxation. Loud or vibrant colors can be stimulating, so you'll want to avoid them. Instead, opt for muted tones that foster a serene atmosphere.
You can incorporate these colors through wall paint, tiles, and accessories to establish a harmonious and spa-like environment.
2. Upgrade Your Bath Fixtures
One of the key elements of a luxurious spa experience is a rejuvenating bath. So upgrading your bath fixtures can elevate your bathing experience to a new level.
Consider installing a freestanding soaking tub or a luxurious whirlpool bath. These features offer a deep, immersive experience that will help melt away stress and tension.
Additionally, you can replace an outdated showerhead with a rain shower or a multi-jet system to replicate the sensation of standing under a gentle waterfall.
By investing in high-quality bath fixtures, you can turn your bathroom into a personal retreat.
3. Incorporate Natural Elements
Introducing natural elements into your master bath also can infuse the space with a soothing and organic feel.
Consider adding live plants, such as bamboo or orchids, to bring a touch of nature indoors. These plants not only add visual spa-like appeal to your space, but they also can enhance your air quality by releasing additional oxygen.
Incorporating natural materials like stone, wood, or pebble tiles into your master bath also can evoke a sense of nature and create a spa-like atmosphere.
4. Upgrade Your Lighting
Lighting is an essential aspect of creating a spa-like atmosphere in your master bath.
For example, replace harsh overhead lighting with softer, dimmable options to create a warm and inviting ambiance. You can also install wall sconces or pendant lights around the vanity area to provide a soft and flattering glow for your daily grooming routines. And consider adding candles or LED light strips near the bathtub to create a cozy and tranquil environment during bath time.
Properly placed lighting can significantly impact the mood and ambiance of your bathroom, allowing you to unwind and embrace a spa-like experience.
5. Be Strategic with Storage and Organization
When transforming your master bath into a spa-like sanctuary, keep in mind that simplicity and minimalism are key to a soothing environment. A clutter-free space will enhance the sense of serenity and calmness, so be strategic with storage solutions.
Carefully plan cabinets, drawers, and shelves to give you the storage space you need to keep your bathroom organized and tidy.
Get Expert Help to Make Your Master Bath Feel Like a Spa
Transforming your master bath into a spa-like haven is a rewarding project that can enhance your daily routine and provide you with a space to unwind and recharge. It's important to get it right, so consider getting expert help to design a sanctuary that is unique to you and meets all of your needs.
You get access to an experienced team of remodeling contractors and home designers when you request a consultation with Imagine Remodeling.
Call (559) 365-6542 or click here to use our convenient online form to request a free consultation today.
In the meantime, you might find additional inspiration in our
Bathroom Remodeling Gallery
.