Oct 05, 2019
Comments Off on

6 Features to Add to Your Kitchen When Remodeling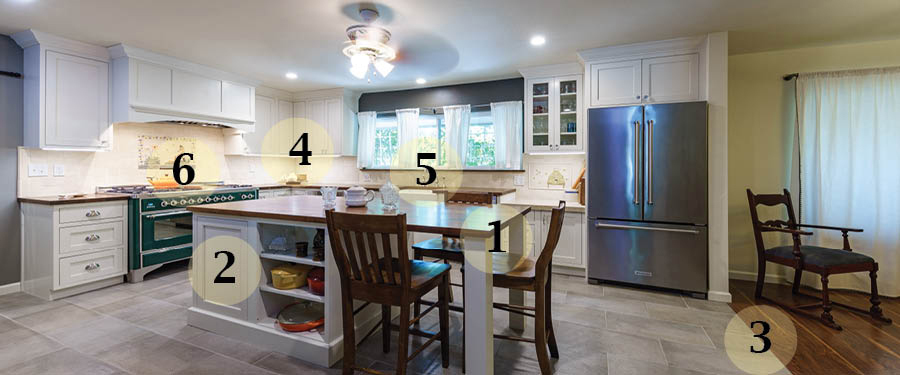 A kitchen remodel of your Fresno-area home can have a dramatic impact on the way your whole home looks and feels. Chances are that you don't simply want a newer version of your existing kitchen. How can you ensure that you get the biggest bang for your buck when you remodel? Here's a look at 6 features to add to your kitchen when remodeling.
1.
Kitchen Island
There is no question that kitchen islands are a popular part of kitchen remodels. But you have several options when considering installing an island. You can add seating for quick, casual family meals. A large island is also great for serving snacks and drinks when you're doing casual entertaining.
An island isn't just for eating and entertaining—it's also extremely practical. It provides extra workspace for food preparation. If you use your island for that purpose, think about the kind of countertop you want. You'll want it to look great, but you'll also want it to stand up to the kind of work you plan to do. And if it's going to be a working island, you'll also think about adding a second sink. That's ideal if you plan to use the space for washing and cutting vegetables or fruit. One advantage of having a second workspace (and sink) is that if you enjoy cooking as a family, several people can work in the same general area without getting in each other's way.
While oversized islands are very popular, your kitchen layout and size may not accommodate a large island. Smaller islands are also very versatile—and you may even be able to create a moveable island that you can move to different parts of the kitchen (or move out of the way).
2. Additional Storage Space
In all the years we've been remodeling homes in the Fresno area, we've never heard anyone complain that they have too much storage space in the kitchen. Adding storage to your kitchen island is just one way that you can keep your kitchen from feeling cluttered or crowded. You can place larger items that are used less frequently on these shelves. You'll also notice in the photo above that all kitchen cabinets extend to the ceiling so that there is no wasted space. Another option is to build in a pantry if your kitchen's footprint allows it. That's a great way to keep bulky items and packaged food close at hand without cluttering up the kitchen.
3. Think About Transitions
As open style architecture has become more popular, it's important to think about the transition between your kitchen and other rooms such as your dining area or your family room. That means paying attention to the flooring. Do you want the kitchen flooring to extend into the family room? Or do you want to make a clean break between the rooms? If you have an open plan, keep in mind that your kitchen will be very visible from your family room or dining room. Envision yourself (or your guests) sitting in the dining room or family room and looking into the kitchen. How do you want that transition to look? In addition to viewing your cabinets and countertops, you'll also be seeing your kitchen's backsplash. So you'll want to give particular attention to the backsplash materials you choose.
4.
Look at Your Lighting
Great lighting is an extremely important feature for your kitchen. You'll want to think ahead about the different kinds of light sources you'll want to have. Undercabinet lighting not only keeps shadows out of the kitchen, but it also makes working in the kitchen a lot more pleasant. If you have areas set aside as workspaces (for cutting and chopping, for instance), you'll want to install task lighting to make it easier to prepare food. You'll most likely want to do the same over your kitchen sink(s). Then, of course, you'll want ambient lighting for when the prep is done and you're sitting down to a meal or enjoying a drink with friends in the family room.
5.
Think About Your Sink
In addition to choosing the material you want (stainless, copper, enamel, fireclay, solid surface stone) you'll also want to think about whether you want an under-mount sink or a top-mounted sink. You'll also want to consider whether you want dual sinks or a single large sink, such as a farmhouse style. By the way, Bob Villa has a helpful post that looks at the pros and cons of various kinds of kitchen sinks/materials.
6.
Appliances
Chances are your appliances will get a lot of use in your newly renovated kitchen. And while this isn't an area where you want to try to save money, it's also easy to spend a lot of money on appliances. Before you make your purchase (and have your designer allocate space) think about how you actually use your appliances. If you're a gourmet cook (or are serious about pursuing that) then you may indeed want to install a six-burner Viking stove and a Sub-Zero refrigerator/freezer. If you spend less time on meal prep, those items may be a bit of overkill (and you can invest the money in something that better suits your lifestyle).

If you're looking for inspiration for your kitchen remodeling project, we invite you to check out some of the Fresno-area kitchens we've recently completed. You can glean some ideas from these projects and we can help you make them uniquely yours in your kitchen.