Apr 05, 2018
Comments Off on

Find Your Bathroom Style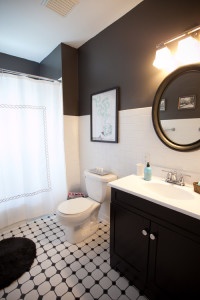 The bathroom plays an important role in our daily routine and it's easy to overlook this small room that's used heavily. There are several main styles to choose from when renovating your bathroom. You know the difference between traditional and modern, but a merged look is in all the details. Here are some tips to use to refine your bathroom's style.
Traditional is generally formal in style with classic architectural details. The use of natural stone, carved or embellished cabinetry and vintage-look fixtures.
Marble and granite are best bets for counter tops. Other options are concrete, pewter or hammered copper.
Dark wood finished are favored; select cabinets with timeless flair.
A traditional-style bathroom best fits a traditional-style home but can work in any style home.
Modern is sleek, streamlined and clutter-free. This style makes use of reflective materials such as glass, chrome and solid-surface countertops.
Clean lines and simple geometric shapes are key. Choose sleek materials such as stainless steel and glass tile.
Keep cabinetry free of fussy details. Popular wood choices are also eco-friendly, such as bamboo and cork.
All-white is a popular palette especially when paired with pops of energizing colors such as turquoise, red, orange and yellow.
Cottage is casual, warm and reminiscent of country style and continues to gain popularity.
Commonly used architectural features are hardwood floors and bead board or wainscot paneling. Cabinets resemble antique furniture and are often painted or distressed.
Vintage or hand-me-down accessories are part of the decor and add personality. Colors are often feminine and softer in tone.
Shop for vintage accessories and cottage-style furniture at estate sales, flea-markets, antique auctions or thrift stores.
Eclectic is a creative mix of different design styles with inventive color, pattern and material combination.
Mix different styles, periods and looks. Design by instinct: if you love it, it will work.
Don't forget the details: accessories like wall sconces, glassware and linens make a big difference in a room design.
Create a one-of-a-kind look with bold pattern choices, such as stripes, geometrics or prints.
Once you choose the style that fits you best, you'll be able to easily transition to the design phase of your bathroom remodel.