Jan 12, 2021
Comments Off on

Planning For Your Fresno Bathroom Remodel
Remodeling a bathroom is an effective way to add value to your home while also making the space more functional and attractive for your family's use. As you are planning a bathroom renovation in Fresno, California, the logical place to start is identifying priorities and setting a budget for the project.
The cost of remodeling your bathroom can get out of hand quickly if you don't establish parameters from the beginning. You may end up spending money on low-priority improvements simply to get the job done or because you didn't plan ahead for more cost-effective alternatives.
Related: Free Bathroom Remodeling Cost Guide
It's possible to accomplish a bathroom renovation that satisfies your needs and desires without breaking the bank, but that requires knowing what to expect, the average remodel cost breakdown, and where you are willing to compromise.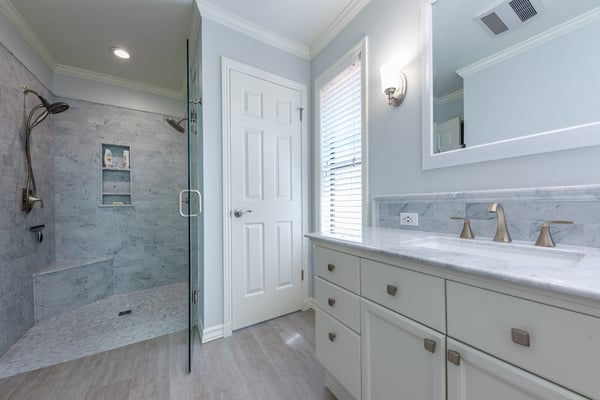 Creating a Bathroom Remodel Plan
Before starting your bathroom remodel, it is important to choose the right layout, space planning, and budget for your project. The first step to planning is to decide what you want from your bathroom remodel. Let's face it, the bathroom might be one of the only rooms in the house that you can lock yourself inside to escape the noise of life and its stresses. With that being said, it is time to think about what you want that haven to look and feel like.
Here's a few questions you should ask yourself as you get started:
What is your Style? Are you casual or formal - minimalist or unique? If you are the type of person who likes multiple style choices, then eclectic it is. Knowing your style will help you to choose the cabinetry, lighting, faucets, flooring and colors for your new bathroom.
How will you utilize the space? Are you looking for a getaway or a private retreat? Bathrooms are becoming larger and larger these days with increased functionality.
Develop your plan. You will want to get some graph paper and sketch your layout. Leaf through bathroom design magazines for ideas or surf the internet. Sites like Pinterest, Houzz, HGTV, etc. are excellent resources for design inspiration.
Other Things to Consider:
Will the tub and shower be separate?
Would you like to age-in-place?
How much storage space will you need?
Do you want the commode in a separate area? Whirlpool tub or Sauna?
What about built-in speakers?
Plan for plenty of lighting and adequate ventilation
What is your Color Palate? (neutral colors recommended)
Do you desire natural light sources? (windows, sky light)
Would you like a linen closet space?
Although you may be anxious to get your project started, determining the priorities of your remodel ensures that there is a proper plan, free of mistakes, in place for your bathroom. Your bathroom can be more than just a room that takes care of a function. It can meet several needs of your lifestyle. The key is to figure out what is most important to you as you fill this space.
What is the Cost of a Bathroom Renovation?
The cost of your Fresno bathroom renovation can vary depending on several factors, including the size and scope of the project, the quality of materials, and the types of fixtures, features, and finishes you choose.
In order to remodel your bathroom, you will need to perform a set of simple modifications, which may include installing a tub with a tile surround, adding or replacing a toilet, bringing in a new sink, adding a medicine cabinet, and changing your flooring and wall treatments. Overall, you want to create a bathroom in the style of your choice that is aesthetically pleasing, efficient, and functional.
The average cost for a full Fresno hall bathroom remodel is about $28,000 including all labor and materials. A full en suite master bathroom (5 piece) starts at approximately $40,000 and can run significantly higher based on material selections. While the cost of materials is relatively consistent no matter where you live—unless you're using a regionally specific product—the cost of labor can vary by location and time of year. Typically, bathroom remodel labor costs comprise about 30% to 35% of your total project price.
Another chunk of your budget goes toward the bathroom demolition cost, which in Fresno, California, is about $1,800 to $3,500. The price can also be a bit higher if you are creating an entirely new footprint, removing a load-bearing wall, installing new drywall in the entire, space, breaking a water pipe, or rerouting electrical lines.
Some of the materials for you to consider when designing and budgeting for your bathroom remodel include fixtures, such as toilets and sinks; showers; vanities and countertops; flooring; and lighting. You can choose economy grade or basic products to help you save money on your bathroom renovation, or go with high-end, customized selections to better personalize your luxury bathroom. Either way, the materials you choose give you the most latitude for controlling costs of your bathroom remodel. For example, the cost of an economy or mid-grade toilet is about $100 to $600, while a custom-built or high-end model runs closer to $1,000 or more.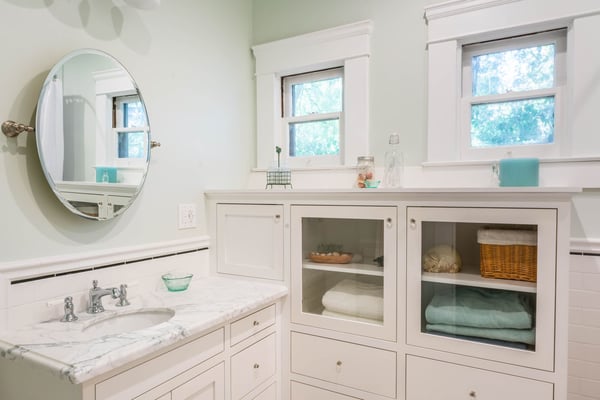 Additional Costs in a Bathroom Remodel Budget
Depending on the scope of the project, and whether you're planning for a major restructuring or a bathroom expansion, you also should factor in fees for hiring an architect or architectural drafter. Additionally, you need to budget for a contractor or at least specialized professionals—such as plumbers and electricians—if you plan to handle most of the construction yourself. Average plumber costs associated with a bathroom remodel range from about $1,000 to $2,000. If you're working with a design-build contractor, however, they typically oversee the entirety of the project, which includes drafting designs, guiding you through making material selections, and bringing on subcontractors with specialized skills to handle various aspects of the renovation.
Your general contractor also takes care of acquiring building permits for the project, which is another extra cost to consider in your budget. Local building permits typically cost about $500 to $1,500, and your contractor includes the fee in your overall project price.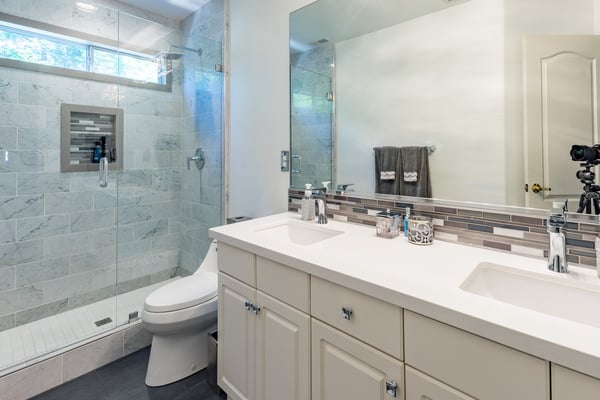 How Can I Save Money on My Bathroom Renovation?
Two of the most effective ways to save money on your bathroom renovation are to maintain the existing layout and to choose economy rather than luxury materials, fixtures, and finishes. You can also make sure your project stays within budget by prioritizing improvements and not making changes once the work is underway, as change orders increase costs and cause delays. If you can't fit everything you want into your budget, focus on the main eyesores or the features that are undermining the function of the space. You can always tackle additional projects at a later date.
Other inexpensive bathroom remodel ideas include:
Dressing up an existing mirror with a modern frame rather than purchasing a new hanging mirror

Replacing only parts of your toilet—such as the lid and seat—rather than getting a whole new structure

Sourcing salvaged and refurbished pieces at flea markets, antique stores and auctions

Considering alternatives to tiling your walls, such as beadboard, reclaimed wood panels, or board and batten

Using paint to freshen up your bathroom and add a vibrant pop of color that upgrades the overall style of the space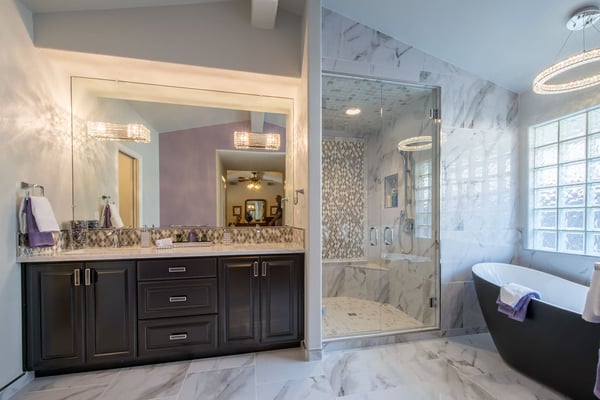 Bathroom Renovations in Fresno: DIY or Contractor?
Since a large portion of your bathroom renovation budget goes to labor, you can also cut costs by making it a do-it-yourself project. The downside of going it alone means you have no insurance and you have to cover the costs if something goes wrong. If you're bathroom remodel in Fresno entails more than touching up paint, reflooring, or other simple cosmetic upgrades, you still need to hire a professional for any job you aren't comfortable doing on your own, such as electrical and plumbing work.
In many cases, you are better off hiring a licensed general contractor to oversee the project. Not only does that ensure the quality of the work and the added value to your Fresno home, but you also are more likely to have your bathroom renovation completed on time and on budget. Imagine Remodeling has the experience and skills to help you plan, custom design, and execute your bathroom, transforming the space to suit your personalized needs and preferences.
Sources
"How Much Does It Cost To Remodel A Bathroom?" HomeAdvisor. Accessed online at https://www.homeadvisor.com/cost/bathrooms/remodel-a-bathroom/
"Bathroom Remodeling Costs in Fresno, CA in 2020." Manta. Accessed online at https://www.manta.com/cost-bathroom-remodeling-fresno-ca
"Bathroom Remodel Costs: 5 Ways You Can Save." NerdWallet. Accessed online at https://www.nerdwallet.com/blog/mortgages/bathroom-remodel-costs/
"7 Ways to Save Money on Your Bathroom Renovation." The Spruce. Accessed online at https://www.thespruce.com/save-money-on-bathroom-renovation-1821369