Oct 03, 2018
Comments Off on

Three Inspirational Kitchens in Fresno, California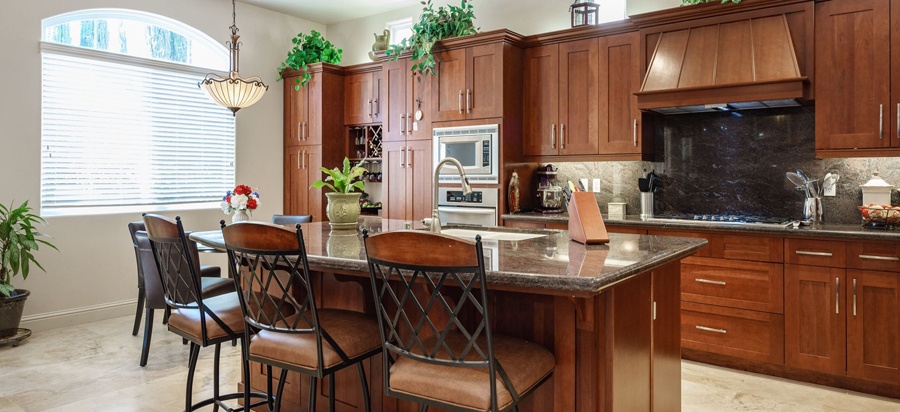 When you're considering a remodel of the kitchen in your Fresno home, you'll want to keep two very important elements in mind: Form and function. Not only will you want your new kitchen to be beautiful, but you'll also want it to be comfortable, convenient, and functional. The great news is that those things aren't mutually exclusive! Let's take a look at three inspirational kitchens in Fresno, California that bring those elements together.
Lots of Light
This Wishon kitchen we recently remodeled beautifully blurs the lines between indoor and outdoor living. The open design takes advantage of ample natural light and great outdoor views. And rather than settling for conventional closed cabinets all around, this design uses glassed-in cabinets (with built-in lighting) to add additional light to the kitchen.
Counter Space with Open Space
Here's another view of the same kitchen showing how the layout provides the homeowners with plenty of counter space without sacrificing the open feel of the kitchen. The island in the middle of the kitchen (with a contrasting color countertop) offers additional workspace, but there is still plenty of room to move around in the kitchen. Take note of the lighting as well. There is plenty of task lighting (mounted under the cabinets) as well as ambient lighting to make things warm and inviting.
Smart Use of "Wasted" Space
While what you see may not exactly be considered part of the kitchen, it is in the entryway that leads to the kitchen. The "wasted" space under the stairs if a great place to store larger kitchen items that aren't regularly used. Any time you can keep clutter out of your kitchen, it makes the kitchen visually larger—and more inviting.
Click here for additional photos of this great kitchen—including a look at a great mudroom/laundry just off the kitchen.
Bold and Beautiful
If you have your heart set on something a little bolder for your Fresno-area home, you might enjoy a look at this Alluvial kitchen we recently remodeled. In addition to the bright and bold red accent color, these homeowners made some other bold moves. In the past, people have tended to install all matching cabinets in a kitchen. This kitchen offers striking cabinets that contrast beautifully. And even though some of the cabinets (and countertops) are darker, it's still a very bright and open kitchen. Plus, the darker cabinets tie into the dark wood trim in the family room.
Mix and Match Wood Styles
Here's another area in which the kitchen combines styles and materials that challenges convention. The light colored cabinets you see here stand in contrast to the wood walls of the dining area and the family room. The clean lines of the stove hood help tie together the kitchen appliances (in addition to providing valuable ventilation that keeps cooking odors out of the non-cooking space. Click here for more images of this bright, bold, and beautiful kitchen!
Casual Rustic Comfort
If the look you're after for your Fresno-are kitchen tends more toward casual comfort with a rustic feel, this Serena kitchen may provide you with some inspiration. The wood tones and stone backsplash create a warm environment. The kitchen dining area is a combination of casual and elegant. And notice how we were able to wrap it around a weight-bearing pillar that allows the space to be open to the family room. The ultra long wood-topped island provides lots of space for food preparation in addition to the L-shaped granite workspace.
Sink and Niche Character
The farmhouse sink and the small niche cabinet add to the casual and comfortable character of the kitchen. An oversized window above the sink provides a nice view while letting in lots of natural light. And the soft under-cabinet lighting in the alcove/niche area adds a warm, comfortable glow to the kitchen. Click here for additional detailed photos of this comfortable and casual kitchen.
These are just a few of the many beautiful kitchens we've helped homeowners in the Fresno area create. What if you're looking to upgrade a smaller sized kitchen? We've got help for you there as well. Here's a helpful post on how to make the most of a small kitchen. No matter what you're looking for in a remodeled kitchen, we'd love to help you create a kitchen that's both beautiful to look at and conveniently comfortable to work and eat it!