Jul 11, 2018
Comments Off on

Creative Ideas for Small Bathrooms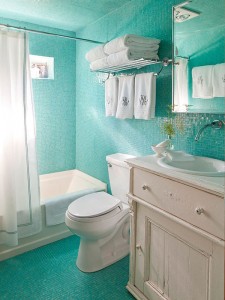 Designing a small bathroom in Fresno, California or anywhere else has a unique set of challenges. You need to be able to fit in all the necessary fixtures without making the space feel claustrophobic. You can easily create a comfortable and open space if you rethink traditional design and incorporate features that strategically utilize the space.
As you are designing your small bathroom, use these four tips to create a small bathroom space with big appeal.
Keep it organized.
Clutter makes any room look and feel more cramped. This is not something you want in a small bathroom, so it is important to keep it organized. Strategically create and use storage spaces in the bathroom to give everything a place and to keep everything in its place.
Maximize the space by minimizing the fixtures.
One of the best ways to make a small bathroom work is to think small and efficient. You can replace a toilet with a smaller more efficient model. Installing a shower with sliding glass doors will not only use less space, but the glass will give the illusion of a larger space. Use smaller faucets to keep from overwhelming the bathroom. Decrease the size of the vanity by installing a pedestal sink or a wall mounted sink to leave more open space.
Don't use traditional shapes.
By trying out bathroom fixtures with different shapes, you can maximize the space. An oval sink will give more counter space than a traditional square sink, and an elongated oval toilet is the same size as a traditional rounded toilet, but will take up less space.
Stick with solid colors.
Big bold patterns and lots of color can be very overwhelming in a small space. Light and neutral colors will make a space seem larger and more open. You can use color and light strategically to open up the space.
If you have a small bathroom, applying these four tips can really help open up the space. You can also talk to a bathroom design professional for other small bathroom ideas.