Your goals and vision for your bathroom remodel depend on the kind of use your new bathroom will receive. Though all bathrooms perform one obvious common function, there's a distinct difference between a primary suite bathroom, powder room, kids' bathroom, or guest bathroom. Of course, some bathrooms have to perform double duty. For example, your guest bathroom may be shared by family members or function as a hall bathroom everyone occasionally uses. Designing your new guest bathroom for a remodel requires you to ensure that you create the most intuitive and welcoming space possible.
Imagine Remodeling is here with our design and remodeling insight so that you can be sure your Fresno, California guest bathroom remodel wows.
Must-Have Features for Your Guest Bathroom
A guest bathroom must be easy-to-use and provide all the necessary features for a comfortable guest experience.
Intuitive Storage
A guest bathroom has intuitive storage. Items are stored where common sense expects them to be. Guests may go without rather than rummage through cupboards for a towel or a cotton ball. Include glass-front cabinets to allow for advertising its contents or use ample and obvious cupboards for towels near the shower to keep necessities close at hand.
Easy-to-Clean Surfaces
Guest bathrooms include easy-to-clean surfaces that allow them to discreetly wipe up small messes and for you to quickly put things right when you're done playing host. Consider including basic cleaning supplies like cleaning wipes under the counter to offer your guests a solution for minor mishaps.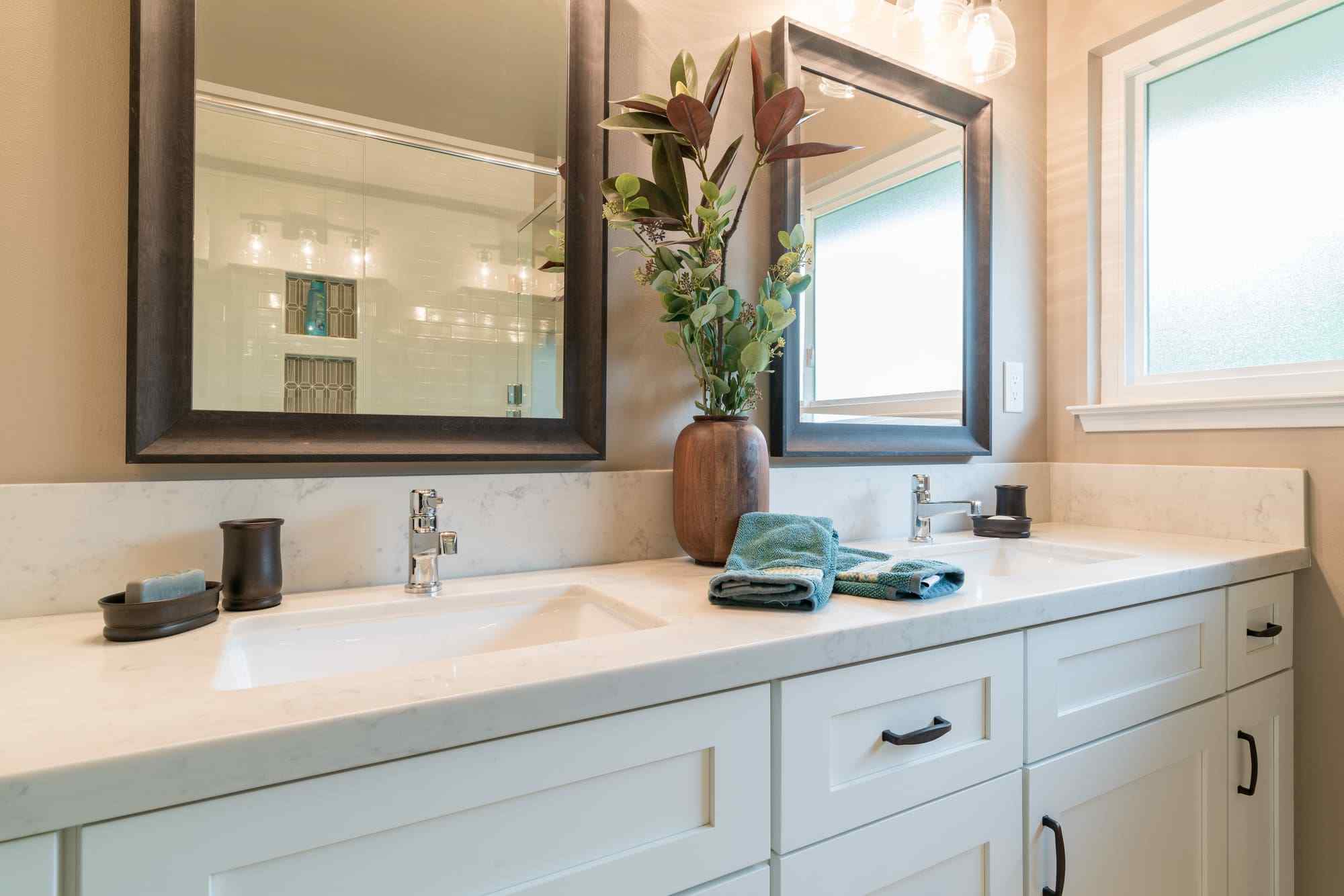 Ample Light and Prep Space
Your guests may want to look their best during their visit. Ensure your bathroom is well-lit, especially in over workspaces like the sink and vanity. Consider supplying a magnifying mirror so your guests can get their daily details right, with tools they usually leave at home.
Extras for Emergencies
And speaking of things left behind, ensure your guest bathroom is well-stocked so that everything a guest could want is available. Store essentials like cotton balls, tissues, cotton swabs, and toilet paper within plain sight in stylized storage containers so everyone feels comfortable helping themselves. Locate other common bathroom items like a hairdryer, feminine products, and toothpaste in an easily accessible drawer or cupboard. Consider a handy toilet-adjacent built-in to house extra toilet paper and a plunger to save your guests from potential embarrassment.
Luxurious Shower
Your guests deserve a peaceful shower experience. Install a tub and shower combination if you expect to host young children who require a bath. If not, consider an attractive groutless walk-in shower or another beautiful material like natural stone to create a luxurious spa-like experience for your guests.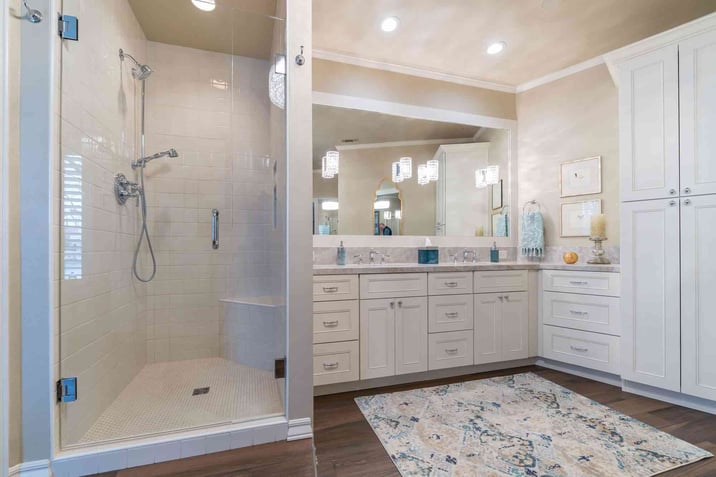 Guest Bathroom Mistakes to Avoid
Ensure your bathroom remodel avoids common pitfalls that can detract from your vision and create unanticipated inconveniences when guests need a private moment.
Too Trendy
Grabbing too many trends of the moment can quickly date your space. A dated guest bathroom can be distracting to use and can push you to another remodel sooner than you'd like. Making timeless or classic guest bathroom selections doesn't require you to stay completely neutral or boring. There are lots of ways to balance color and design inspiration with the tried-and-true. Accent walls, textiles, decor, and more may invite in the vibe of the moment and be easily replaced when the moment passes.
Too Cluttered
Your guest bathroom needs room for your guests. Ensure that your guest has room for their things and space to get ready. Offer extra options like empty toothbrush holders or storage cubes if you have a guest planning an extended stay.
Too Confusing
Store everything you anticipate a guest might need in a few intuitive, easy-to-find places. Put the toothpaste under the sink and the towels in the biggest cabinet. Ensure your bathroom is uncluttered so your guests can find what they need.
Inaccessibility
Consider accessibility if you have a frequent senior guest or a guest with limited mobility. Building these options in before you need them costs much less than adding them later after you realize that you do. Grab bars, extra-wide doorways, and shower seating are also important accessibility options if you plan to age in place.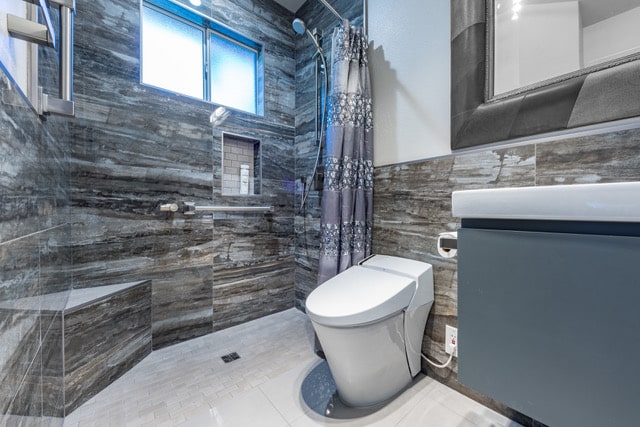 Design Tips for Updating Your Guest Bathroom
Small steps can refresh your guest bathroom for a little extra TLC between remodels.
Double the Towels -No matter how many towels you anticipate your guest might need, add a few more. Textiles are an excellent way to bring in a secondary color or tie a design together.
Plants - Biophilic bathrooms create a warm and inviting experience. A steamy bathroom makes many plants extremely happy, watering is easy in a bathroom.
Trendy Decor - Add your style with art, sculpture, decorative items, cheeky signs, or other easily swapped items when you need something new.
Play with Color Intensity - Layer the same paint color at varying intensities for a textured monochromatic look. The same color looks subtly different at 75% saturation.
Cost of a Guest Bathroom Remodel in Fresno
The size of your bathroom, the materials you select, and the elements of the bathroom that need to be replaced or moved will impact the cost of your bathroom remodel. Your Fresno, California remodel could be significantly more or less than the averages we provide. A guest bathroom of 50-65 square feet with Imagine Remodeling costs about $28,000- $33,000 if you employ an existing design. A custom guest bathroom of the same size costs between $33,000 and $40,000.
Take a look at our bathroom project gallery for further design inspiration. Sometimes you don't know exactly what you're looking for until you find a great example.