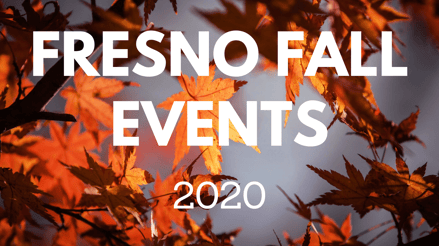 There is never a shortage of activities in the Fresno area. So, what are the best Fresno events this fall? Here's a quick look at some of the best 2020 fall events near Fresno.


October 24, 2020 at 4:00 PM
Boots in the Park with Jon Pardi & friends has been rescheduled for Saturday, October 24, 2020, at its new location, Granite Park. Enjoy an all day country party with live music, some of the valley's best BBQ, cold beers, full bars and more! This is one of the best Fresno concerts of the year. This event is ALL AGES!
September 4, 2020 from 6:00 PM to 9:00 PM
Grab your chairs and or blankets for a great night out in the Vineyard Park at Engelmann Cellars. This is a 21+ only event we will be checking id's at the gate as well as temperatures. Enjoy a picnic, wine, frose and live music in the 2 acre Vineyard Park at Engelmann Cellars. They are limiting this to 200 people so be sure to purchase your ticket early!
October 31, 2020 from 3:00 PM to 8:00 PM
5k Happy Hour ™ is a unique night 5K fun run focused less on speed and more on Margaritas, Wine, Or Beer fun with friends and family. This is one of the best Fresno CA events of the season! 5k Happy Hour Participants come from all different ages, shapes, sizes, and speeds; every participant will get a Margarita, Wine, Or Beer™ and have the time of their life. Whether you are an avid runner or a walk around the park walker, the 3 miles of the Happy Hour 5k™ course will have you beaming and waiting for the next one!
October 3, 2020, from 4:00 PM to 8:00 PM
Experience the creativity of local chefs as they put their culinary skillz to the test with loaded fries you'll love! From the savory to the sweet and everything in between, there will be something for everyone at Modesto's second celebration of all things loaded fries...PLUS witness an EPIC loaded fry battle and cast YOUR vote for the People's Choice Favorite! Enjoy live music and fry-themed entertainment, kick back with a craft brew or cider, shop the local makers bazaar, let the kids play at the Fry Fest kids zone and enjoy a delicious day in Graceada Park!
September 12, from 5:00 to 7:30 PM
Soroptimist International of Twain Harte presents it's 24th Annual Twain Harte a'la Carte aka Food, Wine and Beer Festival at Eproson Park. This event takes place on September 12, 2020 from 5:00 to 7:30 PM at Eproson Park. Tickets include tastings of several food, wine and beer vendors along with live music from Burn Permit.
This annual event raises funds for local community projects including:
Summerville High School School student scholarships/Academic Decathlon
New Student Orientation
Bears Service Club
Connections Academy and Sober Graduation
Live Your Dream Awards
Dream It, Be It Self Esteem program for freshman girls
Breast Health Center at AHS
Center of a Non Violent Community
Tuolumne County Victim Witness Protection Program
Homeless Shelter /local famlies in need
Friends of the Library
Girls Scouts of America
Habitat for Humanity
Tuolumne County Health Fair
WATCH Program
Twain Harte Partners
Tuolumne County Sheriff's Community Service Unit
Community Food Baskets at holiday time.
Image by Julia Schwab from Pixabay