Sep 08, 2019
Comments Off on

5 Timeless Bathroom Renovation Trends For Your Home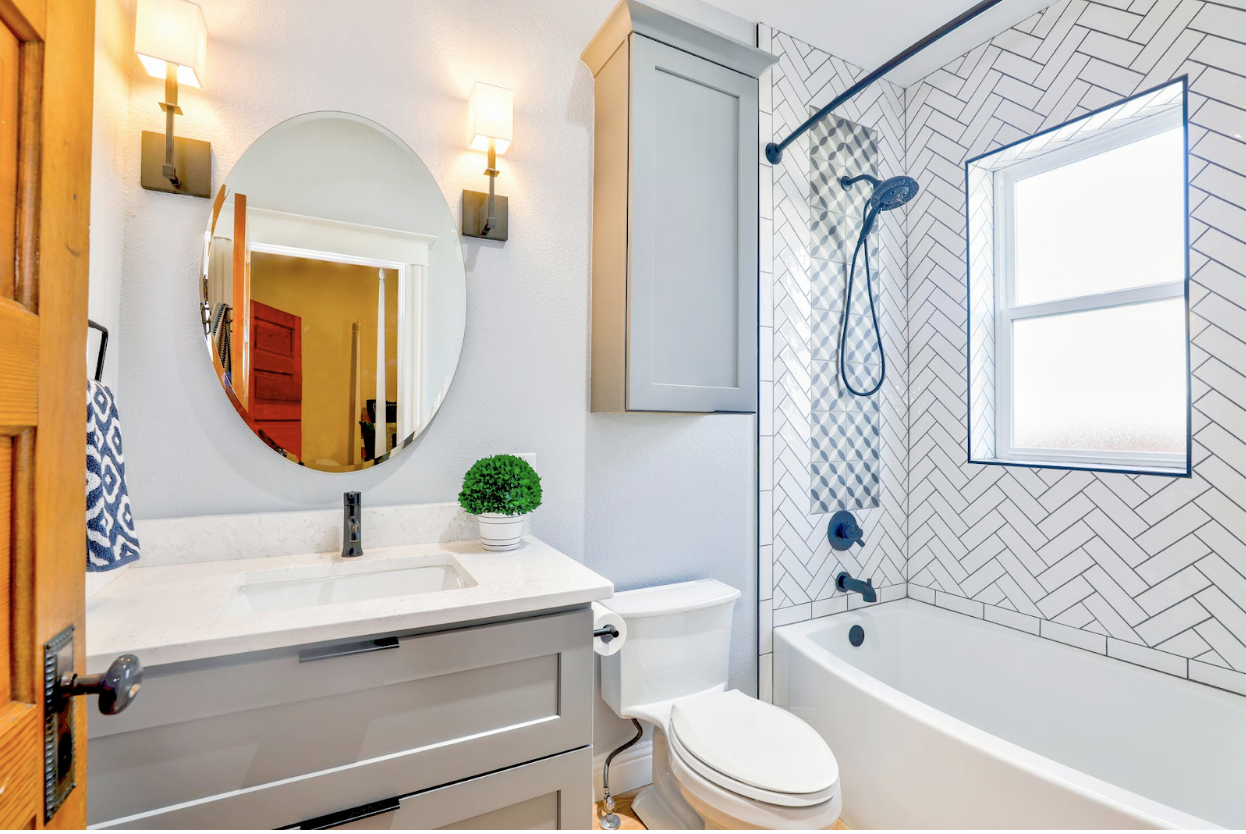 Spending money renovating your bathroom is a smart use of your home improvement dollars. When you are renovating the bathroom stick to timeless looks that will be seen as clean and sophisticated for years to come. You can always add trendy touches with accessories and art. When you want to get the best return on your investment for a bathroom renovation you should choose elegant timeless materials that won't look dated in ten years. Here are 5 renovation trends to consider for your next bathroom renovation.
1. Choose Neutral Tiles For Your Shower or Bath
Neutral tiles will give your bathroom an elegant look that transcends trends. Clean white subway tiles or vintage look hex tiles will look as good ten years from now as they do now. Any kind of neutral tile will make it easy to change the look and feel of the bathroom when you want to give it a spruce or when you want to sell your home. But neutral doesn't have to mean white. If you want to give your bathroom some personality choose a neutral tone like gray or even black. Or choose unusual tile shapes to add visual interest while still keeping the look neutral.
2. Add Character To Your Floors
Bathroom floors don't have to be tile. For decades ceramic tile has been the flooring of choice for bathroom floors but these days there are a lot more choices when it comes to bathroom floors. Distressed hardwood is a bold choice of flooring for a bathroom that will give the bathroom a warm and rustic appeal. Distressed hardwood can withstand the scuffs and wear and tear that the bathroom flooring is used to getting without the damage ruining the floor.
You can also use your floors as a statement piece in an overall neutral bathroom. Consider going bold with your flooring choice and choosing a black and white vinyl patterned design.
3. Go Bold With Color
If you choose a neutral tile for your bathroom you can add in a pop of color on an accent wall or by painting your vanity a bright color. Pale green is a popular accent color for bathrooms because it gives the room a natural feel. Or you can opt for a spa-like feel by accenting the bathroom with blues or purples. You can also choose a peel and stick wallpaper on one wall to add texture and color that you can easily change when you want to update the look. Coordinate your bathroom linens with the accent color to complete the overall design.
4. Splurge on Fixtures
The best way to make a small bathroom feel luxurious is to invest in high end fixtures. A split finish faucet will give you more options for finishes because you can mix and match the same finishes that are on the faucet. Updating the fixtures in the bathroom is a fantastic way to make the room look polished while also making it feel like a harmonious space. This is one of the easiest ways to give your bathroom a quick upgrade.
5. Install Durable Countertops
Beautiful and durable countertops will give your bathroom that timeless feel while also ensuring that your bathroom counters will not get stained, chipped, or cracked from heavy use. Quartz countertops are an ideal choice for the bathroom because they are stain resistant and highly durable but also beautiful. For a class look choose quartz countertops that have natural veining like marble. For a more contemporary look choose one of the many colors that are available such as gray quartz to add some color to your bathroom.
If you're looking to create your dream bathroom that you'll love for years to come, contact Imagine Remodeling today!